Top North Indian Sweets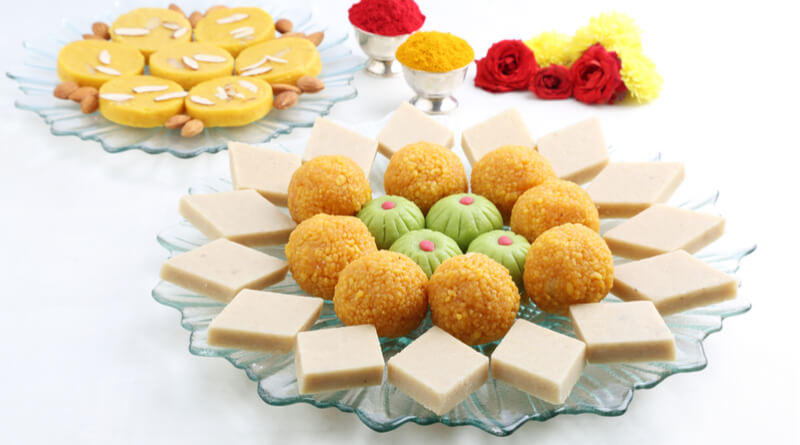 Northern India is known for its love for sweets and their make as well. It's a land for the origin of many sweets and sweets like Gulab jamun, Peda, laddoos are famous and loved all over the world. These sweets are generally prepared with shudh ghee and are rich in milk and dry fruits which make them totally irresistible. And if you haven't tried all the North Indian sweets yet, here are the ones you shouldn't miss out on
Round ball-shaped sweets made with ghee and filled with dry fruits, these laddoos make everyone's mouth water. Any occasion, any celebration, you'll find laddoos in every north Indian's house and bet you won't find anyone who doesn't like laddoos. The lovely part is, laddoos come in a lot of varieties like boondi laddoo, besan laddu, motichoor laddoo, gond laddoo, etc.
Made with rice and milk, this heavenly sweet has to be the most prepared sweet in every household in Northern India. Kheer is known to be prepared during happy occasions and ceremonies. It's also known to be an auspicious sweet. Rice is boiled in the milk, and a tinge of cardamom is added to it along with a lot of dry fruits to make a basic kheer.
Having originated from Rajasthan, this sweet is prepared with condensed milk. Milk is boiled for a pretty long time till it turns into another color and then flavored ingredients such as nuts, dry fruits, saffron, and spices are added to it. Rabdi is a very regular sweet in Rajasthan households and is often a part of their dessert meal.
Soan papdi, a native of Uttar Pradesh, is made from ghee, flour, sugar, and cardamom. It's a very light and flaky sweet that is available in almost every sweet shop in India. You'll often find vendors on streets selling Soan Papdi because of it being one of the most loved sweets.
Mathura like pede is like the most common sweets ever. You'll find almost every eatery shop selling page. Pedes are even found in diary shops because they're purely made of milk. Pede consists of mawa and sugar besides milk and is often prepared in different variations depending on the flavor used like cardamom, dry fruits, saffron, etc.
Halwa like kheer is a delightful dessert prepared during every celebration in a household. Halwa can be prepared with almost anything, like moong with gajar, suji with anjeer or rava or anything! Anyone of these ingredients cooked in milk, sugar, and ghee makes a great halwa.
Phirni is a sweet made with milk which is quite loved North Indian Delicacy. It's a very simple dessert garnished with dry fruits that accentuate the taste of the dessert. It's generally eaten cold.
These round balls of heaven dipped in sugar syrup is probably the most loved sweet in India. Flour dumplings or dumpling made of reduced milk are deep fried and soaked in sugar syrup and served in every sweet shop in India.
(Visited 178 times, 1 visits today)