Rooibos Tea: A drink that helps lose weight and sleep better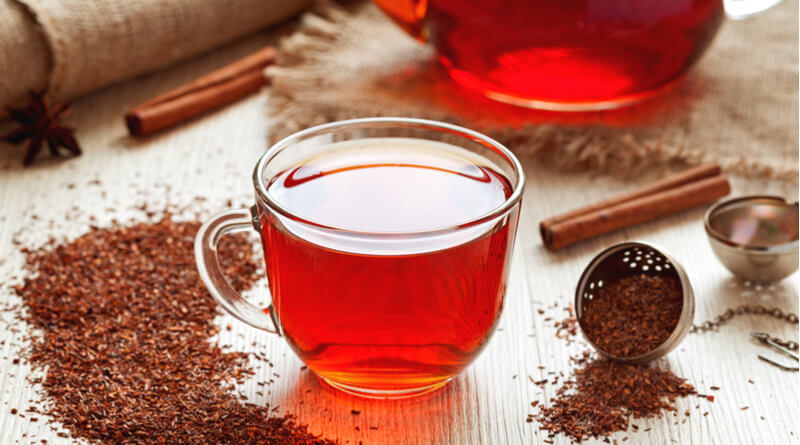 Rooibos tea (pronounced "roy-boss"), is one of the rising stars of the health and wellness world. It has lots of benefits that are responsible for its rise to fame. Most predominantly,rooibos tea helps you to lose weight and get a real good night sleep.
This tea hails from South Africa. It is caffeine-free, delicious, and full of antioxidants. It actually contains 50 percent more antioxidants than green tea and has more benefits than, black tea, green tea, and matcha tea. It is sweet tasting without the need of an added sweetener. It actually has notes of honey and vanilla in it and is generally considered to be one of the most palate pleasing types of tea on the market.
The Benefits Of Rooibos Tea
Weight Loss
Rooibos tea helps you achieve weight loss naturally without having to commit any extra steps. It is low in calories and naturally sweet, so you can substitute sweet beverages like soda with rooibos. Its prodigious antioxidant profile also helps to regulate glucose levels in the blood, while its aspalathin content reduces the production of stress hormones. Stress hormones can trigger hunger responses and initiate fat storage processes. Drinking rooibos will not only help to stop these processes from occurring, but will actually affect the balance of energy in your body to reduce the storage of fat.
Sleep Better
The antioxidant levels of rooibos tea combined with its anti-inflammatory properties also helps you to achieve a good night's sleep. They work together to reduce the irritative feelings that can pull you out of sleep. Roobios also contains significant amounts of magnesium and calcium, two minerals that promote sleep. Drinking rooibos a couple hours before will make sure you have all you need to enter a deep sleep.
(Visited 70 times, 1 visits today)