Top 5 Chicken Curries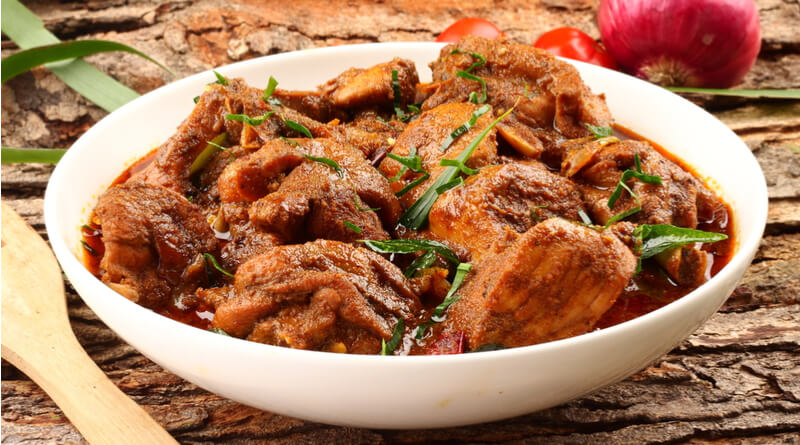 We all love chicken curry. It just tastes great without trying too hard. Chicken is one of the best meats for absorbing the flavors of seasonings and spices, which makes eating chicken curry a true gastronomic experience.
How To Prepare Chicken Curry
Cooking your own chicken curry at home is not so simple; it does require a certain amount of skill. You must delicately cook the meat and simmer it, stew it, steep it, or bathe it in gravy. You have to prepare the base by separating the oil. Cook the chicken separately from the oil then add it to the base while letting the rich flavors seep into the meat. It may take a few tries to really learn how to do this just right, so you can get that truly juicy and flavorful chicken. Once you do master it though, you will have no obstacles preventing you from making the ultimate chicken curry.
1. Spicy Malvani Chicken Curry
This curry brings the heat and then some. The fresh made malvani masala is the defining characteristic of this curry. The malvani masala is spicy and delectable all at the same time. This recipe hails from the Konkan region of Maharashtra, an area known for raising the temperature on their dishes. This is the perfect meal if you have a cold or you're trying to cool off in the summer. It will help you start sweating for sure.
This is a curry that just about everyone has heard of; it is literally world famous. There are even movies about this wonderful dish. It is a curd-based curry feature juicy chicken breasts and a wide array of spices. It is best served with chapati or rice, and makes for a wonderful dinner time meal.
Oh boy, there is nothing more satisfying than laying into a nice bowl of butter chicken curry. This recipe calls for marinating the chicken overnight before roasting it then combining it with cream, masalas, and tomato puree. It is a Northern Indian style dish, but it is so good, that it is eaten just about everywhere with gusto.
4. Nimbu aur Hari Mirch ka Murg
This chicken curry has some zing to it. It makes use of lime as a zesting agent which grants the entire dish a type of tanginess that helps set it apart from some other curry variants. You can eat this curry all by itself, but it works best when served with some rice or Indian bread.
5. Chicken Stew with Appam
This wonderful chicken stew curry is the epitome of comfort food. It has some truly distinctive flavors thanks to the combination of spices which are simmered in coconut milk. This chicken stew is very simple to make, whether it be for a home dinner party or a festive occasion. In the Kerala region it is actually a popular Easter dish. This could be related to the fact that this curry is actually originally a British dish.
(Visited 168 times, 1 visits today)