Healthy Soup Recipes to Lose Weight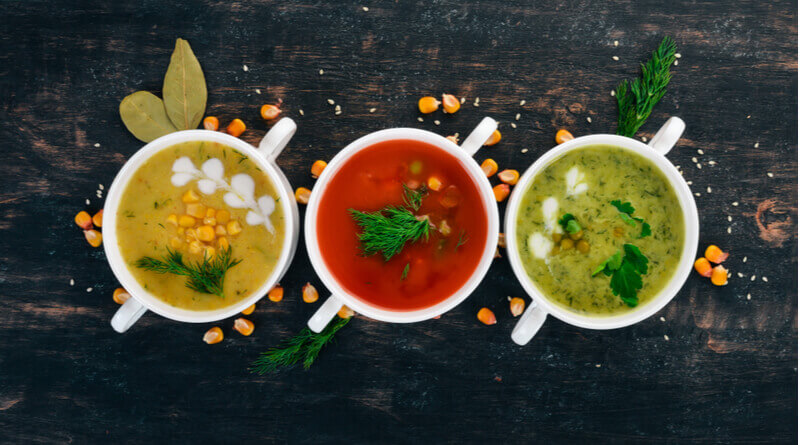 Do you wish to lose weight all while savoring some delicious soups? Here are some incredible soups that are healthy and yummy too. What's more, they are easy to make as these are quick recipes that will help you lose your weight rapidly.
Healthy Soup Recipes
Vegetable soup: As the name suggests, this soup contains all the vegetables such as cabbage, carrots, tomatoes, cucumbers, and garlic. This is prepared in olive oil and uses black pepper and salt for an added taste. This beautiful pot of soup is garnished with fresh basil leaves.
Protein daal soup: This soup recipe uses yellow and red lentils, onions, and tomatoes as the ingredients. It is easy to make and is prepared in 10 minutes. You can garnish it with cilantro on the top. It tastes yummy and looks beautiful too! What's best, it packs in a lot of protein as well!
Tomato soup: This tomato soup is a treat to your eyes as the red color of the tomatoes and the greens of the fresh basil leaves on the top add to its beauty. This recipe contains 4 large tomatoes, some cucumbers, onions, garlic, and green pepper. This is prepared in vinegar and olive oil and is very healthy and promotes weight loss.
Broccoli soup: This broccoli soup recipe is very easy yet healthy and is a visual treat! The greens will make your mouth water and your weight will come down thanks to the powerful nutrients this delicacy packs in. The ingredients include broccoli florets, fresh cream, garlic, chopped celery, and some black pepper, and salt as seasonings.
Italian vegetable soup: This Italian vegetable soup recipe is surely a delight for all Italian food lovers out there. Craving for something delicious yet healthy? This recipe is certainly for you! This recipe contains wheat pasta, tomatoes, carrots, celery, shredded Parmesan, and garlic cloves.
(Visited 50 times, 1 visits today)