Gujiya Recipes to Try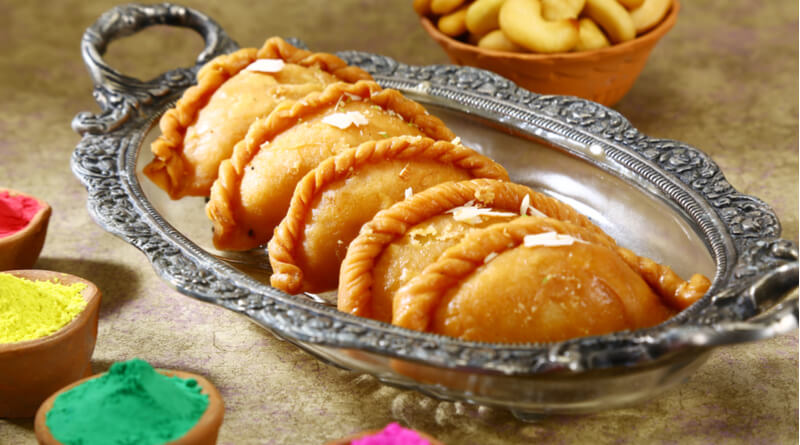 Gujiya is an amazingly delicious dessert with a lovely taste like no other. It's an integral part of the festival of colors, Holi and is enjoyed on several other occasions as well. Technically, gujiyas are sweet dumplings that are filled with stuffing. The stuffing can be made from khoya, grated coconut powder, and powdered sugar. To add that special master's touch, you can also introduce some dry fruits. Guijiya has a crispy texture from outside. The homemade version of the traditional mouth-watering dessert is enjoyed by one and all.
Gujiyas traditionally belong to North Indian cuisine and they are made from maida. You cannot be sure of the quality of khoya and the quality of the oil used for frying so it is best to make savory gujiyas at home.
Gujiya recipes to try
Here are some amazing gujiya recipes for you to try at home. So, what are you waiting for, go make some crispy desserts for you and your loved ones!
Chocolate gujiya: This is especially liked by kids as they are fond of chocolates. The filling is made from melted chocolate. The gujiya is crispy from outside and is chewy from inside.
Apple gujiya: Apple filling is stuffed inside the gujiya along with raisins, nuts, and khoya. The apples are sauteed for stuffing.
Coconut gujiya: This gujiya is stuffed with grated coconut filling. Coconuts add flavor to the gujiyas. Powdered sugar and dry fruits are added to coconut powder and stuffed inside the gujiyas.
Baked gujiya: The gujiyas are usually deep-fried but people who are calorie conscious can savor baked gujiyas. The preparation is the same but instead of frying, the gujiyas are baked.
Walnut brownie gujiya: The walnut brownie gujiya is perfect for kids and if the kids do not like the traditional gujiyas, they will certainly go for this walnut brownie gujiya.
(Visited 92 times, 1 visits today)