5 Exotic Salads from Around the World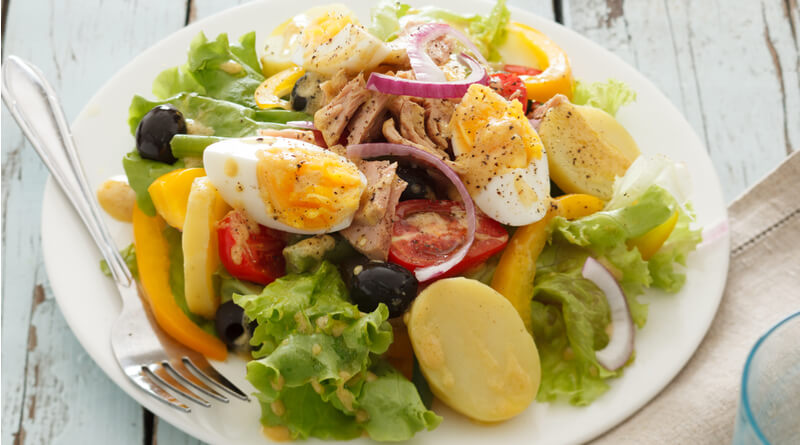 There's something to be said about eating a salad. Salads are fresh, they're cool, and they tend to have this ability to soothe the soul. The world of salads is wide and diverse, there's really a salad out there for everybody. If you're the kind of person that has been wondering what else exists beyond the world of Caesar salads, then you've found the right article. Below, are five recipes of fun and exotic salads for you to try. It is time for you to break through the barrier and really discover what exactly a salad can be. Some of these salads are crunchy, some are soft and smooth, others are tart, and others are sweet. There is definitely a salad here to suit you – try them all.
Vietnamese Green Mango Salad
This is a truly fun salad with an acerbic little bite. It is delicious and extremely filling, and really the perfect thing for summer. This salad uses green mangoes which are more tart than the orange mango, and combines them with mint, coriander, peanuts, cabbage, and lime juice for a truly unique amalgamation. This salad is truly addicting, so be careful.
Maine Lobster Salad
This salad is the epitome of delectable living. Its primary ingredient is lobster after all; it is border line decadent. You can actually consider this salad to be a fusion dish in a way. It combines both Eastern and Western cooking styles. A fragrant curry powder and fruity mango flavors work amazing with the olive oil and lime juice to make a truly unique taste that stands on its own.
Avocado, Rocket, and Fruit Salad
When talking about salads, the focus is on healthy eating. That is one of the strengths of salads; they are low in calories and high in nutrients. You can't beat that. Well this salad is at the top of the healthy salad pyramid. It barely needs any dressing because it uses fresh fruits and dark green leaves. You will love this salad, we guarantee it.
Shieldzini
Shieldzini is a type of cucumber salad that hails from Japan. It combines cucumber, rice wine vinegar, soy sauce, and white sugar to make a salad that stands on its own. This is a great side dish and equally great entrée. But it is important to serve this dish fresh, because cucumber is prone towards turning soggy if left too long.
This salad comes from Nice France, hence the name. It has a pretty sizable and healthy protein content, including eggs, tuna, beans, and anchovies. Not only does it have vital proteins, but it has dietary fiber and omega-3 fatty acids which are a lot of vital nutrients that you could always use more of. Oh, and don't forget that this salad uses Nicoise olives and an olive oil dressing. It's pretty amazing to eat, and very filling. This salad definitely should not be confused with an appetizer; it is firmly an entrée.
(Visited 66 times, 1 visits today)