Top Fusion Food to Kickstart The New Year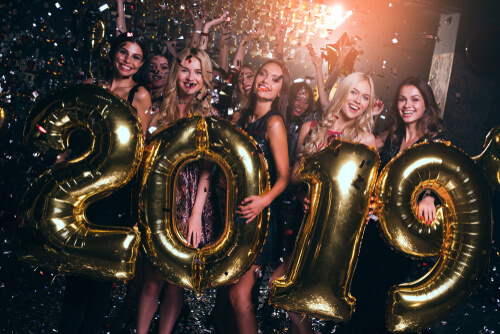 As time passes everything changes. The world has already gone through innumerable changes that cannot be listed here. You can talk about food and its changes over the years, and the list will never be ending. Fusion is a fancy term that began catching up like a wildfire. It's here too. Fusion in simple terms means blend something unique and invent a new idea, in this case, recipe or a dish. Fusion dishes are usually a combination of two or more dishes from different origins blend into one. For parties, you will always look for preparing a different dish, and that's how a fusion dish is born. As you prepare to enter 2019 with a bang, don't forget to eat healthy. So, here are a few top fusion foods you can consider.
Panipuri With Drinks
Panipuri is one of the favorite street snacks in India. It is typically eaten with mint, green chili in the water/juice and stuffed potatoes or chickpeas. Once the puri or shell is filled with the stuffing, you add the spiced water and then it all goes into your mouth at once. For a change, try fruit filling with fruit juice. What better way to start your year with panipuri shots! Remember to consume it immediately. You won't enjoy soggy shots.
Cheese Macaroni Pancake Sandwich
While the name is lengthy and looks complicated, this recipe is one of the easiest to prepare as you plan your new year's party. For each sandwich, you will need two pancakes with the usual maple syrup to go with it. Cheese macaroni goes between them. There are many other options to vary the pancake or to add rich flavor to your macaroni like adding cheddar.
Tandoori Chicken and Bruschetta
Bruschetta is one of the best Italian dishes. Tandoori chicken is no less. This combination, you can call it a Eurasian recipe or simply Indo-Italian dish, is a must on your New Years party menu. It is spicy, of course, due to the rich spices in tandoori chicken and when combine with toasted bread slices will take the fusion food to a whole new level.
Chocolate chip cookie shot
It's a New Year party, and without a chocolate dish, your party will remain incomplete. Chocolate makes everything special. To be fair, you cannot really greet your family and friends with only spicy delicacies. So, include this heavenly combination of cold milk and cups made of chocolate chip cookie. A little bit of planning will make your New year's party cool and don't forget, you are saving on cups too.
Kachoris stuffed with cheese and Jalapeno
Kachori is another famous street food from India. Every sweetshop or an evening snack bar sells kachori. There are little variations depending on the state, but it is still one of the most eaten snacks. Now combine that with a Mexican flavor. This spicy stuffing when replaced with typical Indian stuffing will surprise your friends and family. The kachoris can be either baked or deep fried.
(Visited 44 times, 1 visits today)