Top 3 Homemade Face Masks that Work Wonders When You Leave Them Overnight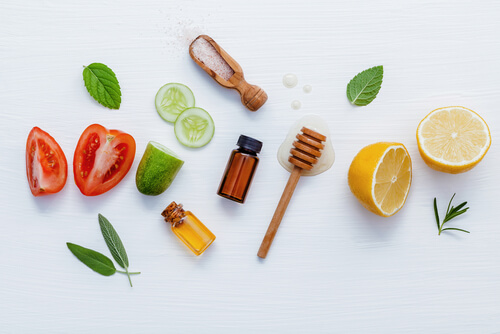 Sometimes you want to include a face mask in your beauty routine, but you do not have the time to make it every morning. After all, people are busy and have to go to work. But there is no reason you should neglect your skin, simply use overnight masks, and you won't have to worry about being late in the morning.
1.Coconut Oil Mask
Ingredients
Coconut oi
A few drops of tea tree oil
Procedure
Mix both oils in a bowl.
Apply the solution to your face and massage it well.
Leave overnight.
Frequency
3-4 times a week.
Coconut oil is a natural moisturizer and astringent that hydrates and cleanses your skin effectively. Tea tree oil is a natural antibacterial and can minimize dark spots and pigmentation which will grant your skin a radiant glow.
2.Green Tea, Potato and Cucumber Juice Mask
Ingredients
½ cup green tea
Cucumber juice
Potato juice
Procedure
Grate half a potato and half a cucumber in a bowl.
Remove the pulp and squeeze out the juice.
Prepare green tea.
Let it cool down.
Mix all the ingredients into a runny puree.
Use a cotton ball to apply this mixture to your face.
The mixture will be easily absorbed –leave it on overnight.
Wash your face in the morning with cold water.
Frequency
2-3 times a week.
Why This Works
Cucumber juice will cool and sooth your face while treating sunburn and reducing inflammation. The potato juice will even out your tone and treat puffiness. And the green tea is a natural antioxidant that will clear dirt from your pores.
3.Tomato and Honey Mask
Ingredients
3 tbsp tomato juice
1 tbsp honey
Procedure
Blend tomato juice and honey into a bowl.
Apply this mixture to your face using a cotton swab.
Make sure it is fully absorbed into your skin.
You can either choose to wash it up before sleeping or leave it on overnight
Frequency
2-3 times a week.
Tomato acts as a natural astringent and helps to remove your tan, treat sunburns, and reduce pigmentation. The honey can help bring a healthy glow to your skin and reduce blemishes.
(Visited 46 times, 1 visits today)