How to Temper Chocolate: Everything You Need To Know!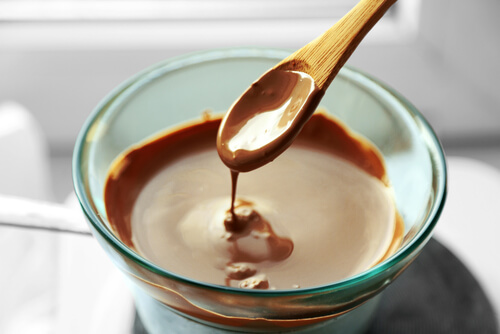 Tempering chocolate is of vital importance when making chocolate decorations. It is what you need to do when you want to have properly textured truffles and beautiful chocolate-dipped caramels and fruits.
The chocolate tempering process runs melted chocolate through a process consisting of a heating, cooling, and reheating process. This grants the chocolate a glossy reflective type surface and a nice satisfying crispness and snapping bite. The part of chocolate that lets it to melt so deliciously in our mouths is called cocoa butter.
What Type of Chocolate Should You Buy for Tempering?
When buying chocolate, make sure to avoid choosing the kinds labeled bittersweet or semi-sweet; instead, find chocolates labeled with percentages. The best quality chocolate for tempering is the type labeled with 60-70% coco. Also, make sure the chocolate does not have any added wax. You want it to just be cocoa butter and solids, and sugar. Chocolate is easiest to temper when it has cocoa butter added to it – this is a special type of chocolate specifically made for tempering and dipping.
Tempering Temperature
The proper temperature for tempering depends on the amount of coca butter content in the chocolate's composition and the ratio to other ingredients. The temperature also depends on the actual type of chocolate you use. White chocolate does not have any coco solid for instance.
Dark chocolate: 31-32° Celsius
Milk chocolate: 30-31° Celsius
White chocolate: 27-28° Celsius
How to Temper Chocolate?

Necessities
Chocolate, between 60-70%
1 serrated knife
1 saucepan
1 bowl
1 kitchen thermometer
1 flexible spatula
1 food processor
Procedure
Cut one bar of chocolate into two halves using a serrated knife. Try using cuverture chocolate for the best results.
Place the chocolate onto a chopping board and chop it into fine pieces. You can also use a food processor if you prefer.
Place the chopped chocolate into a bowl. Fill a saucepan with hot water and put the bowl over it. Make sure the bowl is floating in the saucepan and not touching the actual bottom of the saucepan.
Slowly heat the water, making sure it does not begin to boil. You can also use a microwave, just make sure it is in 'defrost mode'. Stir the chocolate regularly using a spatula so that the chocolate melts smoothly.
Check the temperature with a thermometer. The temperature should be 55-58° C for dark chocolate, and 45-50° C for milk and white chocolate.
(Visited 110 times, 1 visits today)