How To Make Instant Rice Flour For Idli and Dosa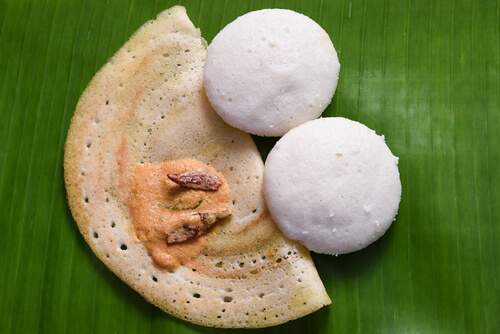 Idli and dosas are fundamental parts of Indian cuisine. They're as important to the Indian breakfast experience as peanut butter is to jelly. You don't have to spend a lot of time making dosa or idli either. All you have to do is learn how to make this instant rice flour which you can store for later use. Then when you are ready to make your dosas and idli in the morning, you just have to whip out your batter. It will drastically reduce your prep and cooking time, and you can focus less on cooking and more on eating. This is the perfect recipe for the busy parent.
Ingredients
300 g rice flour
125 g urad dal
45 g thick poha
½ tsp salt
Procedure for Instant Idli Rice Flour
Heat a pan at a low to medium temperature.
Lower the temperature and add the urad dal.
Roast urad dal for about 2 minutes while stirring often.

Note:  The urad dal is roasted to remove some of the moisture.

Add the poha.
Mix very well and roast for a minute at low temperature.
Remove the pan from the heat and let the mixture cool down.
Combine all the ingredients in a grinder jar and grind them into a fine powder.
Place a sieve over a large plate or tray.
Sift the ground flour through the sieve.

Note: Some urad dal grits will be there; add them to your dals or discard.

Add rice flour and salt.

Mix very well.
The idli mix is ready to be bottled.

Add the idli mix flour in a jar using a spoon.

Seal tightly with a lid.
Use the idli mix as necessary.
Ingredients for Idli
1 cup idli mix
⅔ – ¾ cup water
¼ cup sour curd/dahi/yogurt
½ tsp fruit salt or eno
Procedure for Instant Idli
Combine the idli mix flour, sour curd and water.

Mix well to make a free-flowing batter.

Make a smooth lump free batter using a wired whisk.
Add ½ tsp fruit salt or eno.
Mix very well.
Pour in a greased idli pan.
Steam the idlis for 10 – 12 minutes.
Note: Avoid utilizing baking soda – it gives a soapy aroma to the idlis.
(Visited 728 times, 1 visits today)