Lunch Menu for a memorable Holi Party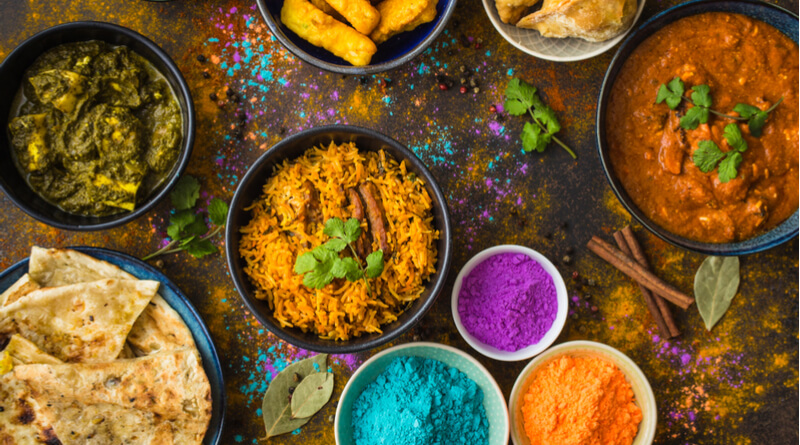 Now it's almost a universal fact in India that Holi is the most enjoyed and loved festival throughout the year! It's such a colorful and high-spirited festival that no one can hold themselves back from celebrating it. Holi, besides being all about colors is also about food and it's a cheat day for everyone to indulge in some amazing food. It's time for puran-polis, gujiyas, mathris, and malpuas and everything sweet! It's a festival filled with so much of adrenaline-rush that the amount of food disappearing from the table would be surprising. If you are planning to host a party cum lunch for your family members and friends and are fretting over the menu, then this is the right place to look for the perfect Holi party menu
Thandai
A Holi party without Thandai!! Ever heard of that? Nada. Never. Since Holi generally falls at the beginning of summer, Thandai is a must for this festival. You can prepare your own version of thandai this Holi and treat your families and friends to it.
Iced Tea Thandai
A New one?  Iced teas are something this young generation absolutely loves and what can be better than making an Iced tea special Thandai?? All you need is white pepper, Assam tea bags, coarsely crushed almonds, poppy seeds, cardamom powder, fennel seeds, ground sugar, and saffron. Just heat water and add tea bags in the water to infuse the favor. Then add all the other ingredients ending with white pepper. Cool it all in the refrigerator and serve chilled.
Starters
Feasting on dahi bhallas is one tradition that never gets old. Dahi bhallas are one favorite starter you can make with ease and perfection. You call it "the chilled snack" of every festival.! This is how you make those white, soft bhallas sprinkled with chaat masala and spicy chutneys
Now all you have to do is grind the soaked moong dal and urad in the processor and add jeera to it. Now with wet palms take the batter in your palms and drop into the hot oil. Deep fry the bhallas. Now place these bhallas into whisked yogurt and let the bhallas become soft. Now add both the spicy and sweet chutneys on top of the dahi bhallas, then sprinkle chaat masala on to it, and you can also add sev and pomegranate on the top. Now let the whole thing refrigerate for a few hours and then serve them chilled.
Main Course
Ah here comes your love! For the people who are vegetarians, you can go with everyone's favorite dal makhani. It's a creamy treat no one can resist. Prepare your dal makhani with dal and add butter, chilies, tomatoes, and kasoori methi to it.
And for the curry Dum aloo is by far the easiest and yummiest to make. Just boil your potatoes and sauté them with herbs and spices and your duma loo is ready!
For the ones who are non-vegetarians, you can go for Kulchas and Pashtooni Zarda Pulao to accompany the curries Chicken Sukka and Rogan Josh.
Desserts
Not to forget the sweet tooth, a Holi party is incomplete without a dessert!! Since Holi is about gujiyas and puran polis, you can prepare these along with kesar phirni for the drink.
(Visited 36 times, 1 visits today)