Indian Curry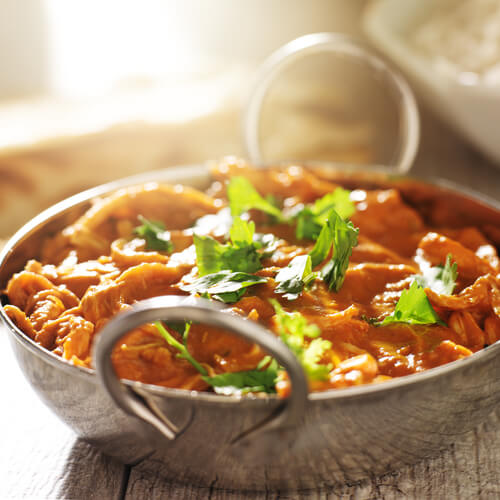 The term curry was invented by the British colonialist during the 18th century for that saucy dish flavored with curry powder or paste. However, around the globe, there is no specific definition of curry. Many modern restaurants use it when serving any kind of sauce based dish.
Curry is as old as India itself and its preparation has evolved over time. Indian curry is all about technique and ingredients. From there, you can customize your curry to your own taste and preference.
Onions, garlic, and ginger are the basic ingredients when preparing curries. The longer you cook this mixture, the darker it becomes. Note that some Indians don't add the garlic.
To make some excellent curry you will require a handful of spices. You can add them early so that they can soften and infuse the dish with delicious flavor.
Thickening agent will do wonders. Thick curry tastes best. You can use yogurt, spinach, tomato puree or ground nuts.
Health Benefits
According to a research conducted by the medical ministry in India, it was noticed that Indians who had curry at least twice a day had a longer life expectancy. Don't be surprised by this. Curry powder reduces inflammation. Turmeric, a key ingredient, has for centuries been used in the Indian medical institutes as a treatment for inflammatory conditions.
Not convinced yet; curcumin is not a new word in the field of cancer. It is used in the prevention and during cancer therapy.
This fiber-rich food aids in digestion.
How To Make It
Heat vegetable oil or ghee (clarified butter) in a pan. Add whole spices and cook until they crackle.
Chop ginger, onions, and garlic. Add to the pan and cook until softened.
When the mixture begins to darken and a sweet aroma start filling your kitchen, add your ground spices then stir well.
Add heat with chilies, cayenne pepper or red pepper flakes.
Add the main ingredient – this can be meat, vegetables, chickpeas, tofu or paneer.
Add liquid such as stock or coconut milk and cook until main ingredients are tender.
Add thickener such as yogurt, spinach, tomato puree or ground nuts. Cook until desired thickness.
Pack some spicy and smoking hot Indian curry in a Vaya tiffin box and enjoy a hearty, homecooked at work, after a workout, or while riding the train. Vaya is sure to keep your food fresh and hot and you'll never have to order preservative-laden takeout anymore!
(Visited 66 times, 1 visits today)