Homemade Ragi idli and Dosa Batter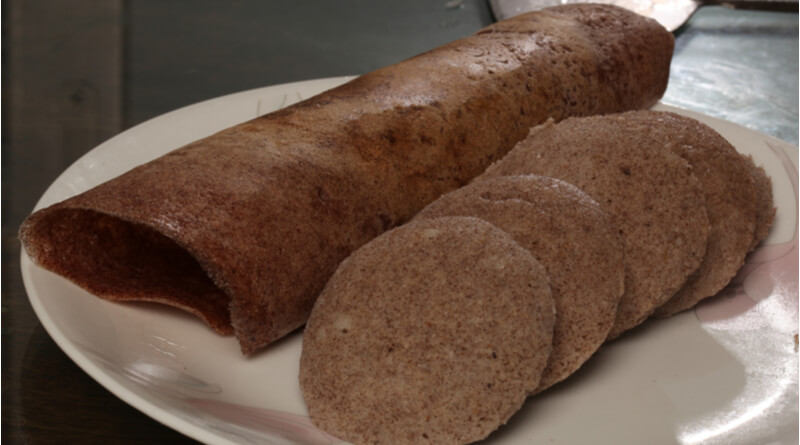 Ragi idli and dosa are an essential component of South Indian cuisine. The recipe for making homemade ragi idlis results in amazing ragi idlis which are simple to prepare and highly nutritious. Ragi is very rich in calcium, has high fiber content, reduces blood cholesterol, and regulates blood sugar levels. Adding ragi and millets in the idli and dosa batter is thus a great idea. This is also a diabetic-friendly recipe. You can savor the delicacy at any time as a part of the breakfast, lunch or dinner. Idlis and dosas are the favorite breakfast delicacies in many parts of the country. Moreover, the addition of ragi to the batter enhances the nutritional value and health benefits manifold! The delicacies are best served with hot homemade sambhar and fresh coconut chutney.
Recipe for homemade ragi idli and dosa
The recipe contains three simple steps: soaking overnight, grinding, and fermenting. The rice, lentils, and ragi seeds are first soaked for preparing the ragi idli and dosa batter.
Millets such as barley, bajra or jowar can also be used for the batter.
The ingredients in this recipe include idli rice, white urad dal (whole), ragi seeds, fenugreek seeds, and salt.
After soaking you can grind it until you get a fine and smooth batter. Add limited quantities of water and do not add a lot of water as the mixture can become too watery.
When the weather is warm, fermenting will yield better results.
If you live in a cold region, place it in the oven first and then let the batter ferment.
After fermenting, your batter is ready to prepare homemade ragi idlis and dosas.
If you would like to easily spread the batter, you can dilute it with a little water.
(Visited 57 times, 1 visits today)