Hazelnuts Recipes Worth Trying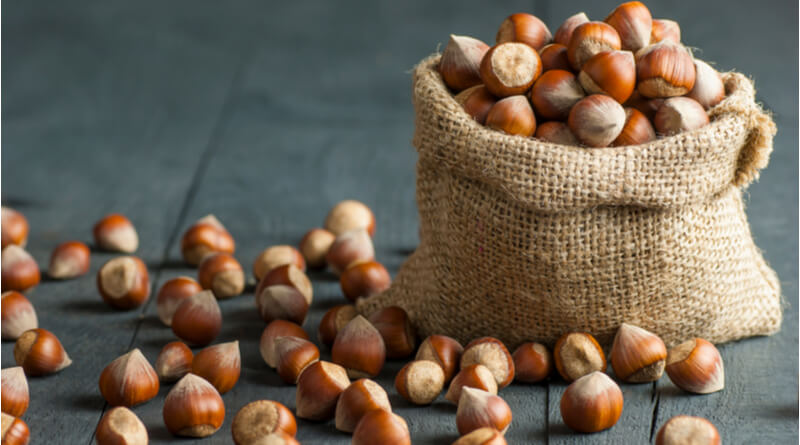 Hazelnut is a much-loved nuts for preparing desserts or chocolates. Besides being delicious, hazelnuts carry many health benefits. The nuts are filled with antioxidants and rich in fiber, proteins, vitamins, and minerals. Hazelnuts promote good heart health as it increases good cholesterol level, increases muscle strength being rich in magnesium, improves cognitive functions, and keeps the brain sharp. Hazelnut and chocolate are known as a match made in heaven but don't underestimate the flavor of hazelnut in a salad or a wrap as well. Here are five hazelnut recipes which are too good:
Microwave Hazelnut Cake
Hazelnut cake is easy to bake. Sieve refined flour or maida, baking powder, and sugar in a bowl. In a separate dish, whisk an egg. Add hazelnut Nutella and oil to the egg mixture. Pour the egg mixture into the flour mixture and mix well. Place the bowl in the microwave and cook for 2-3 minutes at a high setting. Let the cake cool down and it's ready to serve!
Hazelnut Cookies
Prepare some easily baked hazelnut cookies in your kitchen instead of rushing to a nearby bakery. Sift baking powder, sugar, salt and flour in a bowl. Add hazelnut paste and butter. Make a stiff dough.  Add milk and smoothen the dough. Make balls and flatten them. Place them on a greased baking sheet. Bake at 200 degrees and your cookies are ready!
Hazelnut Asian Lettuce Wrap
Perfect for a brunch, this hazelnut wrap will leave you wanting for more. Add oil in a saucepan and sauté garlic and minced chicken and wait until it is cooked. In a blender add orange juice, hazelnuts, vinegar, ginger, soy sauce, and hoisin sauce to form a puree. Pour the sauce over chicken and add onions, coleslaw, some hazelnuts, and cilantro. Add romaine leaves and serve.
Poached Pear Salad
Who would've thought that hazelnut would make such a great addition to a salad? Well, you are about to know! Peel and cut a pear into half and add wine, sugar, water, cloves, and cinnamon. Mix well and bring them to a boil. For dressing mix honey, olive oil, lime juice, radicchio leaves, romaine leaves, and hazelnuts. Cut the unpoached pear along with the poached one and add grapes and dressing to them. Toss and add whipped blue cheese. Serve!
Chocolate Hazelnut Gujiya
Gujiya is a traditional Indian sweet served during plenty of festivals. A hazelnut twist makes it extra special. Mix Calle Baut chocolate, hazelnut paste, melted butter and castor sugar together in a double broiler. Style gujiyas by available molds and add the filling. Deep freeze the gujiyas for an hour before deep frying. Serve hot!
(Visited 15 times, 1 visits today)