Ganesh Chaturthi Recipes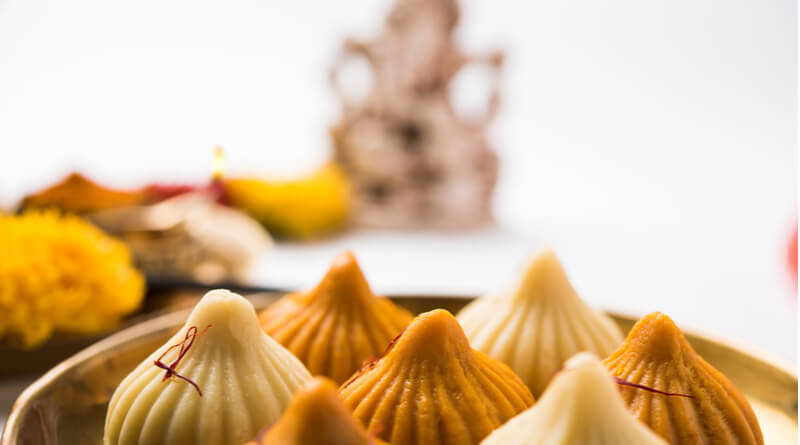 Ganesh Chaturthi is undoubtedly the biggest festival in India and is celebrated with such flamboyance and grandeur that it remains unforgettable for the rest of the year. In most parts of the county, the festival goes on for days and weeks. You can hear the loud music and fireworks throughout the celebration. Apart from music and fun, this festival is also known for the delicious sweets and savouries that are a part of the grand feast. Here are some recipes you should not miss out.
Steamed Modak
It is called ukadiche modak in Maharashtra. This is a trademark recipe for Ganesh Chaturthi especially. Boil rice flour in water, oil, and salt in a pan till you get a dough-like consistency. Roll out the dough and fill with coconut-jaggery filling, and gently closing the edges. Steam them, and your modaks are ready!
Puran Poli
Another popular Maharashtrian dish, puran polis are to die for! Pressure cook rinsed chana dal (split Bengal grams) and drain it. Add ghee in a pan and sauté dry ginger powder, fennel powder, cardamom powder, nutmeg powder, chana dal, and jaggery until it becomes dry and thick. Roll out wheat flour dough similar to making chapatis, and fill the chana dal mixture in the middle and roll out again. Cook on a pan like you would cook roti with ghee and serve warm!
Kala Vatana Sambhar
A Malvani or Konkani recipe must be in your list of recipes in this year's Ganesh Chaturthi. Boil soaked black peas, and keep the broth. Add oil in a pan and fry sliced onions, now add chopped ginger, chopped garlic, grated coconut, and red chilies. Along with few boiled black peas, grind the masala together. Heat oil in another pan and fry onions and add the ground paste to it along with salt, peas, and the broth. Cook until the peas turn soft, garnish with chopped coriander leaves. Serve hot with vada or puris or even jeera rice.
Poha Chiwda
Make this once, and you're good to go for quite a lot of days, a perfect snack for any day. Crispy and with dried fruits and nuts, chiwda is a standard snack for tea time in India. Make a huge batch and you are all sorted for snack for the following days!
Sabudana Khichdi
A complete gluten-free recipe, this is a Maharashtrian special dish you don't want to miss.
Sabudana or rather tapioca pearls is good for health that this khichdi will become a favorite in no time! Soft and fragrant, this khichdi is a go-to snack or breakfast dish across many houses in the country!
(Visited 12 times, 1 visits today)