Easy Mocktail Recipes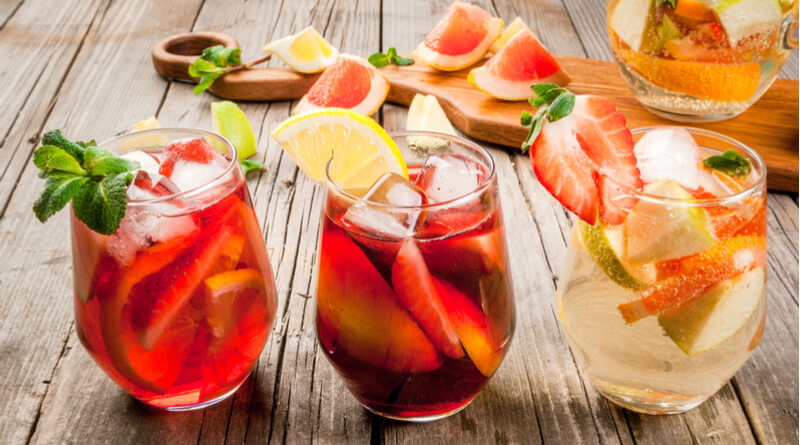 Choosing a menu for the dishes you'd like to serve during those brunches or dinner parties or baby showers or birthdays isn't a big deal as choosing drinks are. You always think of serving something special to drink but end up with sodas or juices. But where's the fun in that? What if you can prepare some classic, lovely drinks and that too at the ease of your home? Awesome, don't you think? Here are few easy mocktail recipes that take no time at all but would definitely leave your guests impressed and happy.
Virgin Watermelon Margarita
A sweet nature rush, this mocktail will leave you refreshed.  Make watermelon puree in a blender and make enough to fill at least 4 cups and now add lime juice and mix it again. Top it off with sparkling water and your Virgin watermelon margarita is ready!
Blueberry Mojito
A little sweet, a little tangy, this mojito is a perfectly easy mocktail to prepare. All you need is 2 tbsp of simple syrup, 2 tbsp of lime juice, few fresh blueberries and few mint leaves and club soda. Add all the ingredients in a shaker and serve!
Popsicle Punch
Popsicles are like ice creams but adding cubes of popsicles in juices or mixes is an ingenious idea you can come up with. All you need are strawberry popsicle cubes and mango popsicle cubes, slices strawberries, garnished mangoes, seltzer, and lime soda and lemonade. Add all the ingredients together and pour into glasses and top it off with popsicle cubes.
Pineapple-Mint Mojito
It's a perfect pool-side mocktail. In a shaker add pineapple juice, ice, and lime juice and shake thoroughly and add mint leaves and a little sugar. Pour it into mocktail or cocktail glasses and add ice cubes and club soda.
Lime Zinger
Ever thought of Red Bull in a mocktail? No? Well this mocktail recipe is a favorite any day. Ingredients you need are limes cut round, grape juice, strawberries cut in half, cucumber strips and red bull lime edition sugar-free and ice. Pour Red bull lime edition sugar-free and grape juice in 4:1 ratio respectively and add cucumber and limes and ice to the mix. Top it off with strawberry and serve cold!
Sparkling Blue Mocktail
This sparkling Blue mocktail is a classic you can serve at your lunch party any given day. All you need is 2 ounces of blue fruit punch, sparkling grape juice, and blue sprinkles. Dip your champagne glasses on the blue sprinkles. Pour the blue fruit punch in the glasses and add the sparkling white grape juice into it. Serve chilled.
Purple Punch
A purple punch is not only a pretty mocktail but one of the tastiest ones you'll swear by for any party you host. You need few mint leaves, 6 blueberries, lemon wheels, and red Bull Purple edition sugar-free and lemonade. In a glass, add blueberries, lemon and mint, and ice. Add Red Bull Purple Edition sugar-free to freshly made lemonade in 4: 1 ratio respectively. Stir the mix well, and you can top it off with garnishes of lemon, mint leaves, and blueberries. Serve chilled.
(Visited 48 times, 1 visits today)