Delicious West Indian Recipes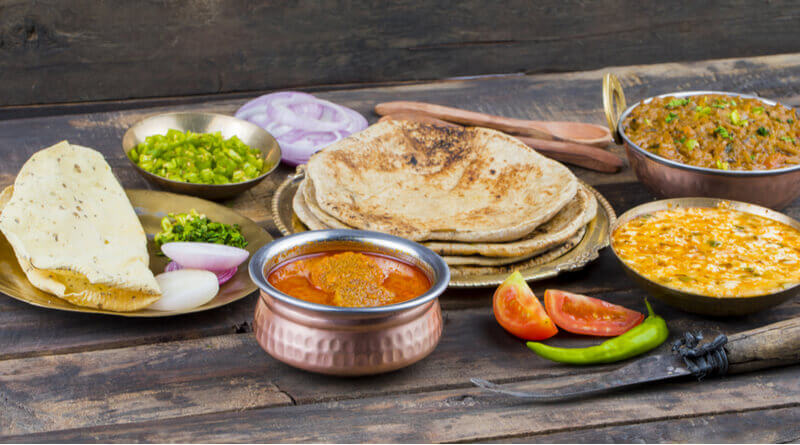 Maharashtra, Goa, Karnataka, Gujarat, Rajasthan, all these beautiful states in the west are not only known for their beauty and culture but also excellent food, the food you cannot forget! It is natural to stick to one's own food culture, but it is exciting to try your hand at other state's culture and even treating your family. So, instead of going to restaurants to explore other cuisines, here are some delectable and popular recipes from Western India.
People in Maharashtra go crazy over this one! A crunchy potato patty between a pair of pav, a small bun, served with chutney with the addition of green chilies is the most loved snack and breakfast out there. Make aloo vada by making a paste of mashed potatoes, onions, green chili paste, turmeric, red chili powder, lemon juice, asafoetida, mustard seeds, and fennel seeds. Make the paste into patties and deep fry in oil. Place them between pav and serve with green chutney.
Zunka Bhakri
A typical Maharashtrian dish, this is generally served as an accompaniment with pearl millets / bhakri, a kind of roti. It is also known as Jhunka. The ghol is added to the masala, and together they weave a magical taste. To make the ghol, mix besan, coriander leaves, curry leaves, turmeric, red chili powder and onions in water. Now heat oil in a pan and add mustard seeds, jeera seeds, ginger garlic paste, onions, and green chilies. Add the ghol and let it cook. Serve hot!
Nope, it is not what you think. Bombay duck is a fish that is generally found in the waters around Mumbai. It is so delicate that it can easily fall apart. This is a fry recipe; you will love! Marinate the filleted Bombay duck in lemon juice, turmeric, salt, and chili powder. Coat the fish with rice batter and deep fry it. Serve hot!
Goan Fish Curry
Well, there is no West Indian food list if there isn't a Goan fish curry in there. This Goan authentic recipe is not something you can easily forget once you've tasted it. Marinate the fish in salt and lime. Grind in the masalas together. Add green chilies and onions to the masala and cook the masala in a pan. Add the marinated fish to the masala and let it cook. Serve with rice and enjoy!
Bebinca
Bebinca or Bibik is a special Goan recipe inspired by an Indo-Portuguese Culture. It is a dessert that will require you to be a little patient while preparing, but it will all be worth it in the end. Make a batter of egg yolks, nutmeg, sugar, flour, and coconut milk. Spread some of the batters evenly on a baking tray and bake, repeat this process until all the batter is used. Cut out the bebinca into slices and serve!
(Visited 48 times, 1 visits today)