Delicious Lassi Recipes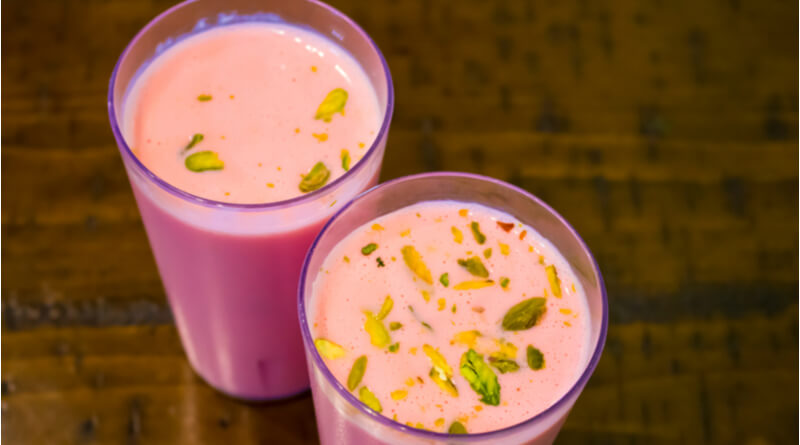 Summers are here and so is the heat and so is the season of lassi. The sweet lassi that has originated from Punjab is the most usual one but who has stopped you from exploring into other flavors of this most cherished drink? Lassis can be varied into almost anything. And since yogurt is so good for the body and skin, adding few more healthy variations to it will make it a pretty awesome drink. Here are 5 best lassi recipes to try out this summer.
Mango Lassi
Who doesn't love mangoes? It's summer, and it's that time of the year again when you find all those lovely, yellow mangoes in the market again! So why not use them to your advantage? Mango lassi is not unheard of and in fact a lot of people, especially in Punjab, make it a point to make mango lassis every day in summers. Doesn't that sound mouth-watering?
To make mango lassi, peel 3-4 medium sized mangoes and chop them. Make a pulp of the mangoes by putting them in the blender along with sugar and cardamom powder. Add chilled yogurt to it and few ice cubes. Blend it again. Serve in glasses and top it up with mint leaves and ice cubes. If you're looking for thin consistency, then add a little milk while blending.
Strawberry Lassi
You find the most delicious fruits in summer and strawberries no doubt are one of them. While you love gorging on those red berries, why not go ahead and make a lassi out of them? You won't be disappointed.
To make Strawberry Lassi, take up to 350 gms of strawberries, wash them and roughly chop them. Blend the strawberries with sugar to make a smooth paste. Then add yogurt and rose water and again blend till you get a smooth consistency. Serve and garnish with mint leaves or slices strawberries along with few ice cubes.
Rose Lassi
You must be familiar with this one as well. Rose lassis are often served in restaurants and cafes, especially in summers. Made with rose petals and rose syrup, this is the sweet, cooling kind of lassi you need on a hot summer afternoon.
To make rose lassi, take half a cup of chilled yogurt in a blender and then add 1 cup cold water, 5-6 fresh rose petals, 3 tablespoons rose syrup and 2 tablespoons rose water and few ice cubes and again blend till you get a smooth consistency it becomes frothy. Serve chilled and garnish with dry fruits.
Badam Pista Lassi
Now it's no surprise that dry fruits are those loved snacks that no matter how much you've had them, you always have a place for more. So why not make a rich, healthy recipe out of these extremely healthy fats?
Here is how you make this tasty lassi, take 7-8 almonds and pistachios each and chop them small. Now in a blender add the chopped dry fruits, 1 cup cold milk, 1.5 cups yogurt, ½ cup sugar, ¼ tsp cardamom powder, etc. Blend till the lassi is creamy and smooth. Serve chilled with more ice cubes.
Papaya Lassi
Now, this might be a very surprising recipe, but you'll be more surprised at its tastiness. You can for once replace papaya with mango and taste the difference. Usually, people like to have papaya plain, but with the goodness or yogurt, this lassi makes for a very healthy drink.
To make papaya lassi, rinse 2 small ripe papayas, remove the seeds and chop them small. In a blender first add the chopped papaya, sugar or jaggery as needed and ¼ tsp of cardamom powder. After that add 2 cups of plain yogurt and ice cubes and blend till you get a smooth, creamy consistency. Just like any lassi, this one also must be enjoyed while it is chilled.
(Visited 35 times, 1 visits today)