Boost Your Immunity in Winter with Homemade Chyawanprash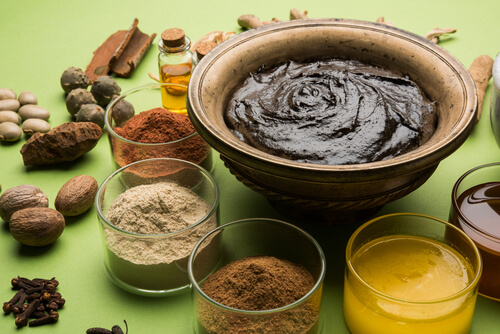 Chyawanprash is an iconic Ayurvedic herb formula that is typically consumed during the winter months. It is safe for anyone to consume, and is meant to boost your vitality. Legend has it that it was originally created by the sage, Chyawan to restore his youth. While it may not return your youth to you, it will help boost and strengthen your immune system, and help your body during the red blood cell production process. It is also great for the lungs due to its ability to nourish mucous membranes which can help your respiratory passes stay clear. You can make your own chyawanprash at home using the recipe below. But be advised, that it is best to only consume this formula during the winter as it produces substantial heat in the body.
Ingredients
750 g Indian gooseberry
750 g sugar
85 g organic honey
250 g homemade clarified butter
75 ml sesame oil
Powdered Ingredients
25 mg cardamom
12 g triphala
12 g gulvel satva ( guduchi satva)
12 g vanshalochan
10 g sandalwood
10 g long pepper
10 g ginger, dry
05 g dashmool-05
05 g bay leaves- 05
05 g nutmeg- 05
05 g cloves-05
05 g chinese cinnamon
05 g pepper
2.5 g prawal bhasma
2.5 g mrigashruga bhasma
2.5 g nagkesar (cobras saffron or indian rose chestnut)
Method:
Combine all the powdered ingredients in a glass bowl and thoroughly mix them together.

Set the bowl aside.

Wash the Indian gooseberries and completely pat them dry.

Prick them with a fork.
Pressure cook them in water for 2 whistles.
De-seed them and mash them into a very smooth paste.
Set aside.

In a heavy bottomed pan / non-stick pan add clarified butter, sugar, and oil.

Add the Indian gooseberry paste and cook the mixture slowly over a low flame, so that all the mixture's moisture evaporates.
Add the mixed powders.

Turn off the heat and let the mixture completely cool.
Add the organic honey.
Mix thoroughly.
Transfer the mixture to a dry sterilized glass bottle.
Consume as required.
(Visited 242 times, 1 visits today)