What are the Benefits of Goat Milk And is it Better than Cow's Milk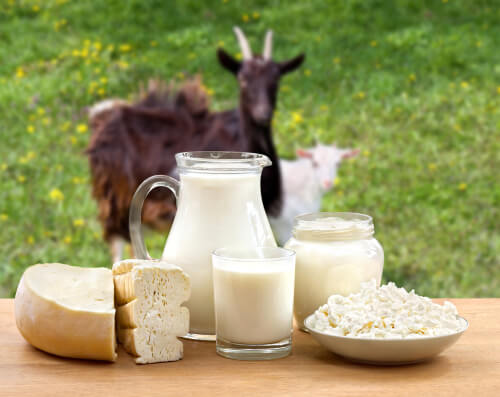 Lately, goat milk has started to rise up as a great alternative to traditional cow milk. Goat cheese has been eaten for quite some time due to its flavor and texture, but goat milk is prized for its nutritional value. But is goat milk better for you than cow's milk?
About Goat Milk
Milk, no matter what type, is composed of water, protein, lactose, fat, and micronutrients. Different milk types can have the same macronutrient profile, but there is a wide variation between them at a micro level. Goat milk specifically, contains several properties that differentiate from cow milk:
Goat milk is easier to digest than cow milk.
Goat milk causes fewer respiratory issues.
Goat milk decreases the number of dermatological symptoms.
Fat Content
Goat milk actually has a different type of fat content than cow milk which is one of the reasons it is easier to digest. The fat globules in goat milk are smaller with a greater surface area than those found in cow milk. This means the enzymes that have to process the globules during the digestive process have to work less hard, which is ultimately easier on your stomach.
Lactose Content
Goat milk has less lactose than cow milk. Lactose is milk sugar which has to be broken down via a particular enzyme. The more lactose your stomach has to break down the harder it is on your stomach. This is especially the case for people who have a lactose intolerance or produce less of the enzyme.
Protein Content
Cow milk has a specific protein known as Alpha s1 Casein. This protein is the primary cause for allergic reactions to milk. Thankfully, this protein is 50% less present in goat milk.
If you're having trouble consuming milk, then you just might want to make the switch to goat milk. It is better for you in some very real ways.
(Visited 72 times, 1 visits today)