All about Biryani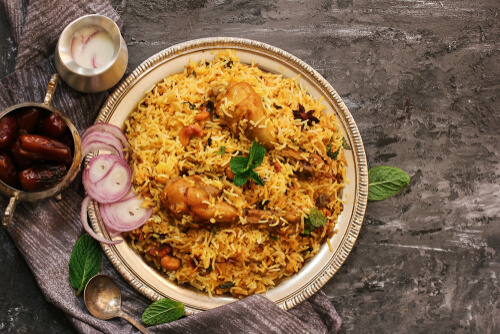 Food is not just essential for the body, but it works the way music works for your soul. You must have noticed that certain dishes or ingredients lifts your mood up, not just limiting to chocolates. Biryani, the one dish that everyone wants to taste when they visit India, especially Hyderabad. India has different varieties of biryanis though it is not proven that India is the place of origin for the dish people die for. There is no exaggeration when stating that biryani is a soul lifting food and is rightly called the crown dish of people in Hyderabad.
The Origin
As mentioned, you don't know if Biryani recipe was invented in one particular place, every state in India has its own version of biryani that has been influenced by the Persian dish. However, the word biryani is borrowed from Persian language, modern-day Iran. According to historians, it is likely that biryani was introduced to India during the Moghul Empire which was perhaps later improvised.
What is Biryani
It's a dish made with steamed rice, marinated meat, plain curd and a lot of spices. Just the aroma can pull you to eat this delicacy and make you forget your weight watching program if you have one. Biryani is an important part of the menu and is prepared in every Indian wedding. While the main ingredients are meat in biryani, other varieties are prepared using vegetables like potatoes.
Which one is the Best Biryani
Well, to be honest biryani is a celebrity dish all over India, and you cannot really say which one is the best because every state has varied flavor. Apart from the famous Hyderabadi biryani, the notable biryani flavors are from northern states like Delhi, which has Mughlai biryani and Lucknow, which serves Awadhi biryani and is also called Kolkata biryani, and don't forget the other south Indian states like Tamil Nadu, Kerala, and Karnataka which has they own varieties too.
Where to find the real taste
From posh five-star restaurants to the street-food, almost everyone has biryani on the menu for the main course. On the streets, you will find people swarming to eat hot and spicy biryani. As the days pass, the food revolution is taking a new turn. Instead of authentic biryani which is prepared from scratch, a few hotels use shortcuts.  So, if you are a food lover and don't want to cook biryani at home, start hunting for a place where the authentic taste is still alive. Once you find the right place and enjoy the plateful of spicy aroma filled delicacy, you will be sure to visit there again. If you do, don't forget to treat your friends.
(Visited 144 times, 1 visits today)