8 Easy Homemade Ice Cream Recipes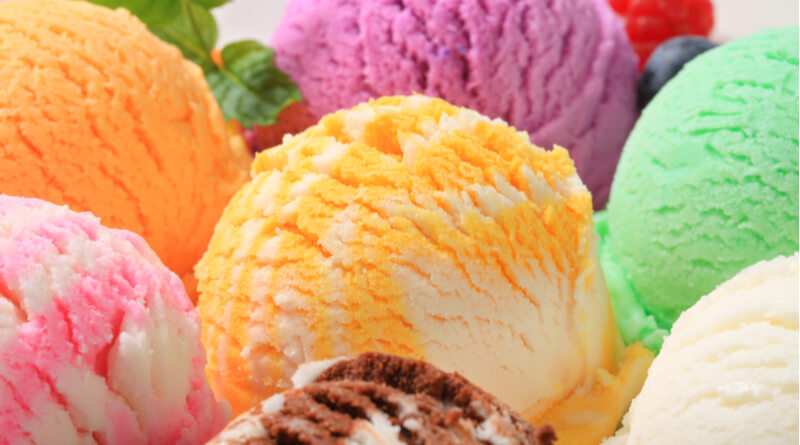 Ice cream is everyone's, first love. Whenever anyone even mentions ice cream, you have your mouth-watering and your memories going back to childhood where you'd treat yourself to an ice cream every afternoon while returning from school in those hot summers. Summers mean ice creams and ice creams mean a delicious treat everyone deserves. It's said that you can never be too old for a scoop of ice cream. Whether it's vanilla or chocolate or a sundae, everyone has got a soft spot for ice creams, so when you see one go by, you can't stop yourself from treating yourself. How would it be if you learned the art of making some easy ice cream recipes? Here are 8 easy homemade ice cream recipes for you.
Chocolate Ice Cream
Of course, Chocolate Ice Cream had to be the first one! It's a universal favorite. Mix cocoa, sugar, and custard in half a cup of milk. Heat two cups of milk till it boils and then add the mixture to it and again leave it to boil. It's important to stir it continuously. After the mixture reaches room temperature, mix vanilla essence and the cream. Pour the whole mixture into a container and freeze it. After it sets, whip it up with a blender and put it back into the freezer. Adjust the cooling. Serve chilled, and you add your favorite add-ons to your ice cream.
Mango Ice Cream
Who doesn't love mango? Mango is known to be the most awaited fruit every year. So why not make an ice cream out of the most loved fruit? Add custard to  ¼ cup of milk and keep it aside. Add ¾ cup of milk and add sugar to it. Wait till it boils. Now add the custard mixture and let it boil again. Now let it cool to room temperature.  Add the mango puree and pieces and vanilla and cream and mix well and freeze it and whip it and continue the process two more times. Serve chilled!
Vanilla Ice Cream
Vanilla is a classic that will never go out of style, never out of mind. Add sugar and custard in half a cup of milk. Now heat 2 cups of milk and bring it to boil. Add the custard mixture and again wait till it boils all the while stir it continuously. Leave it to cool down. When it matches the room temperature, add vanilla essence and cream to it and freeze it in a container. When completely frozen, get it out and blend it and again freeze it. Do this twice. Since vanilla is a little plain, you can add nuts or berries or even chocolate sauce to your ice cream.
Thandai Ice cream
A new one? This is a perfect homemade ice cream dessert to serve in a dinner party you host at home. Whisk 4 egg yolks along with sugar mixed in it on a double boiler. Grind cardamom seeds, nutmeg powder, ginger powder, almonds, pista, cashews, coriander seeds, melon seeds, black peppercorn, saunf, rose water and saffron together. Boil milk in a pan and add whipped cream into it. Add the yolk mixture and stir. Add the ground masala and add a tablespoon of cream more and refrigerate the whole thing. Serve chilled the next day!
Apricot Ice Cream
Apricot ice cream might be a rare flavor to relish on, but it's a magical one! Make a puree of apricots and sugar syrup dissolved in water. Pour the mix into 4 egg yolks and whisk. Cool the mix and then add cream. Freeze and keep beating the mix at intervals. Serve with praline.
Vegan Chocolate Ice Cream
If you're a vegan and still love ice cream, then this is the perfect homemade ice cream recipe for you and that too a chocolate one! Soak almonds overnight and grind them along with the skin with 2 cups of water. Strain it. Pour the liquid into a pan and set it on flame for 2 minutes. Now cool it a bit. Blend this with banana, sugar, vanilla essence and cocoa powder in a blender. Blend it again with an hour gap. Freeze the mix and serve frozen.
Masala Chai Ice Cream
Who needs a hot cup of masala tea when you can make ice cream out it to beat the heat? Masala chai is one tangy flavor you shouldn't miss out on. Mix milk, egg yolks, cream, and masala tea powder and tea decoction together and boil it in a pan till thick. Cool it for a while. Freeze the mix and serve frozen.
Coconut and Watermelon Ice Cream with a Papaya Sauce
Full of vitamins and fibers and a wonderful richness in fruits, this ice cream will leave everyone impressed. Mix Olive oil with pepper and papaya into a sauce. Now add dry ice into coconut milk and watermelon juice and stir. Now add rosewater and stir till the milk and juice become creamy. Serve chilled.
(Visited 36 times, 1 visits today)