7 Things You Should Eat This Summer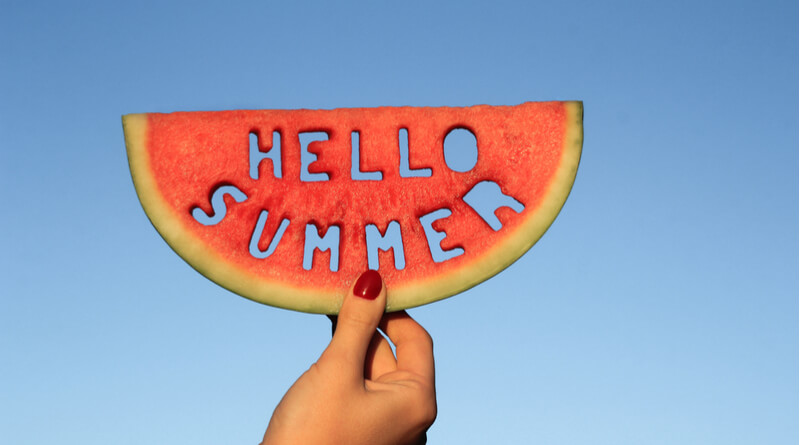 Every time you treat yourself to your favourite dessert or that double cheese pizza, you've had thoughts about your weight and health running in your mind and it's probably a good thought to have. Yes, humans live to eat, but does it have to be unhealthy? Treating yourself to your favourite foods isn't much of a crime if you're maintaining a balance by giving your body some much needed nutrition as well. And summer being a season which dehydrates your body more often than not, it's important to make sure you have good nutrition and fiber in your body. So here are 7 things you shouldn't skip this summer:
Bottle Gourd:
This wouldn't probably be on your favourite veggies list but this vegetable is really good for promoting weight loss. It's filled with Vitamin A, Vitamin C, calcium and magnesium. Wow. Isn't it? It also is good on blood pressure and really healthy for the heart and yes it also purifies blood. Astounded, aren't you? So make sure you add this vegetable in your menu at least thrice a week.
Barley Water:
You probably saw your mother or grandmother having a glass of it every day and your mom must even have tried to convince you to have some. Well guess what? They're right about its nutritive content. A glass of barley water contains high amount of fibre and it keep your stomach full and prevents you from hogging on unnecessary food. It is also known to cure constipation. Barley is a little bland in taste so you can add some lime or salt in it for taste or you can add honey to make it sweeter. Especially during summers, barley water keeps you cool and refreshed all day.
Aam Panna:
An Indian traditional drink, two glasses of this drink can help you overcome stomach issues like IBS(Irritable Bowel syndrome), constipation and even digestion. Aam Panna can be easily made at the convenience of your home. It's important to add required amounts of salt and sugar.
Mint water with lemon:
Lemon water or lemonade is something we regularly have but mint water with lemon has lot of health benefits. It cleanses your liver, it helps in gearing up your low appetite and also boosts metabolism. So many benefits! Just add few drops of lemon in a strained glass of mint water.
Watermelon Juice:
Watermelon is the best coolant ever! And since watermelon consists of more than 90% of water it's the tastiest and easiest way to keep yourself hydrated all day long in those hot summers. Watermelon also is a great digestive drink. And guess what? Watermelon is wonderful for the skin. Watermelon clears up acne, stops the skin from oxidation stress thus stopping aging process and brightens up your complexion. A glass of watermelon juice everyday could be your saviour.
Salad Leaves:
Again, salad isn't really a fond food but leaves like basil, rocket leaves, amaranth leaves and some summer herbs are really magical considering their nutritive properties. Plus, they are great for weight loss. You can make a meal out of them by just tossing in some fruits, white meat, nuts and some coriander leaves and don't forget yoghurt.
Melons:
Melons are the healthiest choice for a summer choice. Melons can be tossed into anything from smoothies to salads to desserts and even desserts! They're good in preventing cancers, heart diseases, flus and even take care of blood pressure. Make sure you're not forgetting them this summer.
(Visited 21 times, 1 visits today)