5 Tasty Halwa Recipes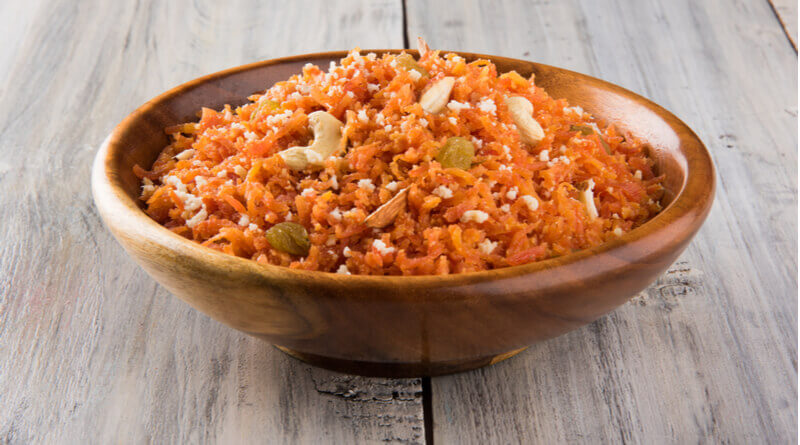 When it comes to sweets and halwas no one can beat India. Halwas are just a quick fix to a sweet tooth not that they're totally irresistible because of the ghee and dry fruits they're made with. Halwa is a sweet dish made with a lot of different ingredients. You can make a halwa from whole wheat atta or flour to carrots. Halwa can be just about made from anything. Want a quick recipe to the best halwas? Here are 5 delicious halwa recipes.
Gajar Ka Halwa
For most people, whenever halwa is mentioned, Gajar ka halwa comes to mind. Having originated from Punjab, it has become the most loved halwa throughout the country. Made with carrots, ghee, nuts, sugar and khoya, this halwa is simply irresistible.
You just have to make an effort to peel and grate the carrots.  Boil 1 ½ liters of milk in simmer along with green cardamoms. In a pan heat ghee and cook the carrot mixture in it for 15 minutes. Now add the milk mixture and keep cooking until carrot turns reddish. Add dry fruits and serve hot!
Moong dal ka Halwa
It's a winter evening, and you're sitting in a corner treating yourself to this heavenly dessert, perfect, isn't it? Moong dal ka halwa tastes best when served hot. A quick to make recipe is a favorite of a lot of people.
You will need soaked green lentils. Next day, grind it coarsely in a food processor. Heat ½ cup milk and add ½ cup sugar in it and wait till it dissolves. Boil the milk and now in a pan mix dal and ghee and fry till dal is brown. Add the milk mixture and mix well. Cook till all the liquid is gone. Mix the cardamom powder and garnish with finely chopped almonds. This tastes best when it is still steaming.
Badam ka Halwa
Who doesn't love almonds? And to make a halwa out of it sounds so irresistible! A perfect dessert after any meal.
Blanch almonds in hot water and peel away the skin. Put them in a blender and make a coarse paste out of it. In pan heat ghee and add the paste in it. Add sugar and keep cooking till the paste turns golden in color. Your halwa is ready.
Atte ka halwa
Prepared with whole wheat flour, this is a ravishing halwa made mostly during Navaratri, but since this such an easy to make the recipe, it can be made anytime. So, don't wait for an occasion to make it. Just treat yourself to some.
Here's how to make it, in a pan boil sugar and water and when it fully boils, turn off the heat. In a frying pan add ghee and then add the whole wheat flour. Stir the atta till it turns brown. Now add the syrup slowly and stir continuously so that there are no lumps. Add raisins and almonds and cardamoms. Cook till it becomes thick. Garnish with pistachios and almonds.
Sooji ka Halwa
Sooji ka halwa is probably the most commonly prepared in northern India households. Because it's so easily prepared, it's the most preferred halwa of all times.
Here's how you can make it, add some ghee in a pan and add one cup sooji or semolina grains to it. Stir the mix thoroughly and add sugar and cardamoms and milk along with your choice of dry fruits. Stir thoroughly and let the mixture boil. Wait till the liquid completely evaporates and then add a few dry fruits to it.
(Visited 62 times, 1 visits today)