5 Magical Egg Masks for Healthy Hair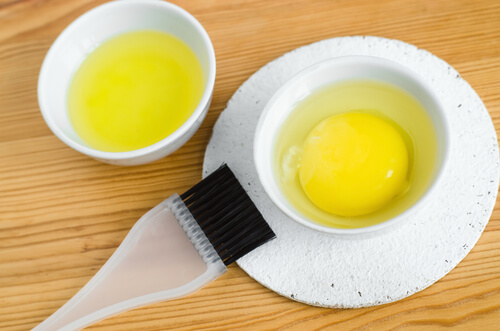 Many people, who are healthier, experience severe hair fall, dry or frizzy hair problems. Lack of shine and dry hair is most of the time a sign of hidden or existing health issues, stress or even lack of care. It is difficult to regrow the lost hair if it is severely damaged. Hence, prevention is better than cure. Once in a week, you can set aside a day for your personal care.
After all, you not only want to look your best but also feel confident. The egg is already famous for its high nutrition and proteins, such as biotin, folate, vitamin A, and vitamin D levels. While eating an egg is very beneficial, using it externally can also do wonders for your hair. You can blend the egg with other natural ingredients for additional benefits.
Egg and Castor oil
Castor oil contains ricinoleic acid when combined with the egg you can skip your hair conditioner. Beat two eggs and add a tablespoon of castor oil. Gently massage it as you apply and leave it for 30 minutes and rinse. Avoid hot water for rinsing and use mild or diluted shampoo.
Egg, Olive oil and Aloe Vera
The three power-packed ingredients will help you strengthen your hair and restore the natural shine as well. Beat two eggs, add 3 tablespoons olive oil, and 3 tablespoons aloe vera pulp. Apply it from the roots to the tips. Leave it for 30-40 minutes and rinse it with cold water before shampooing.
Egg, banana, and milk
These magical ingredients that sound like perfect morning breakfast work well for your hair too. Blend one banana with one cup of milk and add two eggs and make it into a thick mixture. Apply it thoroughly and leave it for at least one hour. And then rinse it with a mild shampoo.
Egg and apple cider vinegar
Apple cider vinegar also is known as the natural health tonic, and well known for its health benefits including skin and hair care. You will need one egg and one tablespoon vinegar. Beat the egg and add the vinegar. Massage the mixture on your scalp and apply it throughout your hair. Leave it for 45 minutes.
Egg, curd and gram flour
If you have dry, dull hair, this is the perfect remedy to restore the shine and nourish your hair. You will need one egg, 3 tablespoons of gram flour and 3 tablespoons curd. If you have long hair, double the quantity. You can replace curd with lemon juice. After applying, leave it for maximum one hour and rinse with cold water. This remedy can also get rid of dandruff.
(Visited 28 times, 1 visits today)