5 Eye Masks to Relieve Tired Eyes and Dark Circles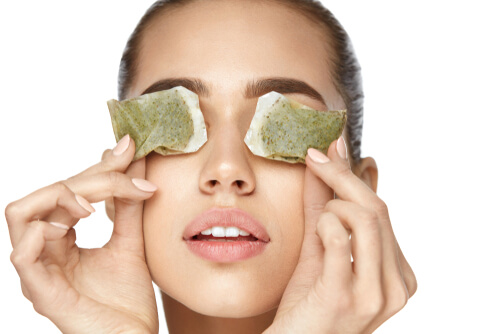 It is a well-known statement that a lot of people might have already heard that eyes are windows to our soul. Your eyes not only expose your emotions but also health conditions. When you are extremely stressed, tired or if you are an intellectual nocturnal creature like an owl, your eyes will show an immediate effect. Here are a few tips to get rid of tired eyes and dark circles and everything is available in your kitchen. So, you don't have to break your bank. However, make sure these remedies do not get inside your eyes.
Coffee mask
Make a thick paste of coffee and honey and add one teaspoon vitamin oil. You can apply it around your eyes, carefully. Leave it for 15 minutes and wash it off. Alternatively, you can dip cotton pads in the mixture and place it over your eyes.
Mint leaves mask
Honey is a perfect catalyst that combines with mint leaves to get rid of tiredness around your eyes and also lighten the dark circles. Grind fresh mint leaves and add a teaspoon of honey. Wash it off after 15 minutes.
Coconut mask
Coconut is a perfect remedy for dark circles or puffy eyes that is usually caused by tiredness or all-nighters. It contains all the vital vitamins, has healing properties and safe on any type of skin. This ingredient can be used daily. It is also the cheapest and the best remedy. Take a few drops of oil on your fingertips and massage it gently.
Milk and baking soda
These two ingredients are also readily available in your pantry, most of the times. Add baking soda to the whole milk and prepare a thick paste. You can apply it immediately or place it in the fridge for 30 minutes if you want a quick remedy for puffy eyes too. Leave it for 20 minutes and wash it off.
Tea bags
This addictive ingredient is also found in every kitchen. While a lot of people drink black tea, green tea and herbal tea has gained a lot of importance too. You can use any tea bag for this remedy. All you have to do is refrigerate the bag for 10 minutes. Place the damp bags on your eyes for 15 minutes. It can easily get rid of tiredness and dark circles when used regularly.
(Visited 36 times, 1 visits today)