5 Detox Drink Recipes to Cleanse your Body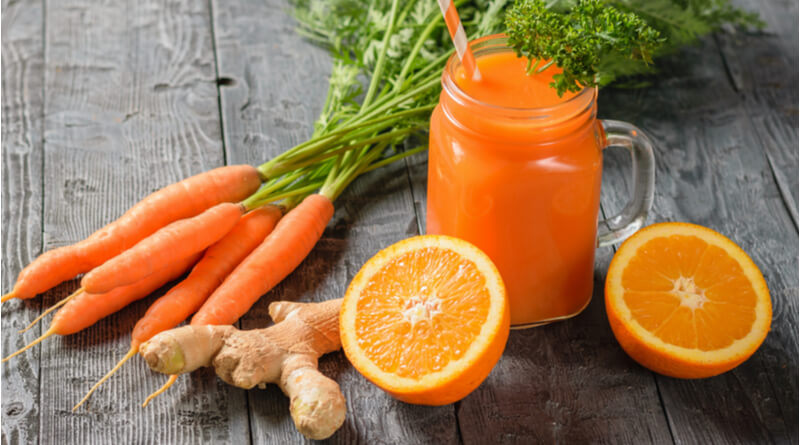 Everyone loves food and not to mention junk food. As tasty as these all seem to be, it's easy to forget the toxins they leave behind. And these toxins when accumulated over a period can become dangerous and cause a lot of ailments. Treating yourself to yummy food is just fine as long as you're detoxifying your body every now and then. Did you know there's a tasty way to do so too! Here are few detox drink recipes for cleansing your body.
Orange Carrot Ginger Detox
Oranges are filled with Vitamin C and are effective anti-oxidants. Ginger is a remedy for digestion, abdominal cramps, bloating and contains anti-inflammatory properties. Carrot is a known powerhouse for fibers which support digestion, and weight loss and carrot also contains beta-carotene.  You can say that this is the best Detox drink you can get hold of.
To make this recipe, you need to first cut orange and carrots and juice them separately. Now pour the juice into a blender and add ½ inch ginger and turmeric to it. Before serving, add half a lemon to the drink and serve! A glass of this detox drink every day will drive away all the toxins from your body.
Lemonade
A lot of people aren't aware of this, but lemonade is actually a beauty drink. Lot of nutritionists, celebrities, athletes, and gymmers swear by this simple but very effective drink. You can even add mint to your lemonade to make it a little more refreshing.
To make this beauty drink, take 5 whole lemons, few mint leaves, ½ cup of honey and ice as required and throw all these into a blender and serve chilled. If you want to use this as a detox drink, then it is essential you don't use sugar. Lemons are good for face and body so a glass or two of this drink every day will leave your face glowing.
Cucumber Mint detox
Another excellent detox drink, the cucumber mint detox refreshes your body and removes all toxins. Cucumbers are known to be the best coolants for the body, and even face and mint has a very soothing effect on the body and also speeds up the digestion process. Adding lemon to this drink will help you overcome the scorching heat and toxins stuffed in your body.
To prepare this detox drink, peel the cucumbers and chop them to medium size and put them in the blender along with mint leaves and 1 cup of water. Strain the pulp and discard it. Now add lemon juice, salt, and a little more water if needed.  Serve chilled.
Pomegranate beetroot Juice
Beetroot is a wonder veggie when it comes to detoxing, and pomegranates are known to be blood purifiers anyway! So this detox drink is 100/100 recommended. Even aloe Vera has a niche in this juice which gives a total boost to your immunity.
To make this juice, carefully peel out the skin of aloe vera and extract the pulp. Now in a blender take chopped beetroot, 2 cups pomegranate juice and lemon juice along with the aloe vera pulp. Blend. Add ice if you want it chilled.
Honey Lemon Ginger Tea
Indians have a thing for teas, and it's no secret. Made with the freshness of ginger and tanginess of lemon, this tea can become your regular evening and morning chai rather than the one you prepare with milk.
In a pan, heat 2 cups of water and before it boils add an inch of ginger. After it begins to boil add the tea leaves and lemon juice and honey along with it. Drink while it is still hot.
(Visited 34 times, 1 visits today)