5 Most Cooked North Indian Recipes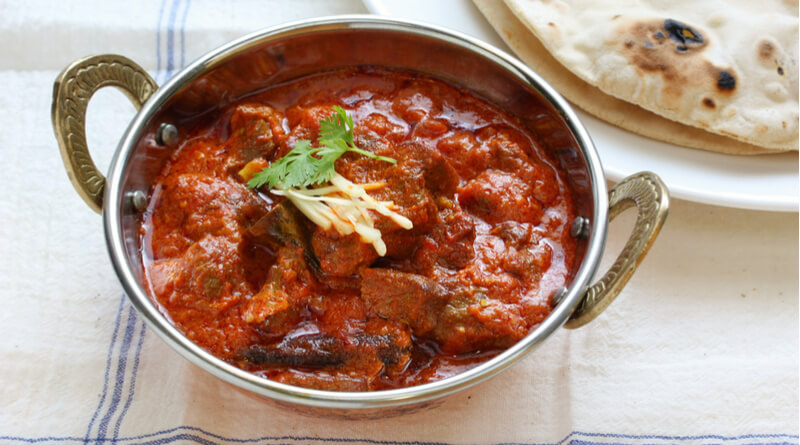 North Indian cuisine is something wroth experiencing. It is typically richer than other types of Indian cuisine, especially when compared to the infamously spicy Southern Indian cuisine. Northern Indian cuisine is savory and filled with vegetables and fruits and makes use of a lot of pure desi ghee and doused fresh cream in preparation. Northern Indian cuisine makes for great comfort food especially if you like dairy. Almost no North Indian meal is served without some type of dairy product like lassi, chaas, or paneer. It is truly a gastronomic experience that is worth having at some time in your life. Hopefully that time is now. Below, are just a few of the more popular recipes that make up North Indian cuisine.
Chole bhature is a much-loved Punjabi dish; a well-known factor of Northern Indian cuisine. It is a combination of bhatura, a soft wheat bread made from maida flour, and chana masala (white spicy chickpeas). This dish is often eaten as a meal for breakfast and is often eaten alongside lassi. But in many cases, it is also eaten as a street food or as a complete meal.
Rogan josh is a traditional Kashmiri dish that originated in the Persian empire. It spread from the Persians to the Mughals. The Mughals used to retreat to the Kashmir Valley region in times of intense heat. Naturally they brought their rogan josh with them. Although all of these cultures appreciated their rogan josh, it was the Kashmiris who absolutely fell in love with it. It can be considered the signature dish of the valley and an absolute staple of Kashmiri cuisine. It is one the primary dishes used in the wazwan, the traditional Kashmiri multicourse meal.
Rogan josh is made from pieces of lamb or mutton that are braised with a ginger and garlic flavored gravy and aromatic spices like, cinnamon, cloves, cardamom, and bay leaves. Some versions even manage to incorporate yogurt.
3. Stuffed Bati
Bati, also known as baati is an unleavened hard bread that is eaten in most areas of Rajasthan, India and in certain parts of the Gujarat and Madhya Pradesh states of India. It has a very long shelf life and high nutritional content which makes it great for making in bulk. You can cook this bread in large batches and store it for a long while; it's perfect for winter.
Bati is mostly eaten in combination with dal and is normally referred to as dal baati. Typically, bati is made either plain or stuffed with various fillings, like peas, onions, and sattu. This recipe stuffs the bati with paneer and spices, which makes for a creamy and flavorful bread snack.
4. Malai ki Kheer
Malai ki kheer is a delicious Indian dessert that is popular throughout Northern India. Kheer is a type of rice pudding that is made by boiling rice, tapioca, and broken wheat with sugar and milk. The pudding is then flavored with various nuts and spices, like cardamom, saffron, raisins, cashews, pistachios, and almonds. Kheer is normally prepared for festivals and special occasions inside temples. The Malai is a uniquely Indian cooking ingredient made from homogenized milk. It has a yellow appearance and is mostly composed of butterfat.
5. Chicken Dum Biryani
Biryani is one of the best dishes to make to experience Indian cuisine. It is eaten all over the sub-continent, and each region has their own unique takes on the dish. This is just one of the many biryanis to get to know. It is rice, cooked with chicken, and assorted spices then garnished with ginger juliennes and sliced green chilies.
(Visited 29 times, 1 visits today)