5 Best and Energising coconut water recipes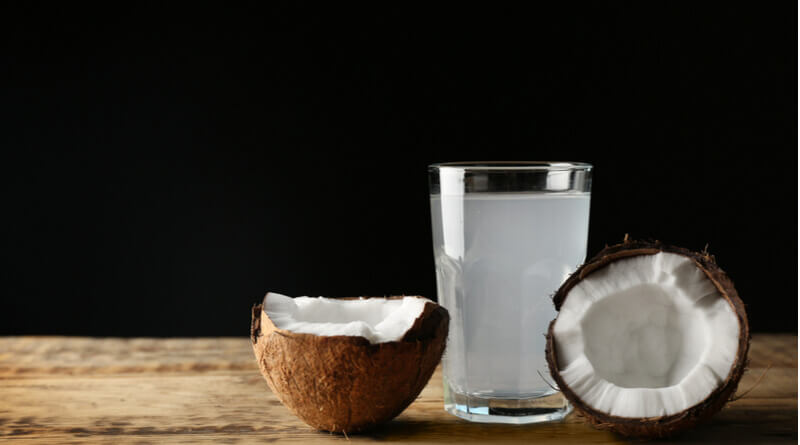 Now coconut water could be possibly the best thing to happen to your body. Coconut water regulates blood pressure, boosts the hydration in your body, it helps in weight loss, improves skin complexion and prevents skin aging, it is also an electrolyte. What more could anyone possibly want? But drinking plain coconut water can be a bit boring. So why not use it in everything? Coconut can be mixed in anything. So here are few ultra-refreshing coconut water recipes to get you through every meal.
Coconut Water Iced Coffee
Minus the sugar or sweetener in your coffee with this refreshingly new Coconut water Iced coffee. Coffee is love, and there are so many ways to make coffee but why not give it a magical twist which is, by all means, healthy and tasty? This coconut water iced coffee is going to leave you drooling.
You can add coconut water to a cup of coffee decoction or coffee concentrate and stir the mixture. Adjust the ratio according to your style and serve cold by adding lots of ice cubes.
Fruity Coconut Water Slushes
Well, everyone thinks of slushes when it's summertime and when you enter a café or a restaurant you have endless lists of slushes at your service. But those slushes are flavored, and there's no guarantee that they're healthy. So why go to a restaurant to have a slushy? What say to a healthy, easy and natural version of a slush?
To make this yummy slushy, add 1 cup of coconut water to ½ cup frozen fruit of your choice. It could be bananas or blueberries or strawberries. Combine the coconut water and frozen fruits in a blender and blend. Enjoy the chilled drink anytime you like.
Coconut water refresher
This is a perfect drink if you've called your friends home for lunch or barbeque or having a picnic near the beach. This is a super easy drink recipe you can make at the convenience of your home.
To make this drink, add few mint leaves, few thin cucumber strips, and lime wedges in a jug and stir. Now add coconut water and few crushed mints along with a tablespoon lime juice. Stir and add lots of ice cubes.
Pineapple Mint Coconut Water Frappe
This tasty is everything you'll want on hot summer noon, tropical, tangy and minty. This is a drink which is bound to become your summer favorite. So go ahead and give this yummy drink a shot.
Add 1 cup coconut water to 4 cups of pineapple and ¼ cup of mint syrup in a blender and blend them until you get a smooth consistency. Pour the drink over ice cubes and give it a twist of lime juice at the end and your frappe is ready!
Coconut water and Pineapple Popsicles
Popsicles are the healthy version of ice creams, and there's no better time than summers to make these healthy, yum popsicles. It's just two ingredients popsicle recipe, so make sure you're not missing out on this one.
Take a popsicle mold and fill each mold with 1/3 of pineapple puree and the rest with coconut water. Gently stir the mixture in the mold along with a spoon. Freeze for few hours and enjoy!
(Visited 12 times, 1 visits today)