5 Best Aloo Recipes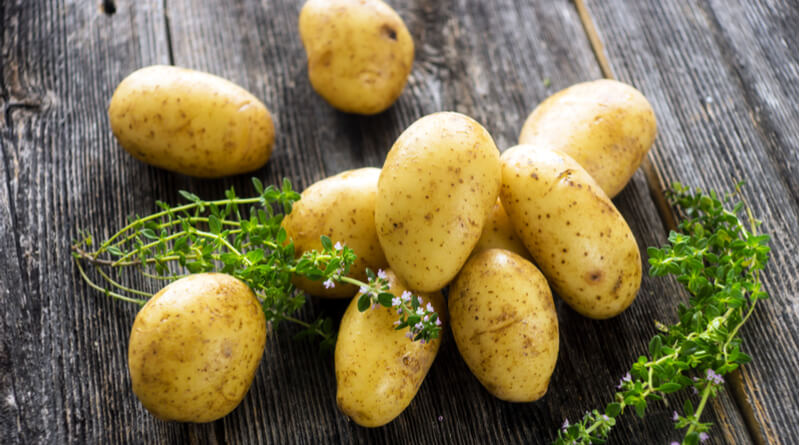 Potatoes are one of the most popular vegetables on the planet. They are eaten in almost every cuisine culture in one way or the other. They may have originally been native to South America but have managed to spread all across the world thanks to the Portuguese and other European explorers (the word potato comes from the Spanish word 'patata'). This root vegetable's popularity is due in large part to the fact that it is easy to grow potatoes in a variety of places – it is a truly hardy vegetable.
Thanks to the global popularity of potatoes there are a supreme number of recipes available to try. You could literally eat potatoes every day for a year and not eat the same recipe twice. While we cannot provide you with all the potato recipes in the world, we can give you just a little hint into the world of Indian potatoes. India has been using aloo in their cooking for hundreds of years. Below are just 5 of some of the best:
1. Pakistani Style Potatoes Bhujia With Besan Ki Roti
Bhujia is a fun snack that originated in Rajasthan India. Technically, only bhujia created in Bikaneri can be called bhujia, but you can still make your own. We'll know what it is. This recipe calls for mixing the bhujia which is made from besan flour with aloo potatoes to make a wonderful crossover dish. Think of this as a new take on French fries.
2. Dum Aloo Lakhnavi
Dum Aloo is a wonderful potato dish that is part of traditional Kashmiri Pandit cuisine which comes from the very famous Kashmir valley. It typically uses smaller potatoes which are first deep fried before being slow cooked over a low flame with gravy and spices. This dum aloo is made in the Lakhnavi style where the potatoes are stuffed with paneer. This dish is truly delectable.
3. Batata Vada
The vada is one of the more iconic Indian foods out there. It is a type of fried doughnut or fritter. This vada, the batata vada is made from potatoes (obviously) and is a popular street food snack in Maharahtra. It coats mashed potatoes in a thick beasan flour before deep frying and serving with chutney.
4. Honey Chilli Potatoes
This dish is pretty obvious. It is literally potatoes made with honey and chilli – basically delicious. It is a popular Asian dish that works well as a light snack or side dish. If you make enough of it, you can eat it as an entire meal. It is very quick and simple to make so this can easily become your go to dish.
5. Dilli Ki Fried Aloo Chaat
Chaat is a type of savory snack that is extremely popular on the streets of India. It makes for a great appetizer of just a roadside snack. This recipe is for a chat that is particularly popular in Delhi. It uses tamarind sauce and mint chutney to make a truly delicious dish.
(Visited 32 times, 1 visits today)