3 Easy and Tasty Homemade Kulfi Recipes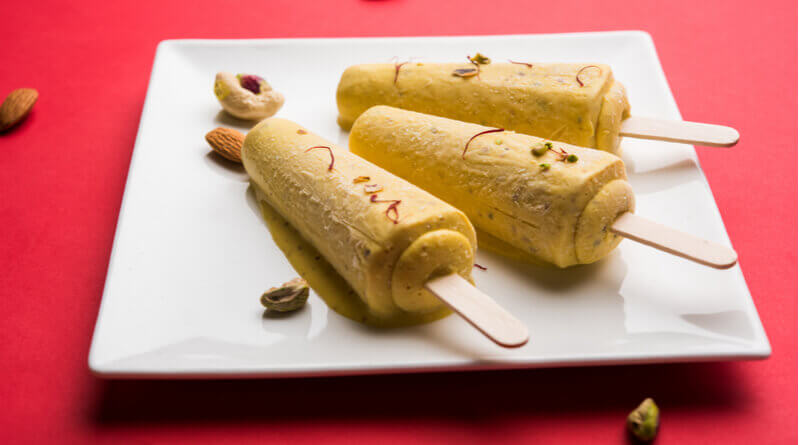 It is summer, and you have all the ice cream vendors and kulfi vendors out there. So, every time you or the kids have a craving for kulfis, you have to step out to treat yourself. And you can't help but wonder about the yum kulfis and their recipe every time you gorge on them. Kulfis are basically the desi version of ice creams and most native to Rajasthan. The rich, creamy texture of kulfi is what makes it so unendingly irresistible. If you've ever wanted to make kulfis at the convenience of your home but wondered about the complexity of its recipe, then you're in for a surprise. They're not that hard to make. Here are 3 best homemade kulfi recipes you can try this summer.
Mango Kulfi
A seasonal delight, this is a kulfi your family and friends will love! It's summer and mangoes are here, so why not turn them into a kulfi? This recipe saves you labor because it uses condensed milk, mango pulp, and cream. Beat the mixture well. Now add nuts and again mix well. Now pour the mixture into kulfi molds and freeze it in the lowest temperature possible. It is important to keep it at the lowest temperature because kulfis are not hard but soft and creamy. When serving, garnish the kulfis with nuts and serve immediately.
Almond Malai Kulfi
A crunchy, creamy malai, this kulfi is perfect for a Sunday brunch dessert. Because of the condensed milk used here, this kulfi recipe is a super easy and sinfully delicious too. This one tastes perfect when served in a matki. You will need blanched and grounded almonds and condensed milk. Mix a pinch of saffron with milk and add the mix to the almonds. You can even throw in some pistachios to the mix and blend the whole thing. Pour the mix into matki, tiny earthen pots, and cover them with butter paper. Refrigerate the matkis and serve chilled.
Pista Kulfi
Pistachios are no doubt a favorite. And if you've tasted pista kulfi sold by those Rajasthani vendors, you must've wondered how in the world do they end up making such yummy kulfis. Well, you're just one step away from making it. For this, you will need full cream milk and heavy based pan, and cook it in low flame to avoid it burning at the bottom. As the milk thickens the color of the milk changes to beige-cream.  Add sugar and saffron to the milk and boil again for two minutes. Add green cardamoms and turn off the heat. When cooled, add few nuts to the mix and stir well and pour it into kulfi molds. It is important to freeze it at the lowest temperature possible. When serving, serve with nuts and vark leaves. Enjoy your kulfi!
(Visited 106 times, 1 visits today)