Just looking at the stormy showers outside the window can have you thinking of piping hot samosas, pakodas, and a cup of hot tea comes to mind almost immediately. And why not, after sweating in the sweltering heat for two months, binging on crunchy fried delicacies would seem like the reward you deserved and had been waiting for.
A bowl of refreshing soup served warm from a casserole can be the best thing to make you feel strong, and it also offers protection as it keeps your body hydrated and can be a good source of protein. The flavorful toppings of certain veggies add a warm feeling and keep you snug as the weather becomes a bit chilled. Here are few soups you can try this monsoon.
1. Sea Food Soup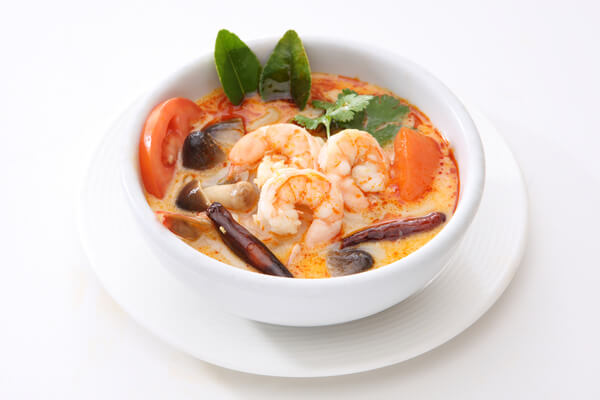 What is more comforting than some hot soup for any time of the day? It is like a bowl of comfort going into your stomach. If you are a soup person, you will relate to the need for some soup when you are ill or just feeling low. Plus, if you love seafood, then you will absolutely relish this recipe! To make this soup, take a pan and boil chicken stock for some time. Add diced crab and prawns. Stir well and add egg white along with some salt and pepper. Add cornflour to make the soup thick and stir well. Serve hot. You can also store some soup for your dinner or the next day in a hot box.
2. Spiced Spinach Soup with Cottage Cheese Croutons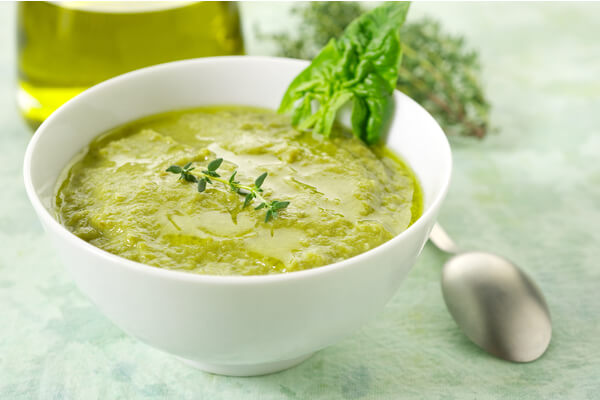 This good old spinach soup is filled with the goodness of mustard seeds, fenugreek leaves, turmeric powder. The addition of crispy cottage cheese croutons just makes it mouth-watering. Heat some mustard oil and splash a few drops of salted water to take away the strong flavors and bitterness of the oil. Add the mustard seeds, green chilies, ginger, turmeric powder, followed by curry leaves, chopped fennel, and chopped onion. Cut the cottage cheese into few cubes. Place them on a tray and season with garam masala, pepper, salt, and olive oil. Bake in the oven. Add the vegetable stock and soaked lentils and cook till they turn soft. You can then add the chopped and washed spinach, methi, and dill. Season to taste and cook for a minute or so. Once cooked, add some ice and blend into a chilled soup. Serve with crispy masala flavored cottage cheese croutons.
3. Cream of Tomato Soup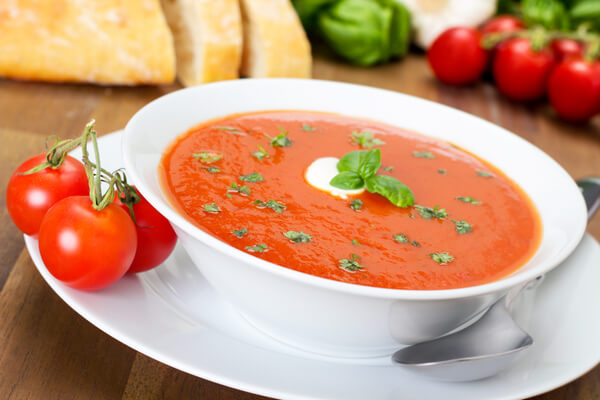 This soup will take you back to your childhood and does a great job of being comfort food. You will forget all your stress with the first spoon itself. You can make it extra in quantity so that you can enjoy it later too! Just store it in a large hot box! To make this soup, take a non-stick pan and add tomatoes, peppercorns, bay leaf and let it cook well. Remove the bay leaf and allow the mixture to cool. Blend the mixture and strain it. Heat a non-stick pan and butter to it. Add plain flour and sauté well, followed by fresh cream, pepper, salt, and sugar. Garnish with fresh cream. In the end, serve hot with some bread croutons!
4. Seared Mushrooms and Chicken Broth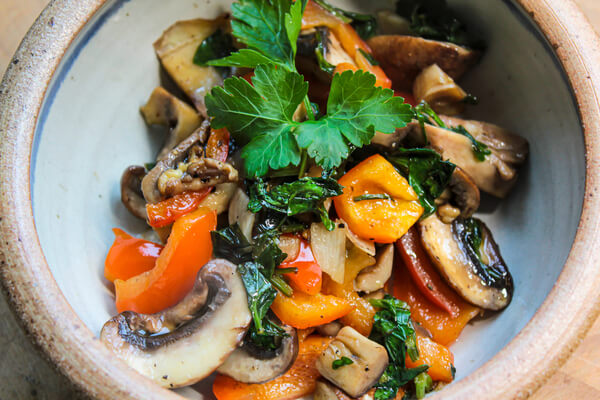 This delicious broth is prepared with the goodness of chicken and a variety of mushrooms like button, enoki, shiitake, shimeji, and chanterelle. It is both wholesome and comforting. Heat a huge pan, add a few drops of oil, and chopped bones. Stir to get rid of the moisture and slowly let the bones turn brown to a soft amber color. Add water to cover the bones and slowly bring the pan to simmer. Impurities from the bones – blood will coagulate and start rising to the surface. Make sure you skim the surface. Allow the stock or broth to simmer, uncovered, for 5 to 6 hours. Add water to keep the bones submerged. Slice mushrooms, and once the chicken broth is ready, skim the surface and pour the clear broth into a pan through a well-washed muslin cloth.
The stock can be chilled and refrigerated or frozen and used later. Heat another pan, add oil, sliced garlic and julienned ginger, and sauté for a few minutes. Add the sliced mushrooms and stir rapidly over high heat till the mushrooms turn a nutty golden brown. Add a few drops of dark rice wine and a few drops of vinegar. Add the chicken stock to mushrooms and cook in simmer. Season with palm salt, sugar, and pepper. Serve hot and distribute mushrooms evenly and sprinkle enoki and a few drops of sesame oil in each bowl.
5. Chimney Soup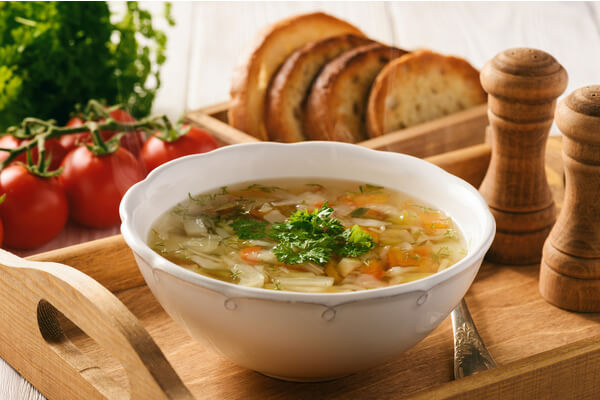 Easy and simple to prepare, this soup is a must-try. It makes for an excellent light supper with the goodness of chicken, fish, and spinach. Mix fish and chicken with cornflour, oil, and salt. Boil water with oil and salt. Add chicken and fish. Cook for two minutes. Put spinach in a serving bowl. Pour soup over the leaves. Ready to serve!
6. Smoked Pumpkin Soup Recipe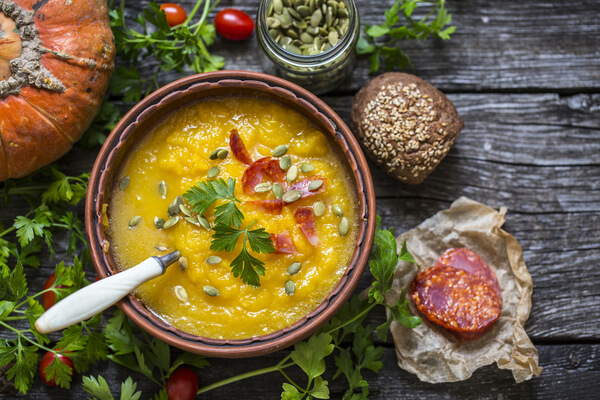 This aromatic soup is just the right dish to help you ward off mid-week blues. The smoked flavor will give this classic pumpkin soup a whole different twist. Peel and slice the pumpkin after a wash. Discard the seeds, and cut them into small cubes of even sizes. Mix oil and garlic, and add the pumpkin pieces to this to coat them well. In an oven tray, arrange all the pumpkin pieces. Sprinkle sugar and a little salt on top. Preheat the oven and let the pumpkin bake at 160 degrees Celsius till it is tender.
Remove the tray from the oven and allow it to cool. For smoking the pumpkin, arrange it in a chamber with a little air. In a small metal bowl, fire up some smoke chips put them in the above vessel, and cover it with a lid. Leave it for a while so that the pumpkin can absorb the aroma. Puree the pumpkin pieces and pour the pureed pumpkin into a pan, and heat it. Add some butter and pepper powder. Adjust the seasoning if needed. Serve hot garnished with pumpkin seeds and cress.
Conclusion
Move over pakodas, and welcome soups this monsoon season! Besides tasting like heaven, they taste absolutely ravishing. Once you experience the hot soup sliding down your throat while the rain pours on, you are not going to want anything.