Introduction
The prime attraction for any festival is the kind of food that comes with it. Ugadi, also known as the Telugu New Year is celebrated each year on the first day of the Chithrai month. The house is decorated with colourful rangolis, and mango leaf decorations called toran. Buying, gifting and wearing new clothes, charity to the needy, followed by a bath and an oil treatment also falls in the tradition. Then, all the family members sit together for a lavish meal spread,  served on banana leaves from sets of casseroles! The meal consists of six flavours: spicy, sour, sweet, bitter, astringent and salty that also serves as a reminder to the people about the different experiences that may come and how to make most of the new year!
Food Spread for Telugu New Year
1. Poornam Boorelu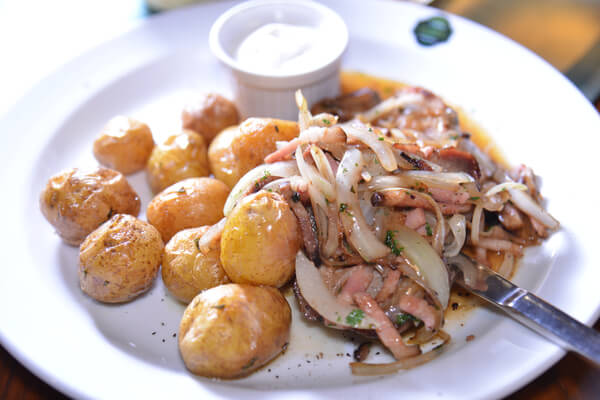 More like a pancake with a rich filling inside, poornam boorelu is one dish that your family will like. Soak Urad Dal and Rice in water for about 5-6 hours, then rinse off the water and grind it into a smooth paste. The batter should resemble dosa batter in terms of consistency. For the filling – blend chana dal and jaggery with a hint of cardamom powder. Toss the filling with some coconut on a flat pan and then let it cool down. Make small balls of the filling, dip it in the urad dal batter and deep fry them. It tastes best when served warm, so store them in a casserole!
2. Badam Halwa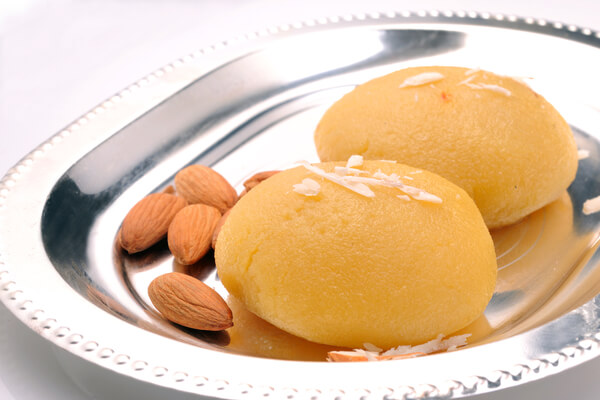 This sweet dish is not only famous in the south but has different variations all over the world. A simple recipe that starts with peeling the skin of almonds and cardamoms. Grind, cardamom and sugar into a fine powder. Also, blend saffron, almonds and milk into a smooth paste. Heat a pan with 1 tsp ghee, and then add the ground paste and cardamom sugar powder. Cook it on the pan for a few minutes and serve it hot with a garnish of crushed almonds and cardamom powder! 
3. Tamarind Rice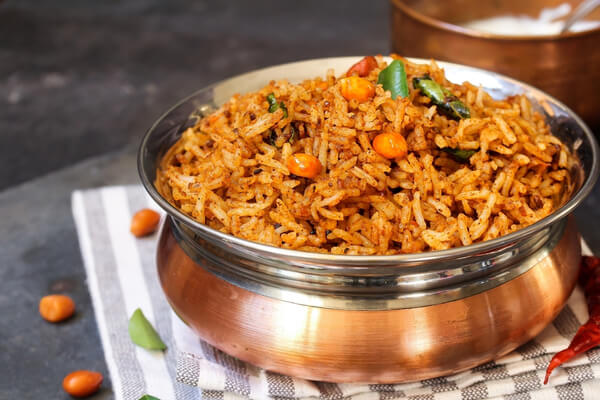 All you need to make tamarind rice is – boiled rice, tamarind paste and spice mix. For the spice mix – heat a pan and dry roast some chana dal, urad dal, mustard, cumin seeds, peppercorns, fennel seeds, dried red chilli and curry leaves. Grind the mix into a powder and keep it aside. Prepare the tamarind pulp in another bowl. Once you have prepared all your elements, heat a pan with some oil, add some mustard seeds, red chilli and peanuts, and the rest of the ingredients one after the other. Give it a good mix and serve it warm from a casserole!
4. Punugulu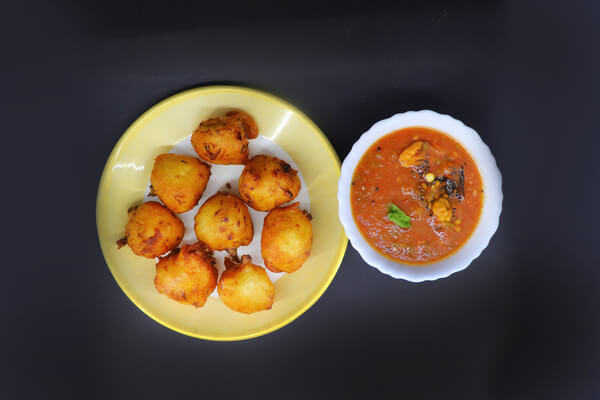 A great evening snack for this Telugu New Year is Punnugulu. A deep-fried crispy fritter served with spicy chutney is loved by all. If you have leftover idli batter, then just add some green chillies, onion, cumin seeds.  Heat a pan with oil, and start dropping round balls into the oil. Fry them well, and serve them with spicy chutney! 
5. Puran Poli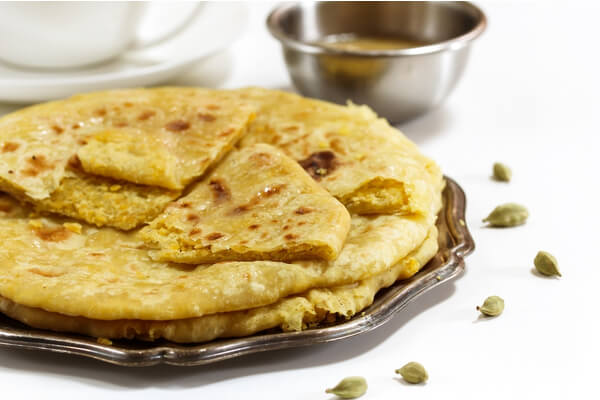 Coconut Puran Poli is a must-have for Ugadi! For the dough- mix semolina, turmeric and all-purpose flour with a little bit of water and let it rest for 30 mins. Then for the filling, add some grated coconut and jaggery into a pan and mix it well. Once your components are ready, take small parts of the dough, add the filling, and roll them on a flat surface. Make as many as you want, and then fry it on a flat tawa! 
6. Lemon Rice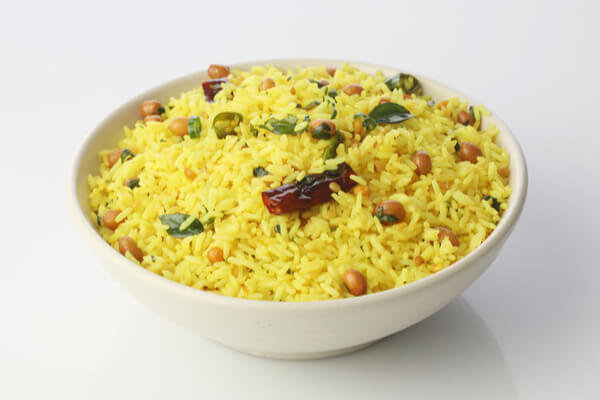 You cannot just go all complicated with the menu of your feast. Some good old lemon rice can make your loved ones feel nostalgic! To make this simple recipe, start with heating a pan with some oil, let the mustard seeds snap, and then add a good portion of green chilli, peanuts and curry leaves! Add the pre-cooked rice with some juice and give it a good toss! Your serving of lemon rice is ready! Keep it in a hot box or casserole until it is the time to serve!
7. Butter Murukku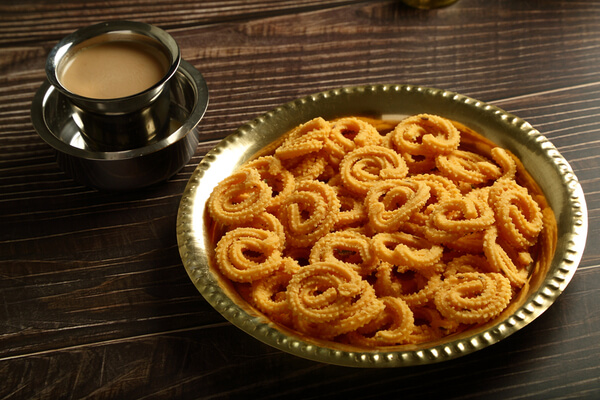 Dry roast some urad dal and grind it into a fine powder. Add rice powder, dal powder, butter, sesame seeds, asafoetida and cumin seeds into the mix. Add the batter into the murukku maker and start frying them in hot oil! Remove and drain excess oil in a tissue paper before serving! 
8. Raw Mango Rice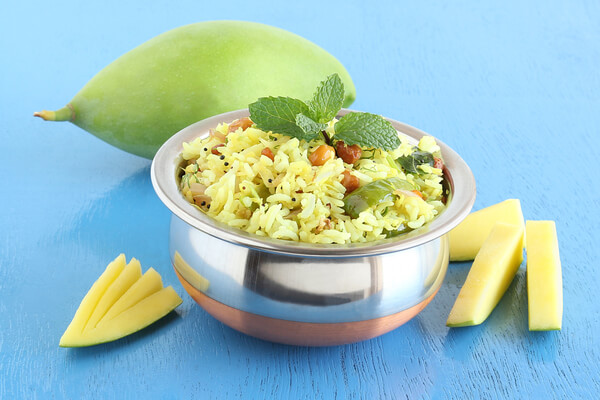 Raw Mangoes have a distinct flavour in themselves. So, how about beating the heat with some tangy mango rice! Grate some raw mango and keep it aside. Then heat a pan with 1 tsp oil, add mustard seeds, urad dal, peanuts and dry red chilli, dry roast them. Once they are brown, add the raw mango shreds and mix them well. Before adding the rice, add some turmeric! Finally, garnish it with some coconut before you serve!
9. Hyderabadi Biryani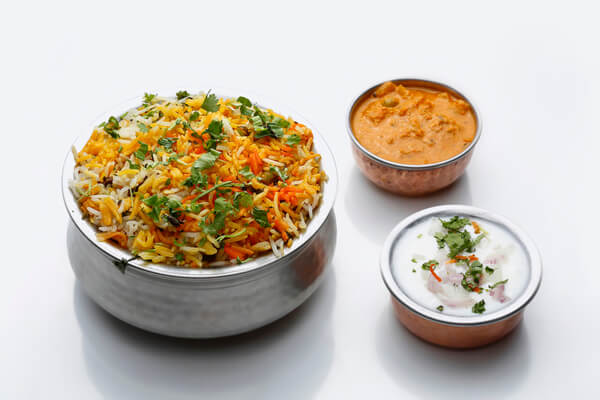 Well, enough said, Biriyani is a word that is enough to make our mouths water! So, make that Hyderabadi biryani and serve it with some Haleem!
10. Gutti Vankaya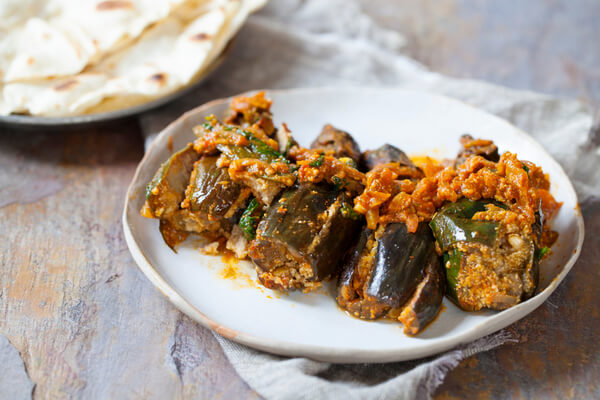 Dry roast some dry red chilli and peanuts, then add the other ground spices: coriander, cumin, cinnamon, cloves, cardamom and coconut cubes. Grind all of these spices into a fine paste with a hint of lemon juice. Then, wash the brinjals and dip them in saltwater till use. Split the brinjal into two halves and stuff the spice paste inside them. On another pan, add mustard seeds, curry leaves, onions, tomatoes and ginger garlic paste with some turmeric, and carefully place the stuffed brinjals inside. Add some water and slow cook till the skin starts to come out! Serve it hot with a side of appam or rice!
Final Statement
Food tastes better when it is shared. So, make sure that you cook some amazing dishes for yourself and your loved ones this Telugu New Year! Remember to always serve your dishes at the right temperature and keep it fresh! Enjoy the feast and seek all the good vibes!