Monsoons are nature's remedy for scorching summers. The pitter-patter on the windowpanes, the sweet smell of rain-soaked mud, the pleasing nip in the air; it is that time of the year again! Come with monsoon are your cravings for pakodas and kachoris or a roasted corn cob. In other words, there is something special about rainy evenings that always seem incomplete without some mouth-watering snacks to munch on and some hot chai to enjoy.
If you are looking for some savory ideas to make your evenings memorable, this is the right place! However, it is time to let go of those common and time taking snacks you have been preparing all along, as they take away all the fun. Here are five best snacks recipes to cook and eat this monsoon.
P.S- Don't forget to store them in a casserole, one that comes insulated and can retain the warmth and freshness of food that you store.
1. Herbed Potatoes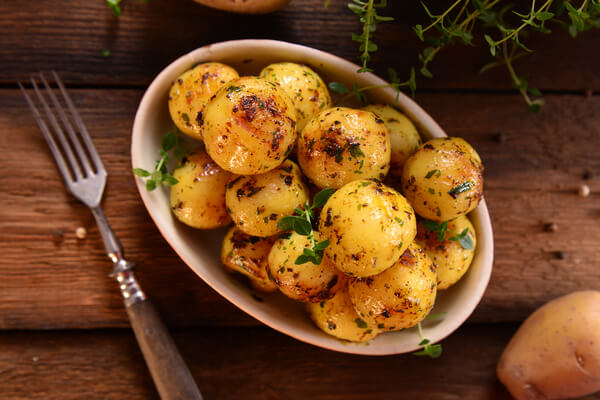 You will surely agree that monsoon snacks can never be complete without the addition of potatoes. Hence, potatoes mixed with honey, garlic and herbs and baked is an easy and delectable way to enjoy them. Yes, it is that simple! Prepare yourself some to enjoy them with a hot cuppa.
Pre heat the oven to 200 degrees C. Blend together the cut potatoes with olive oil, salt, basil, garlic, honey, oregano chili flakes, and rosemary in a bowl. Toss them till all the potatoes are properly coated. Transfer them to the baking tray and bake them for 10-15 minutes or till done at 200 degrees C. Serve with some crispy bread.
2. Cheese Papdi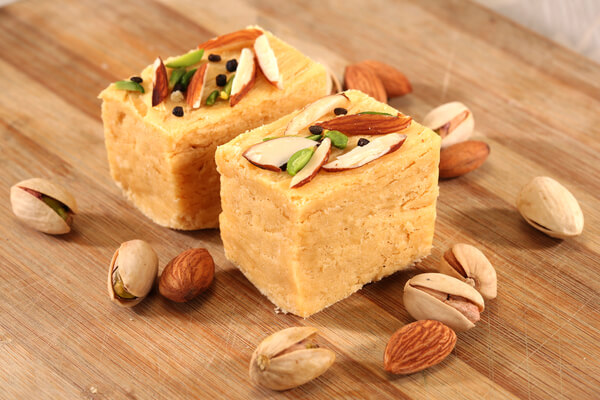 These crisp, deep-fried snacks prepared with cheesy dough is here to make your rainy day way more pleasant. You can just never go wrong with cheesy snacks. This lovely snack will leave you asking for more and more.
Mix cheese, salt and oil and knead into a dough with some water. Keep aside and covered for at least half an hour. Roll out the dough till it is at least 1/2 cm/ 1/8 inch thick and cut out into small rounds with a cutter or into strips. Prick with a fork. Heat the oil and start frying. Add as many pieces as you can fit in comfortably. Lower the heat to medium. Fry till they turn golden brown on both the sides. Take them out of the oil and place them on an absorbent paper. Repeat the same with the rest of the dough, increasing the heat for a few seconds before adding the fresh batch.
3. Moong Dal Samosa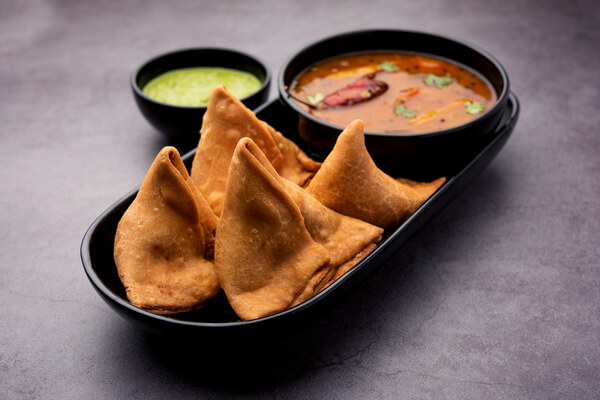 You definitely would have seen this coming. These fried puffed pastries with delectable potato fillings will always have a soft-spot in every Indian's heart and stomach. While you don't really need a reason to treat yourself to this popular snack, but monsoon weather always calls for it! Don't forget to pair it with the perfect chutney.
Take a bowl and soak moong dal. After it is completely soaked, grind it to make a paste. Seive maida in a bowl and add salt and ajwain. Add some ghee and mix well. Make the mixture into a dough using water. Take oil in a pan. Add hing (asafetida) and cumin seeds. Saute well. Add the moong dal paste to the pan and mix. Add salt, red chili powder, garam masala, coriander powder, saunf powder and dry mango powder to the paste. Mix and sauté them well till the mix turns golden brown. Now make small, round covers for the filling from the dough. Cut it from the middle into two parts, creating a D-shape. Apply water on the opposite bends of the cover and fold them. Add the moong dal mixture inside the cover and seal it. Heat oil in a pan and deep fry the samosas until they turn golden brown. Serve hot and crispy.
4. Aloo chaat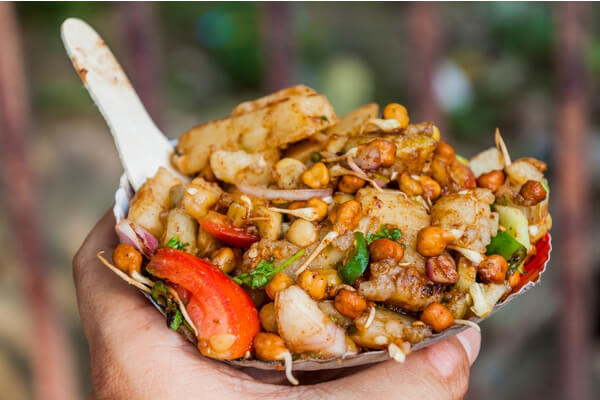 They say you need to avoid eating street-side food during monsoons as the risk of infection is high. But that doesn't mean you cannot recreate your favorite street foods at home. This Delhi-special aloo chaat is every foodie's dream come true.
Deep fry the boiled potatoes until they turn golden and crispy. Drain excess oil on absorbent paper and place them into a bowl. Add chopped onions, green chilies and chopped coriander leaves. Then add the tamarind and some mint chutney. Add lime juice, chaat masala, spring onion and season with some salt. Mix well and serve hot or warm in small bowls.
5. Corn Bhel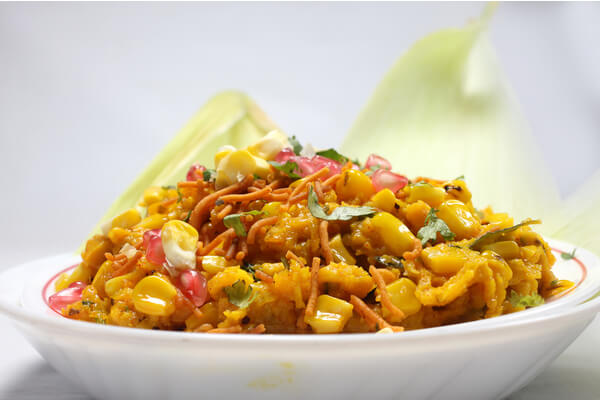 Monsoon is lacking without corn. This corn bhel recipe is a right mix of tangy and spicy to relish on a rainy day!
Dilute the chutney with some water. Mix the corn, potatoes, onions, coriander, lemon juice and chutney. Garnish with the sev and some more coriander and serve.
6. Aloo Dal Ki Tikki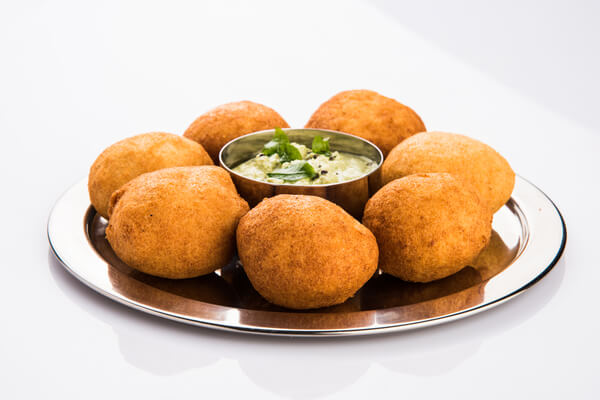 In this recipe, crisp potato and channa dal patties are deep-fried to perfection. Enjoy these yummy round joys with a chutney of your choice.
Crumble the bread slices. Add mashed potatoes, chana dal, lemon juice, coriander leaves, and chilies. Add a little spice with cumin powder, salt, coriander powder, garam masala, and few drops of oil. Mix well. Shape them into round flat patties and fry them till they turn golden brown.
7. Kanda Bhajji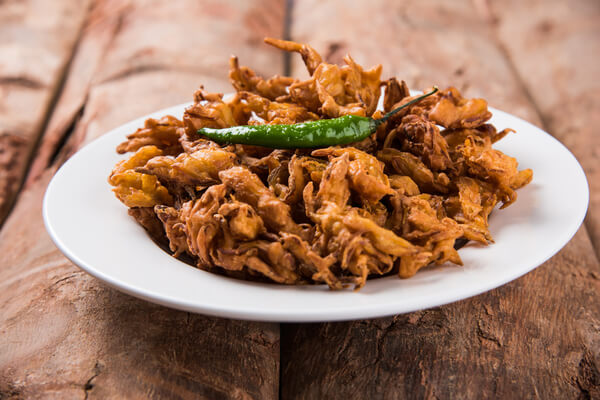 These deep-fried, mildly-spiced onion pakodas are sprinkled with chat masala for the ultimate monsoon snack. Pair it with some tangy pudina chutney and chomp away.
Peel an onion and slice thin. Add it to a bowl with finely chopped green chilies. Add ajwain, red chili powder, and turmeric powder. Mix besan and little rice flour. Add salt to taste and mix well. Add little water if needed. Make uneven shapes and deep fry till it turns golden brown in color. Sprinkle some chat masala on top; serve with mint chutney.
Conclusion
These snacks are just what you need on a drizzling evening. Put your growling stomach's woes to rest by cooking up one of these recipes and treating yourself and your families! Make sure you keep them warm and fresh with a hot case or casserole!