It is impossible to think of Italian food without a hot plate of pasta and some excellent wine (if you like it). Pasta is made with flour and can be formed into sheets, strips, or any shape. In fact, you will find over 600 pasta shapes all over the globe. The famous Italian dish pasta is one of the best comfort meals out there. It is a no-fuss dish that can be cooked in minutes and does not need genius cooking skills. This simple dish has a lot of room for creativity too. You can experiment with pasta recipes using various kinds of pasta like fusilli, penne, or spaghetti, different sauces like tomato sauce, creamy white sauce, or meaty bolognese, and a variety of ingredients ranging from herbs to veggies to cheese.
Pasta dishes are also an easy way to please even the fussiest eaters. These pasta recipes will leave everyone impressed. Keep your cooked pasta in a casserole to preserve warmth and freshness! Here are few pasta dishes for dinner time!
1. Four Cheese Pasta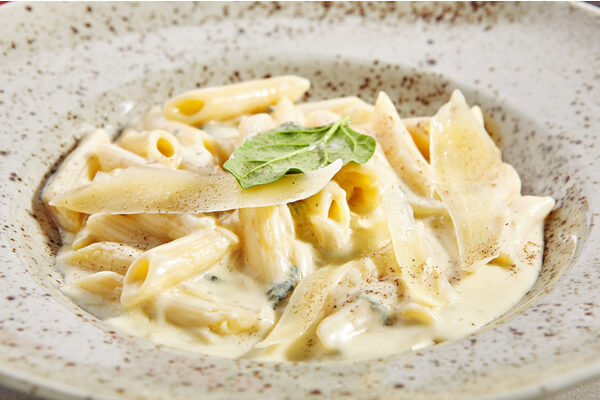 This pasta recipe is prepared with four different types of cheese; Parmesan, Cheddar, Brie, and Emmental. This easy pasta recipe is all things cheesy and yummy. Boil the macaroni in salted water and strain it into a bowl. Add olive oil. Melt some butter with flour in a saucepan along with the olive oil. Boil milk with rosemary, thyme, bay leaf, and spring onions. Strain milk in with the flour and butter, stirring slowly. Season with salt and pepper. As soon as the sauce coats the back of your spoon, it means it is done. Grate parmesan, add cheddar, few chunks of brie, and Emmental. Add in the sauce and mix. In a hot pan, add some chopped garlic, cherry tomatoes, chili flakes, and a pinch of salt. Sauté well and deglaze with a bit of white wine. Mix macaroni with sauce and serve hot!
2. Gnocchi with Tomato Sauce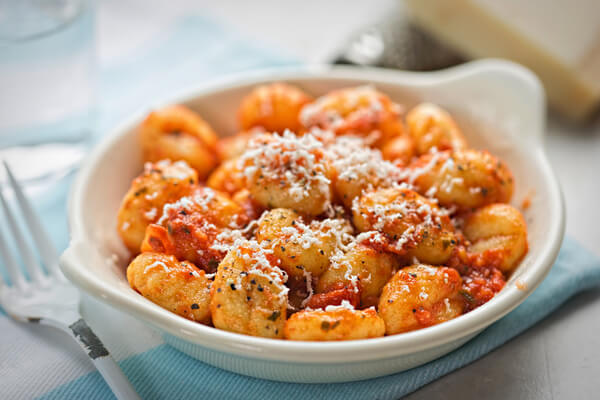 Gnocchi is a kind of pasta that looks like dumplings usually made with wheat flour, potato, egg, semolina, and breadcrumbs. They can be served with different sauces. This easy pasta recipe uses only freshly-made tangy tomato sauce. Boil potatoes with salt and mash them. Beat the eggs and oil into the mashed potatoes and add flour and Parmesan cheese in it. Mix with your hands well enough to make a soft dough. Keep the dough on a flat surface and knead it for few minutes with some dry flour till it becomes soft. Take a little bit of dough, roll it out with your hands to form a long strip, and cut it into small sections for the gnocchi. Repeat the process as many times as needed. Then boil them in salted water for five minutes. Scoop out onto a plate. Pour some tomato sauce over the gnocchi and garnish with parmesan cheese and basil leaves. Serve hot.
3. Pasta Carbonara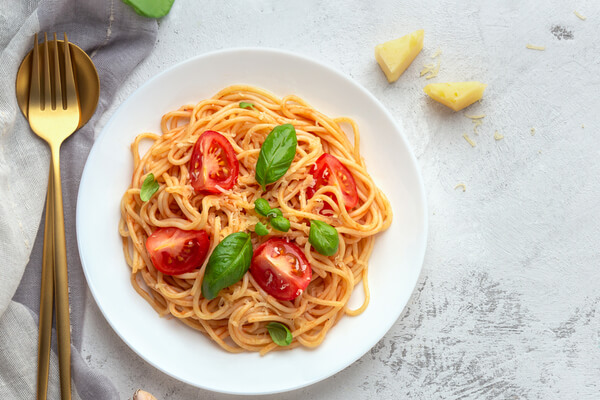 This simple Roman pasta dish got its name from 'Carbone, which means coal. It was a pasta popular among the coal miners. The original recipe had guanciale, pig's cheek, but later, chefs used bacon instead. This is an easy pasta recipe when you don't want to cook anything elaborate. In a saucepan, heat the olive oil and fry bacon till crisp. Set it aside. In a mixing bowl, whisk the eggs and the yolk well. Add the grated cheese and set it aside. Now boil spaghetti in plenty of salty water. Drain the pasta. Keep some of the cooking water. Take another saucepan, add the pasta to the egg mixture, bacon, and any fat left from cooking the bacon over extremely low heat.
You need to make sure that the individual strands of pasta are properly coated with the mixture. Now season with salt, add the pasta water, give it a quick mix, and remove from the heat. The sauce ought to have a creamy texture, which will be lost if the pasta remains on the fire for long. The idea is to cook the egg from the heat of the pasta and not from the heat of the fire. Serve right away with plenty of pepper, freshly crushed in a pepper mill, and Parmesan if required. You can also replace meat with tofu.
4. Home-Style Baked Pasta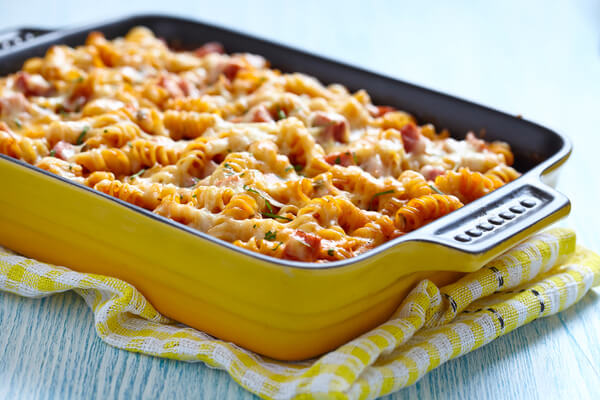 This home-style baked pasta is a perfect choice for a weekday dinner. Pasta, layers of cheese, veggies, and tangy tomato sauce make this a glorious meal. This extremely easy pasta recipe is all just what you need after work to fill your tummy. Cook pasta in salted boiling water for around 11 minutes. Drain and lay it onto a tray/plate. In a heavy-bottomed pan, heat a little olive oil, add onions, garlic, chilies, and saute them for 2 minutes. Add bell peppers and eggplant and saute. Add the mushrooms, olives, and spinach. Let it cook for a while. Then pour the tomato puree and the cream. Season to taste. Take the pan off the stove and add in the pasta. Then mix in a little bit of the cheese. Pour the mixture into greased baking dish. Sprinkle the rest of the cheese evenly topped with the breadcrumbs. Add the cubes of butter and let it bake in the oven at 160-180 degrees.
5. Pasta Con Pomodoro E Basilico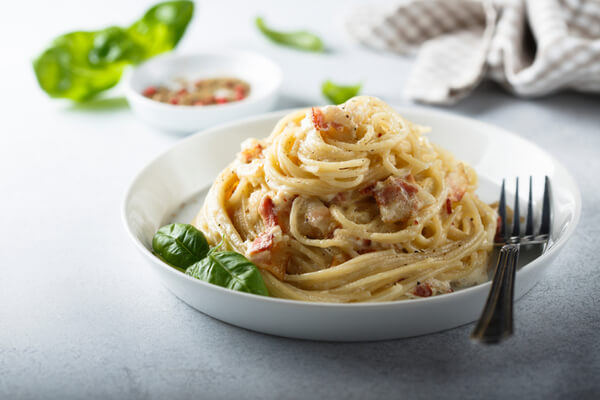 This pasta is made with the classic tomato and basil sauce combo. This is a basic and simple cooked pasta sauce, making it the benchmark of a good Italian home cook. Cut the tomatoes in half and discard the seeds using your fingers. Heat oil in a large skillet, and add garlic and chilly flakes. As soon as garlic gives off aroma and becomes opaque, add the tomatoes. Cook over high heat till the tomato starts to thicken. Break the tomato pulp. Add the basil roughly chopped and salt. When the sauce is cooked, take it out from the heat and run it through a food processor for a while. Cook the pasta in plenty of boiling water, till al dente, and drain. Place it in a serving bowl along with the sauce. Sprinkle a little olive oil over the pasta and mix with the sauce. Serve with grated Parmesan cheese.
Conclusion
These pasta dishes are bound to leave you jazzed with their taste and flavor. You can even reserve a day in the week for pasta. Try these out one after another and see your family's face brighten up at the very sight of it. Don't forget to store the pasta in hot cases!