The word summer is evocative of blue skies, warm weather, vibrant trees and plants, popsicles, and beaches. It's the perfect weather for new beginnings, water adventures, and long hours of frolicking under the warm sun. A tall cold tumbler of refreshing juice is what makes this serene picture of idyllic paradise perfect. 
Summer is just round the corner. This is the time when you experiment with different drinks and ice creams to help combat the heat. It is crucial to hydrate yourself sufficiently to avoid any health issues due to heat. Help yourself to nice big tumbler of cold drink.
10 Refreshing Summer Drink Recipes Everyone Must Try
While ice cream is a common favorite during summers, cold drinks reign supreme. Here are 10 refreshing summer drink recipes everyone must try –
1. Lemonade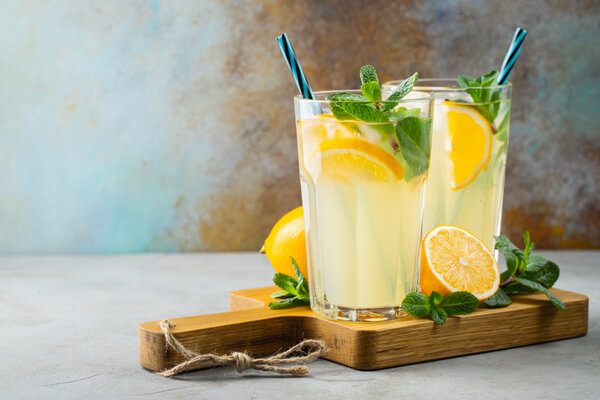 Come summer, lemonade is the one drink people prefer over others. In most homes, people offer a stainless steel tumbler of cold lemonade to guests who drop by for a visit. Lemonade is perhaps one of the most common drinks during summer, but it is loved by all. The recipe is very simple – in a utensil, add half a teaspoon salt and a tablespoon of sugar. Slice a lemon into two, and add the juice of half a side. Add your required amount of cold water, and top it off with the other half of the lemon. Stir well, and pour some in a tumbler glass. You can add a mint leaf on top and a lemon rind as decoration before serving.
2. Strawberry Limeade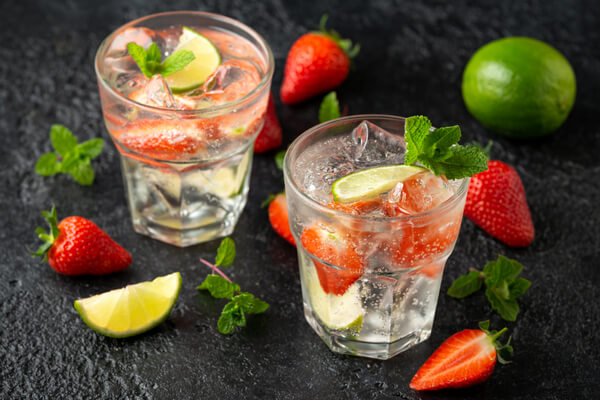 Strawberry limeade is a delicious combination of all things that scream summer – strawberries, lime, and cold water. It's a healthy drink that gives you the goodness of strawberries while strengthening your immunity with Vitamin C. The recipe is as easy as the come. Mix 1-1/2 cups mashed fresh strawberries with 1 cup fresh lime juice. Add 5 glasses of cold water into the mix and add sugar to your tasting. You can pour it in an insulated tumbler with lid and sip it whenever you want. 
3. Mojito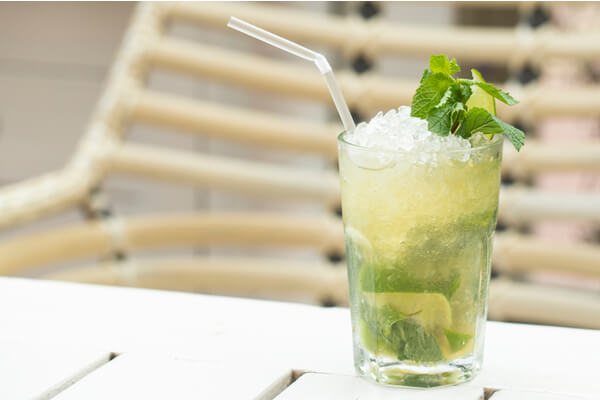 The mojito is a classic mocktail that resumes popularity every year during summer. Mojito is a very refreshing drink that helps you rejuvenate yourself. Crush a small bunch of mint leaves into a paste. Add sugar. In a tumbler or two, add a few cubes of ice. Add the lime-mint mix. Top the drink with icy soda. Mojitos are a great favorite among people. It is a popular refreshing summer drink that is both sophisticated and offers relief from the relentless sun. 
4. Fresh Lime Soda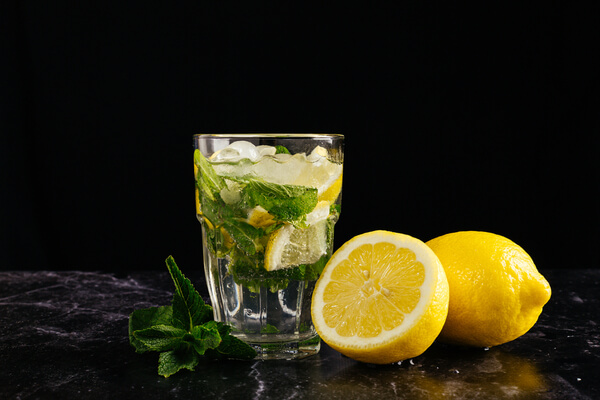 A fresh lime soda is perhaps the most refreshing drink you can imbibe. You can easily prepare it, and the payoff is a tumbler filled with fizzy goodness. Blend 1/2 cup lemon juice, 1/4 cup (60 gm) sugar-powdered, and 3 cups soda together. In three or four glasses, add the mixture onto crushed ice. Pour some cold soda, and enjoy. 
5. Buttermilk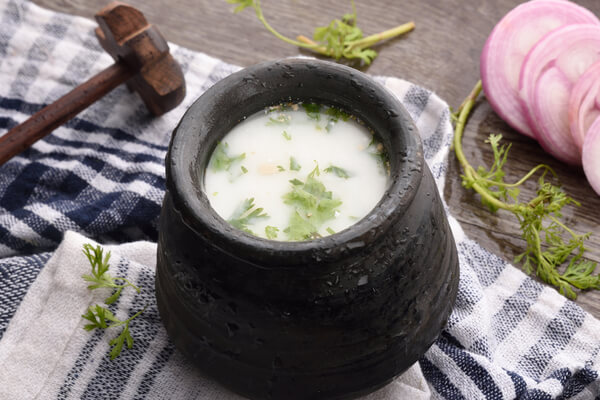 Buttermilk, or chaas, as it is known in many Indian states, is a rich, creamy drink that helps cool the body down. It is high in calcium and minerals. Buttermilk is the liquid that is left over after churning butter from cultured cream. While you can purchase buttermilk – flavored or original – from shops, it is best to make your own buttermilk. Buttermilk is a very easy recipe to make. It is an activity that you can exercise with children. In a tumbler of milk, add a tablespoon of lime juice. You don't have to wait very long – the milk curdles in a few minutes, separating the liquid buttermilk. Add a pinch of rock salt and you're good to go. 
6. Mango Smoothie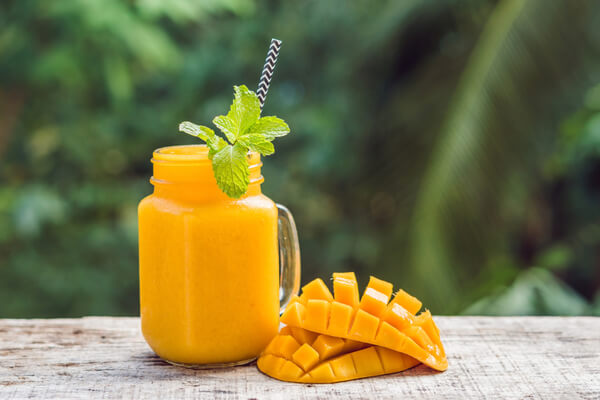 Mango is considered the king of fruits. It is a tasty, fleshy fruit available only in the tropics, specifically India. You can only get ripe, luscious mango a few months during the summer. Make the most of it by treating yourself to a cold tumbler of mango smoothie. Puree frozen ripe mangoes with water and drop the mix in a steel tumbler over some ice. 
7. Barley Water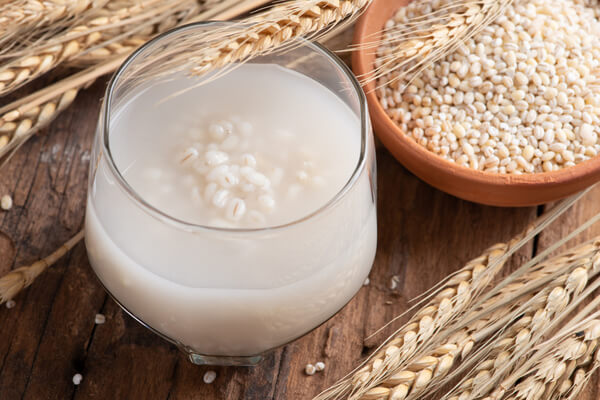 Barley water is a an excellent hydrating drink. Many consider it supremely cooling during warm months. Soak barley husks for 6-8 hours and cook it until soft. After it cools down, strain it in a stainless steel tumbler, add rock sugar, lime juice, and enjoy. 
8. Cumin Juice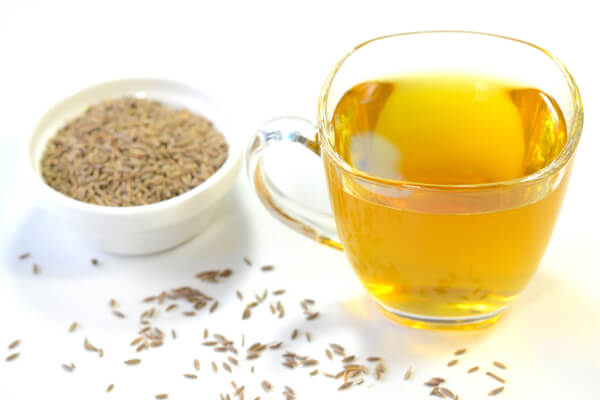 Cumin juice may not sound very appetizing, but you may have consumed this drink by adding the popular spice powder, jal-jeera, in water. Jal-jeera is a delicious drink where cumin is roasted, dried, and ground into a fine powder. Other ingredients like salt, pepper, chaat masala, etc. are added. Add the mix in a stainless steel tumbler, add water and lime juice. 
9. Coconut Water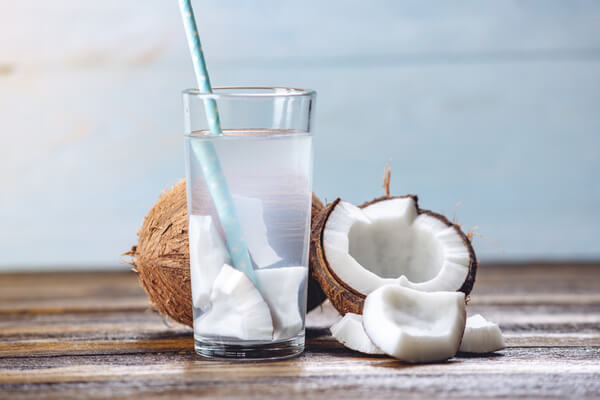 Coconut water is a drink that will make anyone feel as if they are on vacation. Coconut water is excellent for your health. It contains natural electrolytes, antioxidants, minerals, helps control diabetes, and more. While you can drink coconut water straight out of a coconut, you can make fun mocktails for variation. You can add lime juice, a couple slices of chillies, and mint leaves in some coconut water. 
10. Cold Coffee with Ice Cream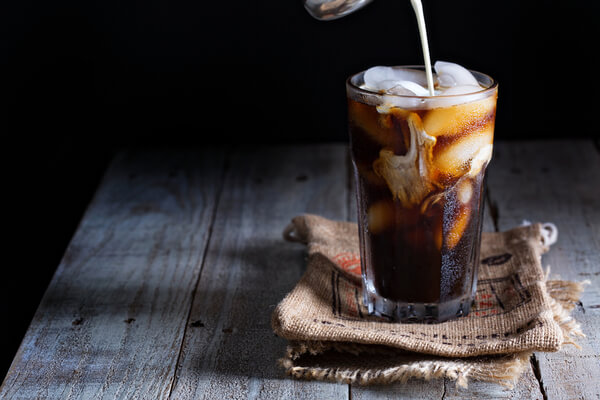 Cold coffee is a delicacy in many parts of India. It is a soothing drink that offers richness and taste. Unlike the hot coffee, cold coffee is much more bearable in summers. You can make cold coffee by simply adding a sachet of instant coffee in a coffee mug with lid and fill it with cold milk. You can customize it by adding ice cubes and sugar to your liking. If you want to take the humble cold coffee a step further, add a dollop of vanilla ice cream. Add toppings like chocolate syrup and nuts.
Conclusion
Summers can be an absolute drag. The unrelenting heat coupled with sweat can make you feel dreadfully dull. Add a little spice in your life by creating delicious refreshing drinks to combat the heat. Pour yourself some happy juice in a tumbler glass and you're good to go.