Did you know, leather has been a popular choice of fabric material right from 3000 BC? Yes, Roman sailors used leather sails in their boats! Today, 5000 years later, leather still remains to be the popular choice in shoes, bags, trays and home décor!
Glistening, smooth, artistic and regal, leather is all that, and a beautiful leather serving tray can magnify the décor of any room! Why trays? Because, trays are a must-have accessory in every home. You probably use a tray for serving, storing supplies or cutlery, as an organizer and at times just as a show piece! A tray doesn't go out of use, or out of style any time!
If you Google '10 must-have accessories for home décor', you will probably find trays topping the list in every article. Trays, vases and bowls, these are not just practical, but make great accessories for every home! And when the tray is made of leather, the possibility of it complementing the style of your home décor is quite high! Continue reading to know how you can style one stunning and smart leather tray and use it in different parts of your home!
1. Make Every Arrangement Stylish with a Leather Tray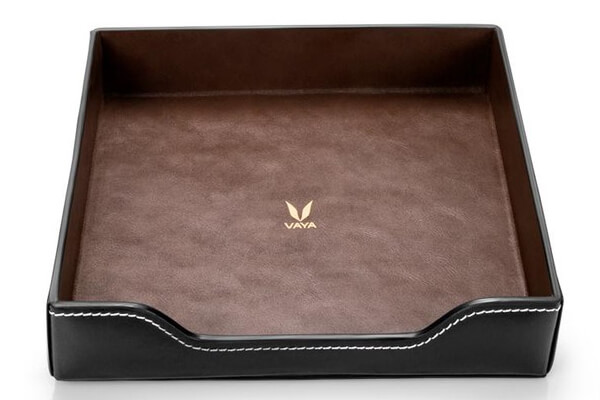 If you love decorating and redecorating your home, then you already know how a tray can complement a coffee table, a night stand or your kitchen counter. A leather tray definitely brings in a vintage looks to an artistically done décor! An elegant everyday item can be converted into a piece of art. A beautiful leather tray doesn't have be restricted to a handful of uses, all that essentially revolve around serving.
2. A Luxe Leather Tray for your Luxurious Living Room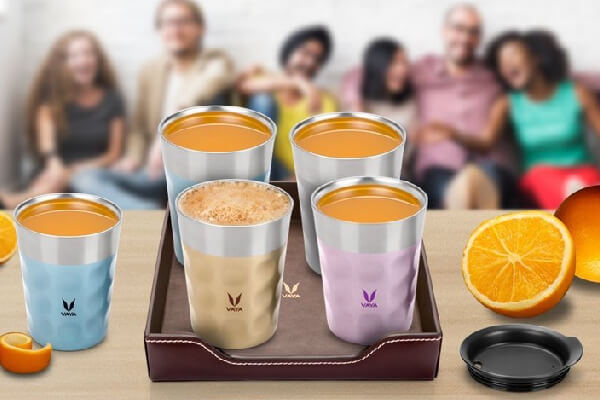 For many, their living rooms are the places where they spend the bulk of their time in the house! It is where you relax after a tiring day and where you have created millions of memories with your family, friends and guests. That's the room you sit and together watch television, have a snack, have discussions which end up in life-changing decisions, in simple words, it's probably the most used room in the house! It is also a room crowded with a lot of different items that reflect your personality and style – books, art pieces, indoor plants, accessories, TV, keys, and what not!
Consoles, coffee table or center table, a leather tray can be used on all of these! Here are a few pointers on how you can style a leather tray for your living room
On your coffee table for holding artistically arranged decorative candles and candle holders.
On your center table with a photo frame and a flower vase.
On your coffee table for storing an storage containers with nuts and dry fruits, and hold coasters and cutlery stand.
On your center table holding show pieces like a decorative plant, a vintage alarm clock and a flower vase.
On your center table to organize TV remotes, magazines and to store your everyday essentials like keys and wallet.
3. A Perfect Serving Tray for Your Kitchen and Dining Room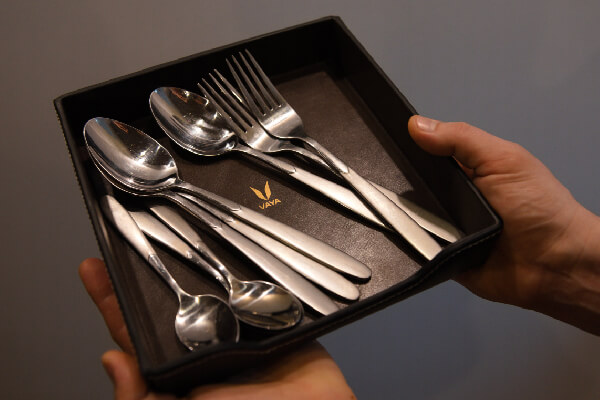 Although a tray is used mainly for serving in most kitchens and dining rooms, it is not limited to just that. Here's why –
A leather tray, in a kitchen, can be used as an organizer – for cutlery, to hold jars with nuts and dry fruits, to hold herb jars, or to hold an assortment of knives, scrapers and spatulas!
It makes a chic addition to your dining table to store condiments like salt, pepper and ketchup!
A leather tray on a dining table or lawn table can be used to hold coffee, sugar and milk or for stacking your juice bottles!
However, here are a few features that when available in a tray will make it fabulously functional –
A water-repelling PU coating so it remains unaffected because of accidental spills.
High-quality toned leather coating so it can withstand everyday wear and tear.
4. Decorative Tray for Your Bath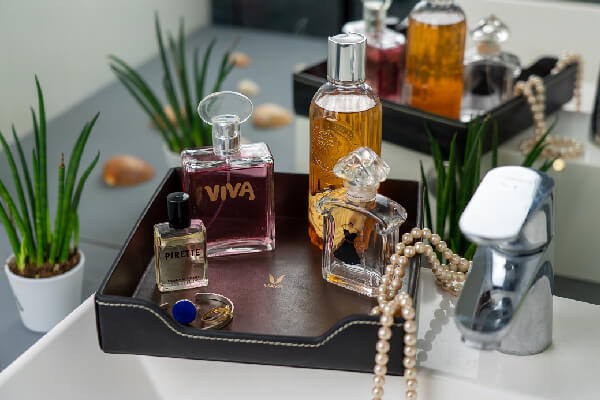 Bottles of shampoos, conditioners, lotions, gels, and vials of perfumes and cosmetics can sometimes clutter the spaces in your bath. A leather tray is simply perfect to organize these neatly in limited space of your bath!
Love scented candles, essential oils and potpourri bowls?  Organize all these in a leather tray and they won't just be aromatic but also look great! If you have the habit of storing your moisturizers, creams and body butters in your bath, then a decorative tray is your best bet to keep them organized and handy!
5. Handcrafted Leather Trays for Your Study/Office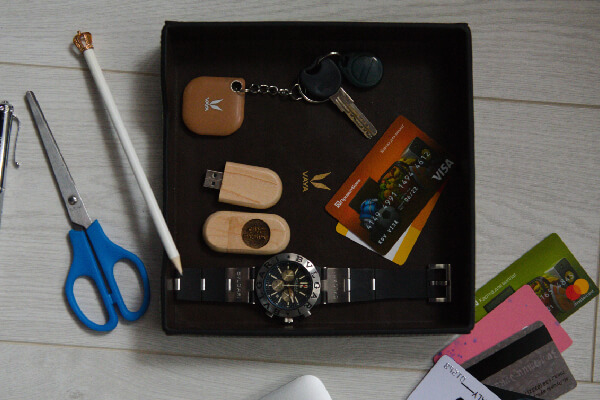 A handcrafted leather tray is as elegant as it is handy! There's nothing else that will make your mahogany work or study desk look better organized! If you are a person who loves to hoard on stationery supplies – notebooks, stick it notes, pens, paper clips, stapler and highlighters, then a minimalistic and classy way to organize all of these on your desk would be to use a leather tray! Not just that, a leather tray also comes in handy for leaving your mobile phone, spectacles, wallet, car keys and other personal items on your desk! It will also be great to hold the day's newspaper, magazines along with a nice flower vase. While coming in handy, a leather tray also accentuates your image in the office.
6. Leather Tray Organizer for Your Bedside Table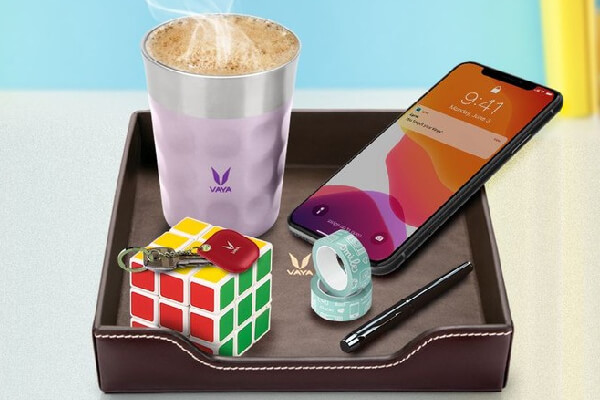 Another great spot for a leather serving tray is your bedside table or nightstand. The table beside your bed can be a small piece of furniture but it definitely holds a wide assortment of things. Right from hair clips, hand creams, watches and wallets to even books, mobile phones and your Kindle! This cozy space can become cluttered overtime, and a beautiful leather tray can keep that table organized, in a classy way!
A beautifully crafted leather serving tray apart from being a stunning piece of décor on your bedside table also adds value by keeping all those essentials you might need on your bedside organized!
7. Fancy Leather Trays for Your Dresser
Imagine your make-up, perfume and fine jewelry all stacked in a classy leather tray on your dresser. If you think the visual you are imagining right now belongs to a celebrity's vanity van, it doesn't always have to be! A leather tray looks sophisticated, and your jewelry and watches neatly sorted on it will definitely perk you up!
Not just for your jewelry or watch collection, it can be used to organize your deodorants, perfumes, hair-accessories, moisturizers, creams, glosses, and all other beauty products that you love stocking up on the dresser.
Wrap Up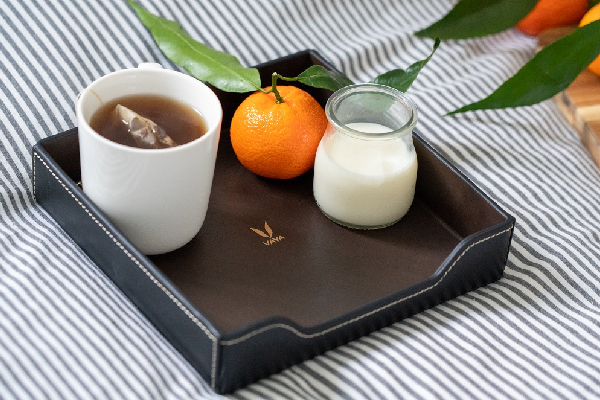 Not just perfect for your bath and dressers, a decorative leather tray works well in your study, on your office desk, waiting lounges, conference rooms and even in your personal wardrobe! While it works great as on organizer, for serving a drink, snack or even breakfast in bed, you can't deny how an urbane tray can make the décor of any room pop! Pick a handcrafted leather tray in earthy brown or pitch black and it would complement the décor of your home, while coming handy!