It is not always easy to plan an elaborate meal or cook something nice amidst chaotic work days. There are days when you keep fiddling with ingredients and perspective. Then, there are days when a spur-of-the-moment dish turns most unexpectedly delicious and surprises the cook in you and the crowd back home! On work days of the week, you might not have the headspace and time to cook even simple meals. Prepping comes in handy on such days when all you could afford is bare-minimum time and effort!
Prepping changes the frustrating joy that cooking at times could be into an absolutely pleasurable experience. Prepping allows you to plan an elaborate meal for the next day, giving you enough time to execute the dishes. You will also have time to pack the cooked food in a smart lunch box for the next meal, or store it in an insulated casserole for the day's dinner. In simple words, it helps you turn your cringe-worthy week-day mornings into a significantly lesser one. When you prepare a few ready-to-cook ingredients well ahead, your busy and chaotic week-day mornings become organized and you will realize why for some people cooking is therapeutic!
Whip up those salad dressings and gravy bases well ahead of time, and store them in air-tight food containers that seal the freshness. It makes putting together a salad or an egg or paneer gravy the next day a breeze.
If you can plan your week day lunches, then prepping gets easier. You can boil dal, rajma and chole and freeze them in batches so all you have to do the next morning is a quick tempering or tadka and one of your main course lunches is good to go.
Look up for a few quick and healthy desserts, like carrot dates halwa and apple almond crumbles, cook them well ahead of time and store them in insulated food jars so you can snack on these all week.
A few ready-to-cook and ready-to-eat condiments will come in handy for a week if preserved well. Jams, spreads and marmalades can be prepared in big batches and stored in container sets so you can use them for breakfast all week. Mint and coriander chutney, popularly called the green chutney can be made well ahead of time and used across many gravies. All you need is a toast or roti and may be an egg to complete the morning meal.
Knead dough for your roti and parathas when you have some time in hand, and store them in air-tight containers in your refrigerator. The dough comes in handy to make a few rotis quickly and additionally, the rotis turn out to be soft and delicious too!
When you make a batch of tomato puree, ginger-garlic paste, tamarind paste, and sauces, and store them well in double-walled insulated kitchen storage containers, you are sorted for a few meals of the week. With these ready-to-cook condiments, you can add freshly chopped onion and vegetables as needed and spin a dish well under 10 minutes.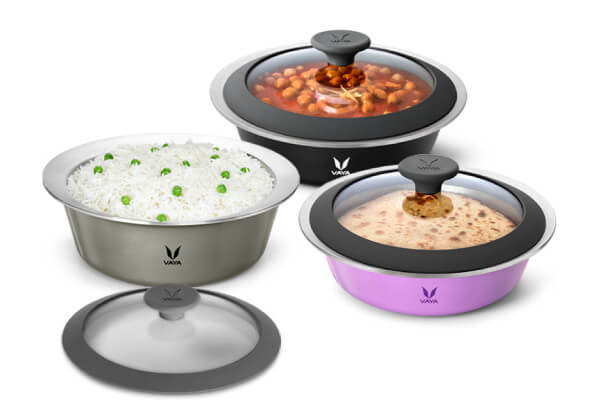 Cook a batch of variety rice – lemon rice, pudhina/mint rice, carrot rice or a mixed veg fried rice in the noon when you have some time, and store them in an insulated casserole, and you are all set for dinner, or a quick tiffin time in the evening!
Dal, chole, rajma and most other gravies taste good when they are warm as well. Cook a batch of dal/gravy in the morning, and store them in a casserole or hot case. When you have a handy and delicious side for dinner, all it will take to rustle up the meal is cooking rice, roti or dosa, which won't take much of your time.
Don't let foul mood or the displeasure of an unanticipated power outage reflect on the dishes you prepare on an average week-day! Prepping allows you to challenge such unpleasant surprises so you can experience the joy of cooking, that Julia Child did! Invest in smart containers, casseroles and jars, ones that are insulated so you can cook up a few dishes ahead, or store ready-to-eat food items and enjoy the meal without having to spend too much time in your kitchen!