With work form home becoming the new normal, investing in a few products that support your working style and overall help improve the productivity is important.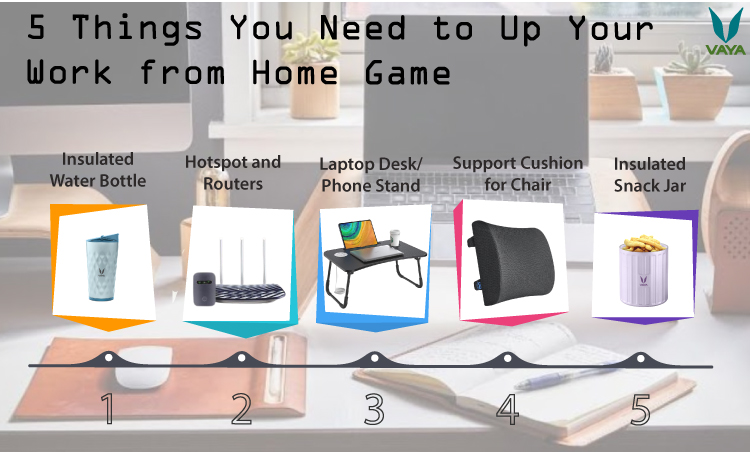 1. Insulated Water Bottle
Staying hydrated while you work is quite important. While you are getting yourself comfortable working from home, an insulated water bottle on your laptop table or desk might come in handy. Chilled water, cold juice, warm tea or hot coffee any beverage you want to drink, store it in a flask or insulated water bottle and it will keep it fresh and warm or cold as required.
2. Hotspot and Router
A mobile hotspot and router, so you can stay connected with your team at all times.
3. Laptop Desk/Phone Stand
It is important that your posture is right while you work from home. If you have a hard time adjusting to the couch and table, try a laptop desk. If you use your phone or tablet to connect to zoom meetings, invest in a phone stand.
4. Support Cushion for Chair
One of the best ways to improve productivity is by making yourself comfortable. A cushion that supports your back and allows you to comfortably work is a worthwhile work from home investment.
5. Insulated Food Jar
A healthy snack of fruits, salads or even nuts on your desk might help you avoid reaching out to sugar laden treats at home. An insulated snack jar is perfect in keeping nuts and other home-made snacks fresh and crisp.