Sustainability is the need of the hour, and there are plenty of reasons for this. With the climate being in crisis and the safety of the future unknown, it is important to opt for eco-friendly products for yourself, your home and especially your kitchen. It might not look like a big deal, but choosing environmentally friendly products can impact the world in a big way. After all, charity begins at home. Here are a few sustainable kitchenware products you must own.
1. Insulated Stainless Steel Casserole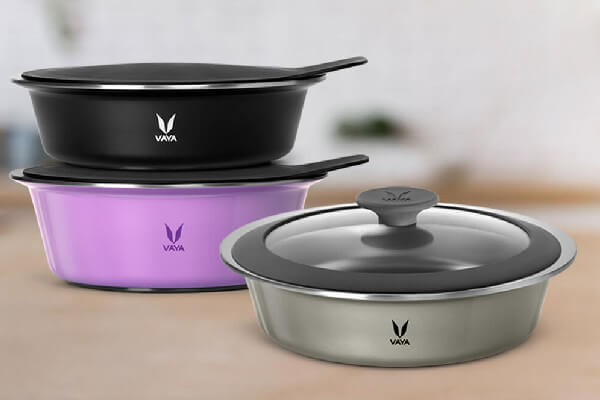 Casseroles are undoubtedly the first thing you need in your kitchen and on your dining table! Insulated casseroles are durable, allowing you to utilize them for years to come! Most of them even come with a stainless steel body and a glass lid for a pretty, aesthetic appearance. The food you make with such amount of hard work needs to be relished and enjoyed just the same. So, prepare it at your convenience and let the casserole take care of the rest!
2. Eco-friendly Water Bottles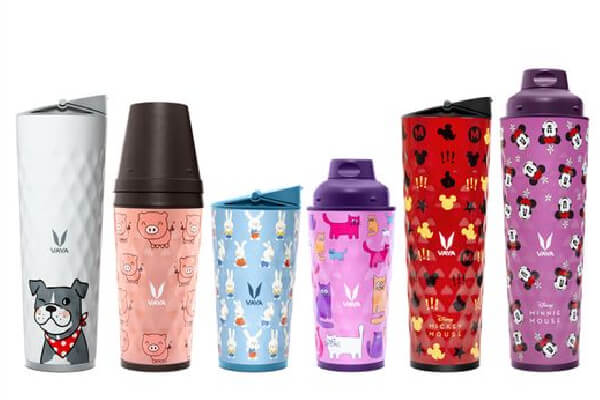 The production of non-biodegradable bottles takes a lot more than 80 million a year. Additionally, it roughly takes 800 years for them to decompose. It is the need of the hour to understand and take this situation seriously. You can switch to biodegradable and paper water bottles, which are great alternatives. Additionally, there are plenty of other sustainable options around you, like glass, stainless steel, bamboo, or copper bottles.
3. Wooden Bowls and Spoons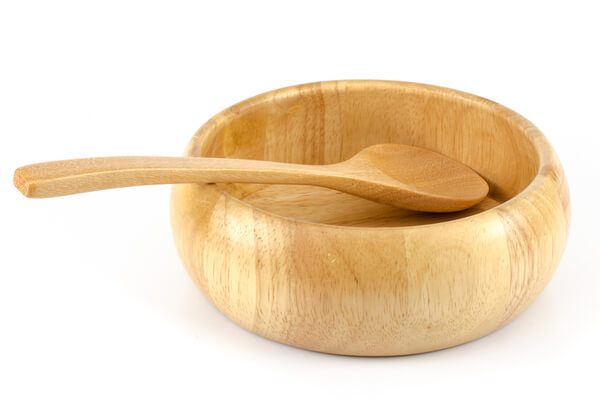 If you are one of the many people who uses plastic cups, spoons, etc., it's time to quit! However, a kitchen without bowls and spoons is unlikely because it's one of the essential aspects of any kitchen. So what is the wait for? Make your kitchen collection stand out with wood bowls and spoons so they can be sustainable. You will even notice how beautiful they look in your kitchen and dining table.
4. Bamboo canisters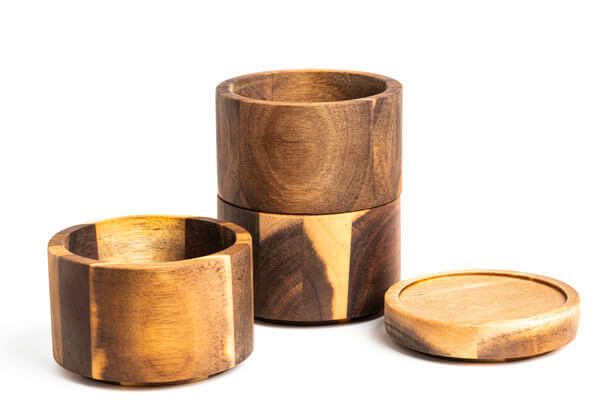 If you are looking for storage options, then bamboo canisters are a great idea! They are eco-friendly and have an aesthetic appearance too! These eye-pleasing storage canisters will look great on your kitchen counter.
5. Mason Jars for Juices and Drinks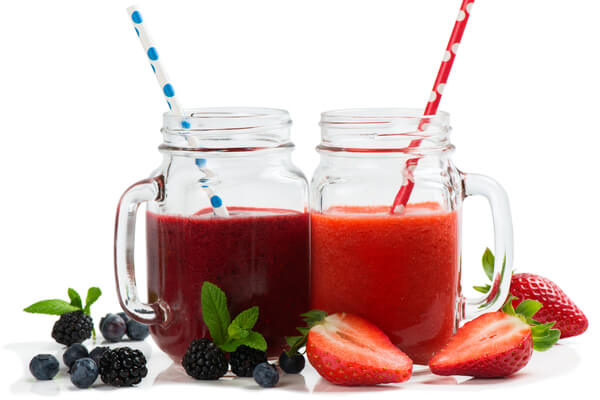 Mason jars are a perfect item for a lot of things. You can use them to store things as well as for drinking your juices, iced teas, and milkshakes. Glass mason jars are the best and most environment-friendly facelift you can give to your kitchen cupboard. You can purchase all sorts of glass containers to store different items in your kitchen drawers, shelves, and fridge, from thick glass, which is usually tougher, to pretty, thin glass jars with wooden tops or metal caps. They will keep your food and ingredients fresher and help them last longer too. And the best part is that you can easily see what's stored in them!
6. Insulated Serving Utensils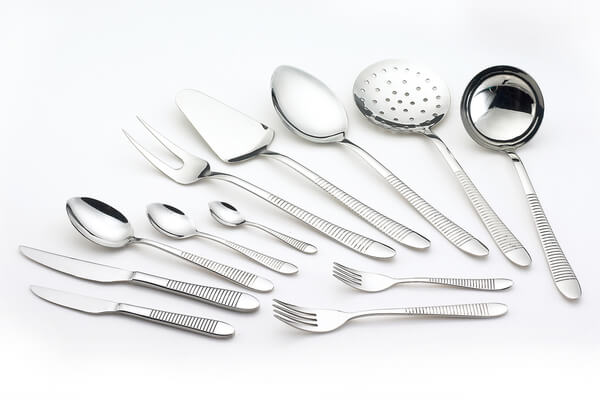 When you are picking out the ideal stainless steel serving utensils, you might want to make sure there is enough for you and your family's needs. If you like to throw parties regularly just for fun or for holidays, you might want a serving utensil set with a lot of pieces. From salad servers to soup ladles, you cannot have too many utensils on your table! It would also be better to display a set than have random serving utensils for various purposes, giving the table a shabby appearance. Most of them also have a good grip for excellent serving. You can also invest in a whole set of stainless steel glasses set for a much-needed style upgrade. Take a step back, and you will notice the perfection of your dinner table with it. You don't even have to worry about the designs and styles as many manufacturers and brands are coming up with some special styles for an appealing look.
7. Eco-friendly Kitchen Towels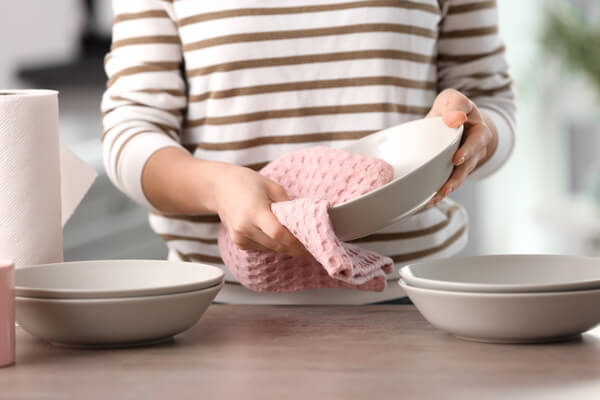 Are you aware that you can contribute to the well-being of the planet by taking tiny steps, like shifting to eco-friendly kitchen towels? There is nothing better than using those reusable kitchen towels, which are a much better choice for the environment as they help in minimizing waste and are also a good choice for you and your family personally. Bamboo contains high antibacterial properties, which can keep you fresh and odor-free. Bamboo is one of the best fabrics available, making it a great option for kitchen towels.
8. Cast iron skillets and multi-ply steel pans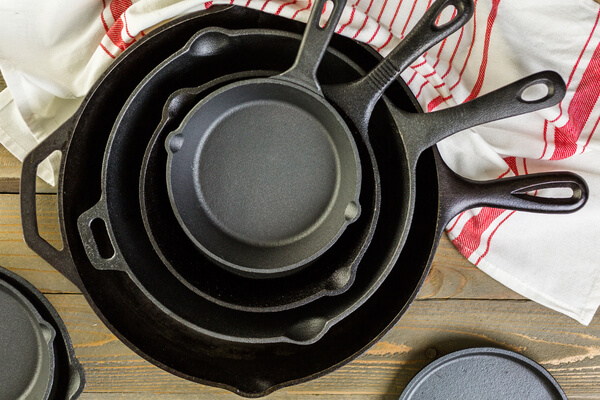 It is time to discard your peeling and scratched Teflon-coated cookware and try heavy steel pans in 3 ply and cast iron skillets. You will notice your food tasting better too. But, you do have to take a little extra care of your multi-ply steel pans and cast iron, but that is just a great way to bond with your cookware! Never thought of it that way before, did you? Hey, it's high time you do.
9. Silicon lids and covers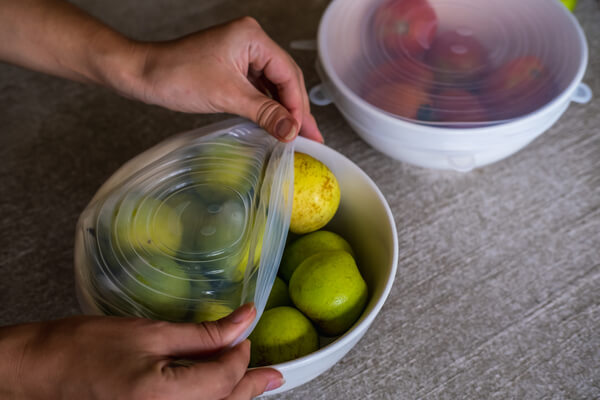 Get yourself a set of those stretchable silicon lids to cover your food containers. This is an incredibly convenient way to save yourself all the hassle and be able to say no to aluminum foils and cling wrap to cover your dishes.
10. Stainless Steel Serving Plates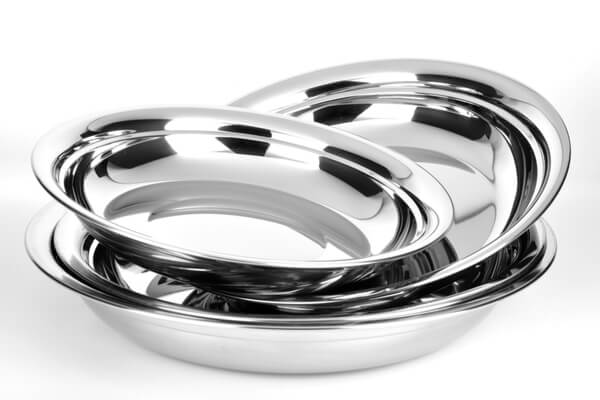 Gone are the times when people were crazy over china dinners sets and cutlery. Things are going back in time, and stainless steel plates are back in style. They can easily add a classy look to both your kitchen and table, especially when you pair them with stainless steel spoons and glasses. They are also a lot more durable than glass, and you can easily utilize them for both regular use and parties. Also, the immensely save your money as you don't have to fret about them breaking while cleaning or washing. These plates also come in various shapes and designs for someone like you who stresses over design and style.
Conclusion
Sustainability needs to be a rule rather than an option as the world is in dire need of it right now. Opting for these kitchenwares might just be your starting step towards contributing to the environment. Make sure you motivate and encourage your friends and family to do the same.