How your day goes has a lot to do with your breakfast and what you consume. There is nothing like some glorious buttery dosas or crispy vadas. South India is also known for its wide range of chutneys which make the best accompaniment ever! These breakfasts are also much better alternatives to all other oily and unhealthy options. You can happily kickstart your day with simple and healthy recipes if you don't have the leisure to make elaborate breakfasts and you are racing against time. They are that easy! So, if you are looking for something speedy, simple, delicious, and nutritious, these dishes are just the ones for you. You can store these dishes in an insulated casserole or hot case to enjoy later in the evening. Since it is difficult to decide which state has the best breakfast, this list is a compilation of all South Indian states.  Here are few South Indian Recipes to cook under 20 minutes.
1. Medu Vada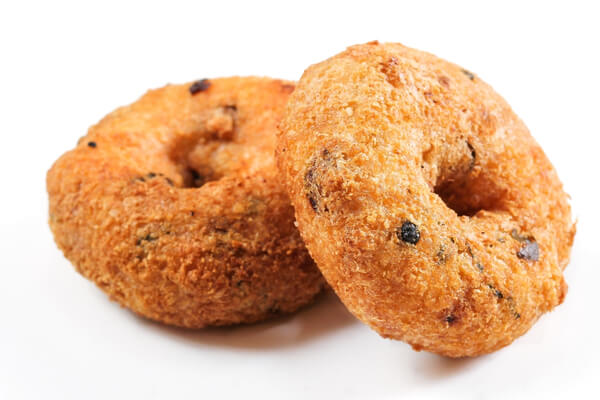 This crispy urad dal-based breakfast is a favorite of a lot of people, and who can even blame them? Have it with some coconut chutney and serve hot! Drain the soaked dal and grind it to get a smooth paste. Add black pepper, asafoetida, and salt and beat it to make it fluffy. Add ginger, green chilies, and coriander leaves. Shape the batter into a round shape, make a hole in the center, and deep fry all the vadas. Sambhar would make a great accompaniment too.
2. Onion Rava Dosa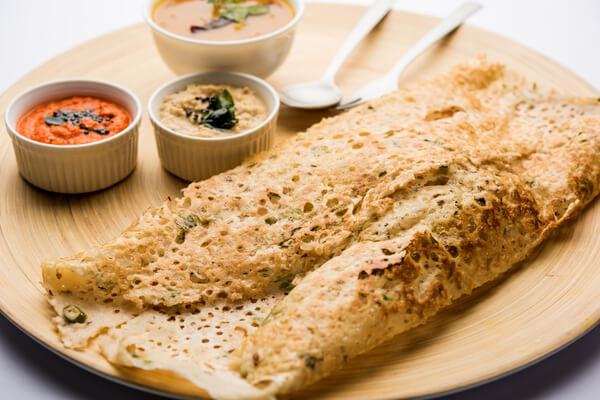 This pan-fried, divine-tasting dosa is something that will leave your tummy happy on an early Monday morning. Serve it with some coconut chutney and sambhar for getting the best out of it. Mix some rice flour with water until you get a smooth consistency. Add the salt, cumin seeds, and asafoetida. Later add black pepper, cashew nuts, chopped onions, and green chilies. Heat a pan and ladle out the batter, and spread it in an outward spiral motion. Sprinkle some chopped onions and green chilies and cook till golden brown. 
3. Appam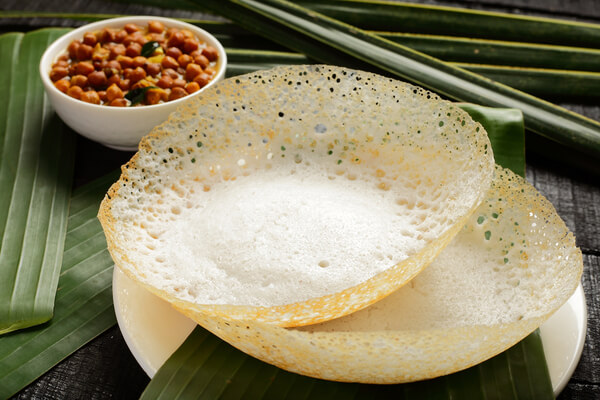 All you need are a few handfuls of ingredients to make these fluffy appams. These appams are just what you need for all those early morning meetings with a thick center and thin exterior. Make them in a jiffy and get going!  Soak the desiccated coconut in water for few hours. After the rice turns soft, blend it along with salt and sugar for few minutes. Add yeast and blend again. Leave the batter overnight. Heat a pan the next day and ladle out a spoon of batter on it. Twist the pan and close the lid for few minutes. Serve warm from an insulated casserole!
4. Idlis
These white fluffy idlis are perfect for the days when you don't feel like spending a great amount of time in the kitchen but still want to serve something light and nutritious. Soak idli rice, poha, methi seeds, and urad dal for few hours. Grind together until smooth. Pour the urad dal into a bowl and allow it to ferment overnight. Grease the idli molds and pour the batter. Allow it to steam for few minutes, and your idlis are ready! Serve with coconut chutney and some yummy sambhar. 
5. Masala Dosa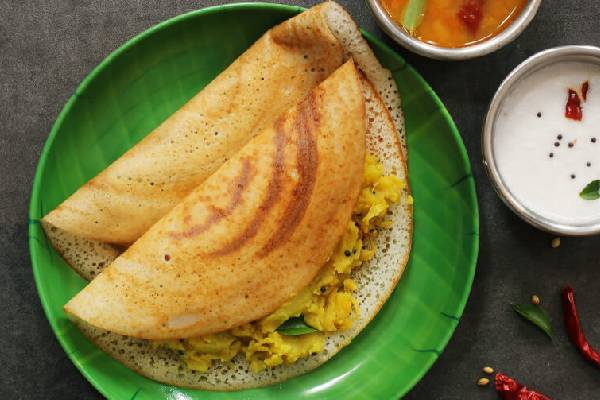 Masala dosa is one of the most filling and tastiest breakfasts out there. You can prepare them within 20 minutes and serve them with some spicy chutney and tangy sambhar. Soak all the lentils, chana dal, urad dal, rice, poha, methi seeds in a bowl. Grind them after few hours until you get a smooth consistency. Add salt and let it ferment overnight. Make the potato masala and keep it aside. Ladle out the batter on a heated pan and spread it outward in a spiral motion. After it is cooked, add the potato masala and fold the dosa. Serve hot! 
6. Upma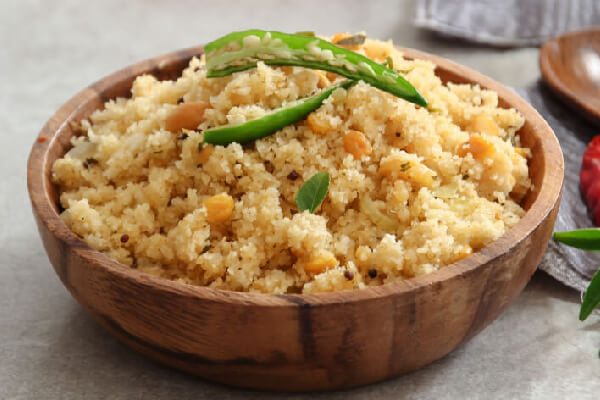 A famous south Indian breakfast recipe, this one is easy to cook and easy to digest. You can serve it with a lemon pickle for a tangy addition. Roast the Rava in a heated pan until they look dry and crisp. Keep it aside. Cook onions, cashews, ginger, green chilies, and curry leaves in a pan. Add water, salt, and sugar. After the water boils, add the Rava and stir slowly. Cook for few minutes and garnish with coriander leaves. Serve warm from a hot case!
7. Ragi Dosa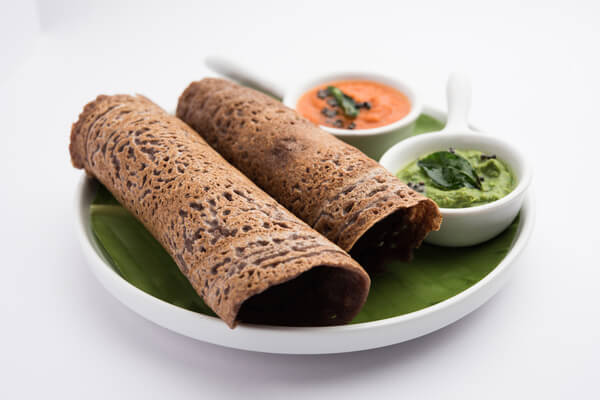 This is the dosa recipe you need when your aim is to have something healthy. It is perfect for health freaks with the goodness of ragi. You can serve it with some chutney and sambhar. Mix the ragi flour, curd, rice flour, coriander leaves, salt, onions, and green chilies. Add water and mix well, followed by the seasoning to the batter. Heat a pan and pour a ladleful of batter, and spread in a circular motion. Let it cook and serve hot. 
8. Uttapam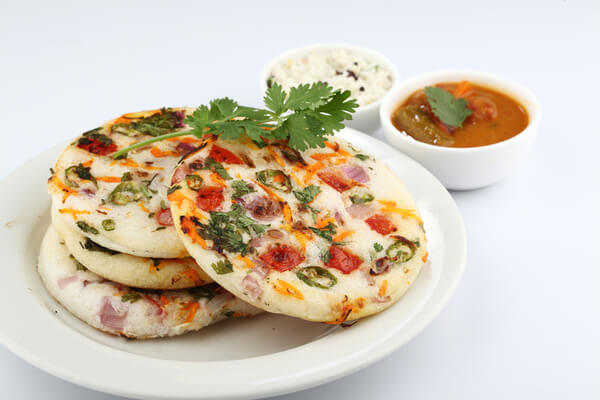 This oats uttapam recipe hardly takes any preparation time, and it is a healthy alternative to the normal version. Grind semolina and oats together. Add asafoetida. Add cumin seeds, yogurt, soda bicarbonate, water, ginger, and red chili powder. Make it into a thick batter and keep it aside. Add green chilies, tomatoes, onions, salt, and capsicum. Mix well and pour a ladleful on a heated pan. Spread a little and let it cook. Serve with sambhar. 
9. Green Gram Dosa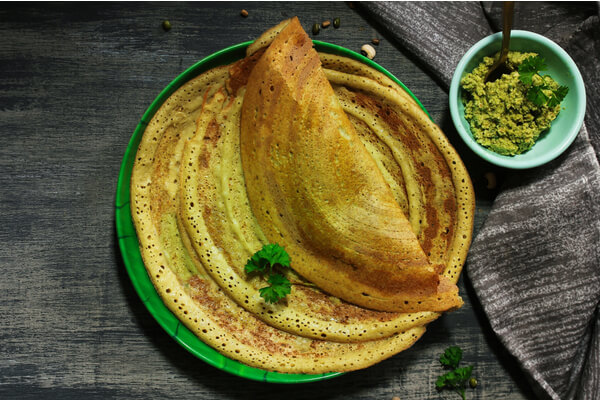 This green gram dosa is full of nutritious properties and is native to Andhra Pradesh. You can serve it with some ginger chutney for some spiciness or some coconut chutney for simplicity. Grind the soaked green gram with onions, coriander, red chilies, and salt till you get a good consistency. Heat a pan and pour ladleful of batter, and spread like dosa. Let it cook well and serve immediately! 
10. Puttu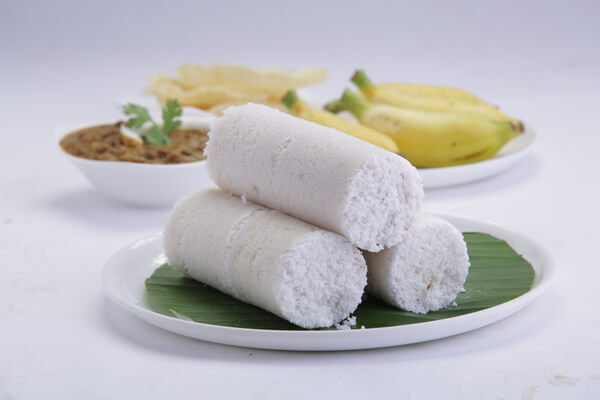 This Kerala breakfast recipe is a loved one. As complicated as it looks, it is effortless to prepare. You can enjoy it with ripe bananas, egg curry, or Kadala curry. Roast the rice flour until it turns golden brown. Strain it and mix it with salt and water. Add the grated coconut to the puttu maker and add the rice mixture. Layer it with the grated coconut again. Let it steam and serve hot! 
Conclusion
Breakfasts are supposed to be your fuel for the day, and they had better be healthy and filling. No better option than South Indians breakfasts! You can get them done within 20 minutes while catching up on other chores too. These recipes are bound to be your answer from heaven on all those days you are running late for work.