It is true that food defines our mood, most of the time. Despite a few lifestyle adjustments, a lot of people struggle to maintain a healthy diet routine. With a busy schedule, especially during these COVID times and work from home (WFH), you might prefer snacks instead of a proper meal for lunch or, worse, skip the lunch in favor of an early supper. You may even depend on the food delivery apps to satiate your hunger. These unhealthy choices can eventually take a toll on your health. Lunch is a meal you cannot afford to compromise on. Hence choosing quick and easy lunches is the key. But, finding the time to make a lunch in the middle of the day might be challenging. Storing them in an insulated food jar or a casserole is an excellent idea. If you are running out of lunch menu ideas, then here are a few quick work from home lunches. 
1. Masala Dosa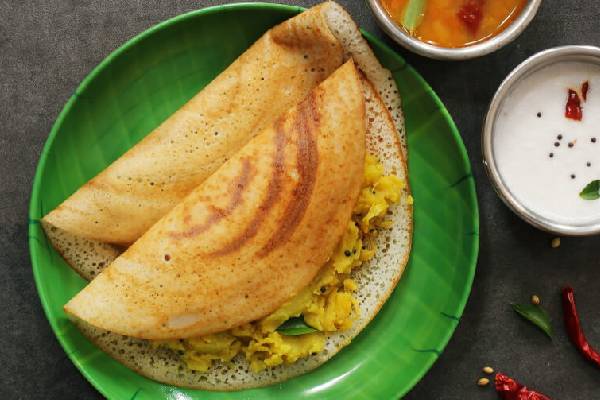 This dish is undoubtedly the most loved breakfast recipe from southern India. They are one of the top choices for a quick breakfast recipe, but did you know that you can have them for lunch too? Masala dosa has potato curry stuffed inside, making it a heavy meal. Two masala dosas are filling enough to be equivalent to a heavy, wholesome lunch. Serving it along with sambhar and coconut chutney is perfect. You can easily prepare these dosas in the morning and store them in a casserole or insulated food jars and have them at lunch.
2. Coconut Rice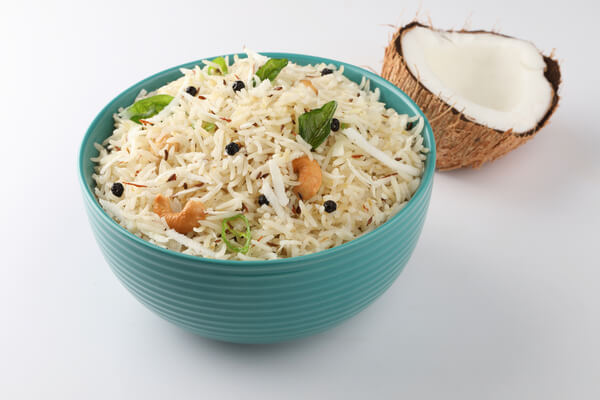 Coconut rice is a popular and wholesome south Indian pot recipe. Its taste is unmatchable when paired with curry and raita. For you non-vegetarians out there, chicken curry is the best accompaniment for this rice recipe. It is a quick and easy recipe for all those packed weekdays. Add whole spices to the hot oil in a pot. Add onions and your choice of veggies along with rice, water, salt, and coconut milk. Let it cook and serve with yummy raita!
3. Aloo and Puri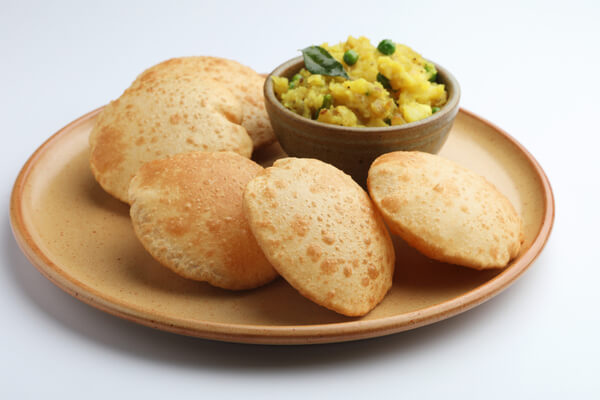 Puri is one of the most eaten dishes in Northern India as dosa in the south. Both are famous, delicious, and a perfect lunch recipe if you are bored eating your regular rice and curry. Aloo means potatoes in Hindi, is an ideal side dish with puri. It is mainly boiled and seasoned or prepared as gravy. If you don't know, puri is like roti or chapati, but they are smaller and deep-fried in oil. You can use a kitchen paper towel to soak any extra oil from the puri and use olive or canola oil for frying them. 
4. Chicken and rice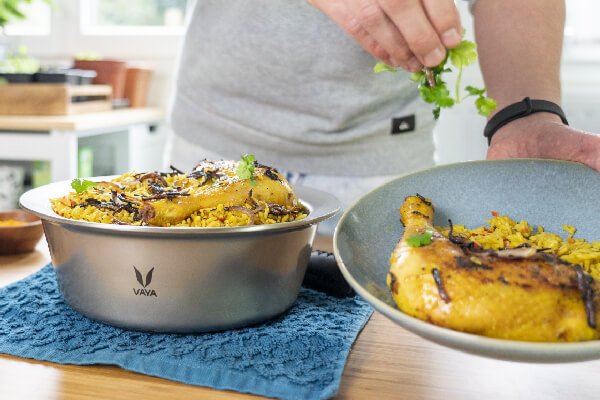 This combo is deadly, and no one will disagree. Cook your chicken the way you like it and pack it with some rice. Sauté onion and tomatoes, with garlic paste and mixed spices. Make it into a paste. Heat the oil, add chopped chicken, and the cooked gravy to a pressure cooker. In just three whistles, your yummy chicken curry is ready.  
5. Mushroom Biryani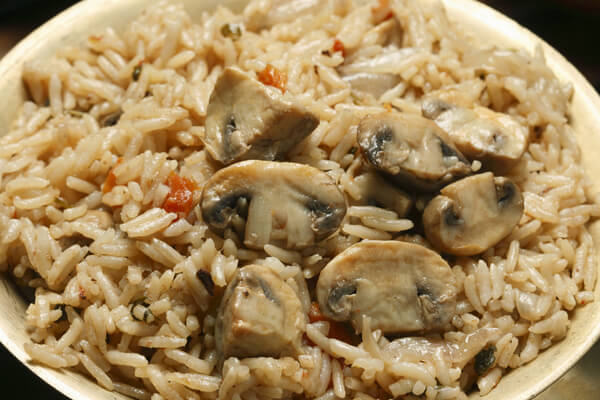 This wildly grown vegetable is a great choice for the biryani! This one-pot meal is easy, tasty, quick, and appetizing! All you need is some ginger-garlic paste, tomatoes, spices, turmeric, red chili powder, etc. Add the mushrooms, rice, and mint leaves and allow them to cook. Pack this in an insulated food jar with some cucumber seasoned yogurt.
6. Mint Parathas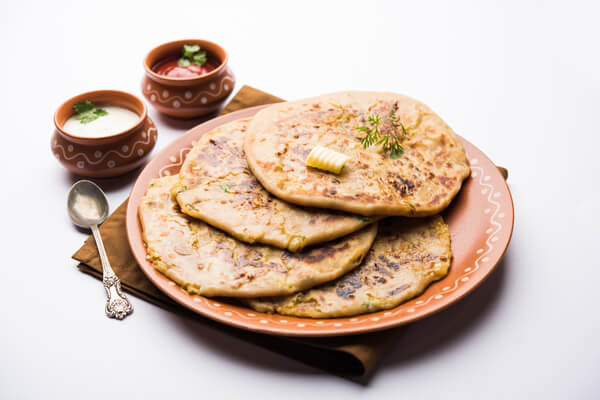 India is famous for its curries, and you often don't know that there are many other dishes that originated in India. These dishes are famous worldwide, especially among vegans. Parathas are one of the best dishes you can choose for lunch or dinner. While rolling the dough, the ball is smeared with oil or ghee and repeatedly folded, forming the layers when flattened. Hence, they are thicker than usual rotis. You can add chopped mint leaves to the dough, either partially cooked or raw. Along with the mint, you can add jeera (cumin) powder and ginger paste too. 
7. Sandwiches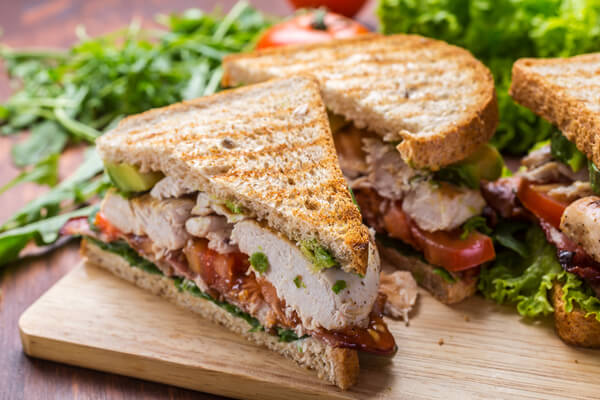 A sandwich is a perfect option for quick-fix meals. You can have it for breakfast, lunch, or even dinner. For working people and calorie-conscious folks, a sandwich is an ideal solution for light lunch. However, it is advisable to keep wet ingredients separately to avoid the bread from becoming mushy. You can even simply prepare some green chutney and grill the sandwiches. You can also make chicken sandwiches by adding some cooked chicken between the slices along with some ketchup.
8. Chickpea Quinoa Salad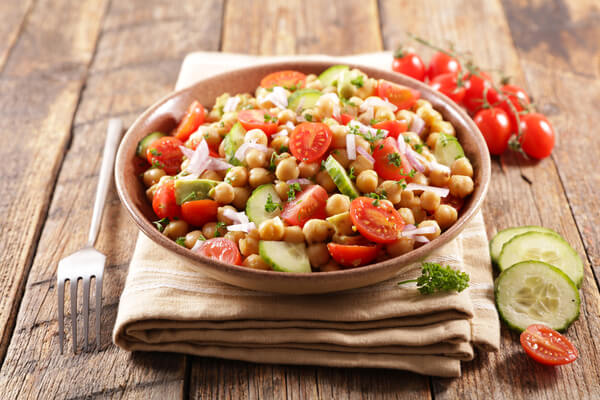 This salad dish is from a rarely heard Moroccan recipe. You can pack this amazing salad in an insulated box to have it later. You will need 30 minutes for preparation and cooking. Quinoa and chickpeas are packed with rich nutrients, vitamins, and minerals. The combination is not just wholesome but tasty too. This salad can also be eaten alongside other dishes. This one is especially perfect for all the health freaks and vegans out there. 
9. Vegetable Biriyani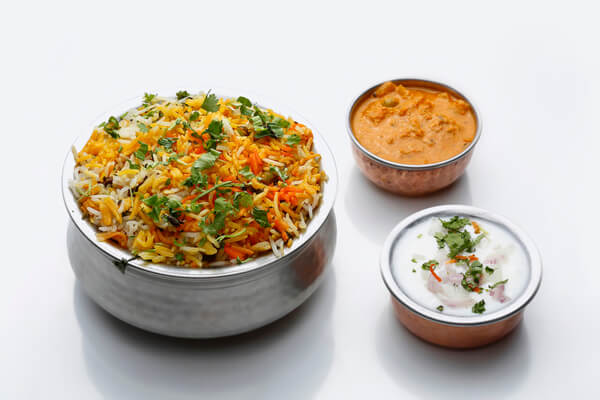 Everyone loves biriyani. Although chicken biryani has its own charm, Vegetable biriyani is perfect for all your vegetarians! All it needs is vegetables like carrots, potatoes, cauliflower, green peas, etc. However, it's the spices that make all the difference. Be sure to include a generous amount of saffron along with other spices to enhance the flavor. Without a doubt, you will enjoy the same authentic taste in the vegetable biriyani too. You can also serve it with raita for that soothing flavor addition. 
10. Dal Makhani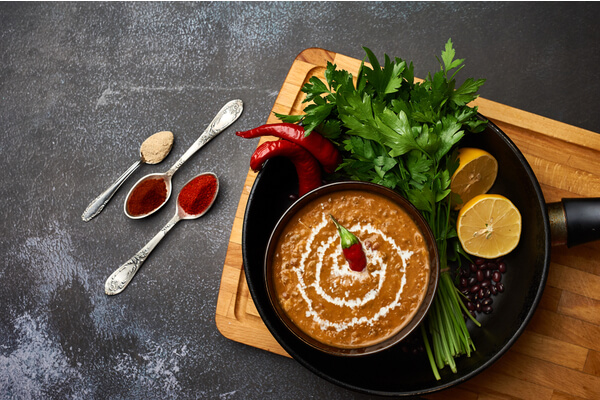 The quintessential North-Indian delight, Dal Makhani is an irresistible dal dish loaded with butter. This Punjabi staple recipe has many variations found in different regions of our country and even abroad. Loaded with butter, you can serve this luscious, creamy dal recipe with naan, paratha, or rice. Pack it in a casserole to enjoy with your colleagues at the office on Monday too.
Conclusion
Lunches need to be filling, wholesome, and yummy. But, sometimes cooking can get mundane, especially when you have to cook elaborate meals. Guess what? You always don't have to. Save the time-taking meals for your weekends and opt for something easy during your weekdays. It is also essential to stick to healthy meals and avoid takeouts. These lunch ideas are a great way to stick to uncomplicated home-based meals. So, put your apron on and get going!