Meal planning can be really helpful for working men and women. But you might not have enough time to cook elaborate meals or exotic recipes. The good thing is that you can create delicious food with readily available ingredients. The best lunch ideas for the office are meals that are quick to cook and easy to eat. Fill your lunch box with any of the foods given below and enjoy a lovely meal even on a busy day. 
Which Lunch Ideas Are Best for Working Men and Women?
1. Peas Pulao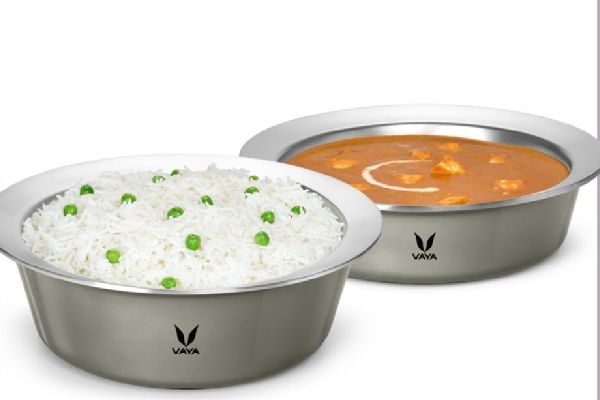 This is an ideal recipe for winter when peas are in season. You can use any type of rice you like and season with some spices and aromatics like cinnamon, cumin, cloves, ginger, and garlic. Peas pulao can be easily made in just one pot and it is very healthy. Fill your lunch box with some fragrant pulao and garnish with fried onions for a quick and delicious lunch at the office. 
2. Methi Paratha with Chutney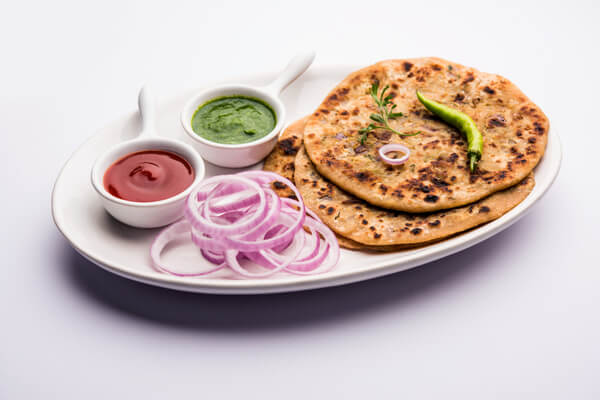 Methi or fenugreek is great for both men and women. For men, it regulates testosterone levels and for lactating mothers, methi boosts the production of breast milk. Methi parathas can be made quickly and you will require very little oil to fry them. Reheat the parathas for lunch and enjoy with some tangy tomato or coriander chutney.
3. Steamed Chicken and Vegetables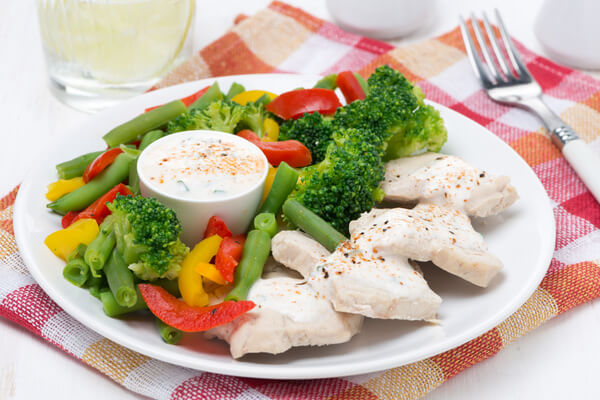 If you do not carry your lunch to work and eat takeout, then you are not getting enough nutrients. Steamed chicken and vegetables make a wholesome meal filled with essential nutrients. Season the chicken and the vegetables with some salt and pepper and add a dash of olive oil. You can add some fried herbs like oregano and parsley, as well. Pack some brown rice in your  lunchbox for the office and this will complete your meal. Steamed chicken and vegetables have very few calories and the meal is extremely healthy, especially for those working men and women who wish to keep their weight in check. 
4. Lemon Rice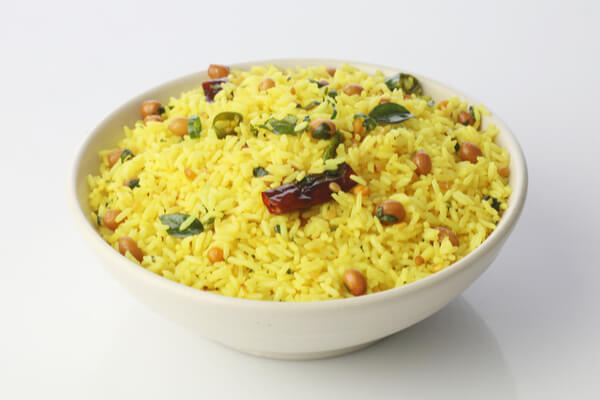 Leftover rice can be used to make some delicious and quick lunches for the office. Store the rice in the fridge and use it to make some lemon rice. All you need to do is roast some peanuts, lentils, mustard seeds, and add some curry leaves, chilies, ginger, and turmeric powder for color. Now fry the cooked rice in this aromatic and spicy mixture and squeeze a fresh lemon on top. You can make lemon rice in less than 10 minutes and pack it in your tiffin box for the lunch hour. 
5. Sandwiches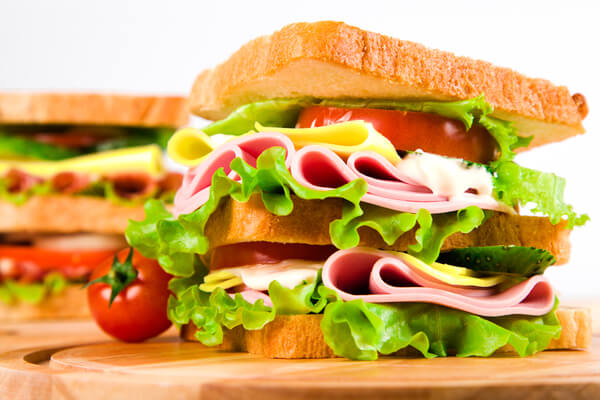 Sandwiches probably make the most versatile lunch for the office. They can be eaten while commuting or even when you are finishing up some work in the office and cannot take a long lunch break. To make your sandwiches healthy, choose some brown or multigrain bread and skip the extra butter. You can add a slice of cheese but make sure to load it up with some fresh greens like spinach and lettuce and some tomatoes, carrots, and cucumbers. You can use any vegetable that you have in the fridge. If you want you can also add some grilled chicken or any other protein of your choice. Make sure to use all fresh ingredients so that the sandwiches taste great, even when you eat them in the middle of the day.
6. Quinoa Salad with Boiled Egg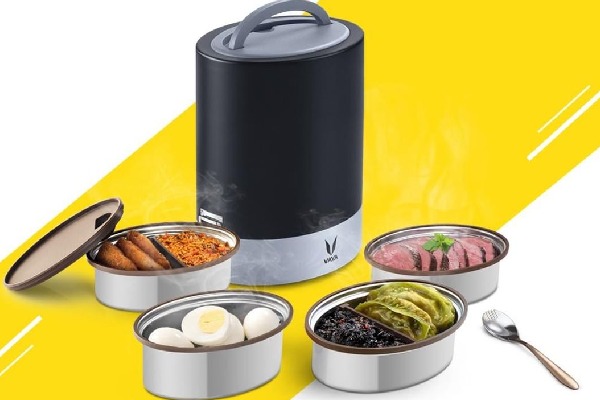 While a lunch for working men and women needs to be quick and convenient, it does not mean that the nutritional value needs to be compromised. Make a quinoa salad and toss in some chickpeas, diced cucumber, beetroot, bell pepper, and onion. Dress the salad with red wine vinegar for some extra flavor. Quinoa is rich in dietary fiber and protein, but you can add a boiled egg for extra protein when you pack the salad in your lunchbox
7. Aloo Paratha with Yogurt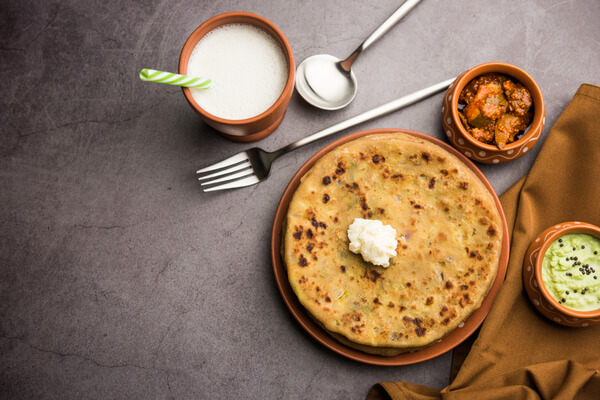 If you do not have much time to make lunch for work, quickly stuff small pieces of dough with some spicy potatoes (aloo) and roll out a few parathas.  Fry them in a little oil and wrap them up with some paper towels to soak the excess. You can choose any spices and aromatics you like for the curried potatoes. Aloo parathas taste great with some cold yogurt garnished with coriander and chopped chilies.
8. Fried Rice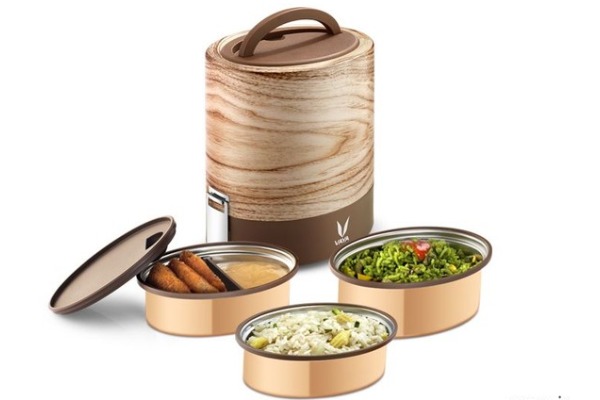 This is another delicious recipe that can be cooked with leftover rice. Fry some onions, bell peppers, carrots, beans, and cabbage and add a scrambled egg. You can even add some shredded chicken or prawns. Some ginger and garlic paste and chili powder can be added to make it extra spicy. Put in the cold rice and toss with some soya sauce. The fried rice will be ready for your tiffin box in just about fifteen minutes!
9. Paneer Curry and Flatbreads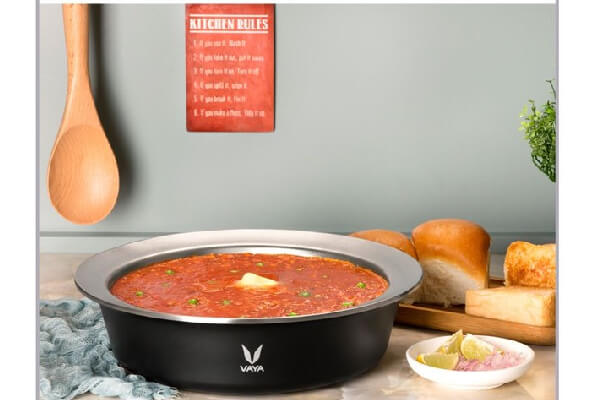 Paneer or cottage cheese is rich in calcium and is great for both men and women. To make a delicious paneer curry, saute onions, tomatoes, and paneer with spices like turmeric, cumin, and coriander. Add chilies and ginger and cashew paste to make a spicy and thick base for the curry. Store the curry in your lunchbox for office and do not forget to pack some crisp flatbreads. 
10. Noodles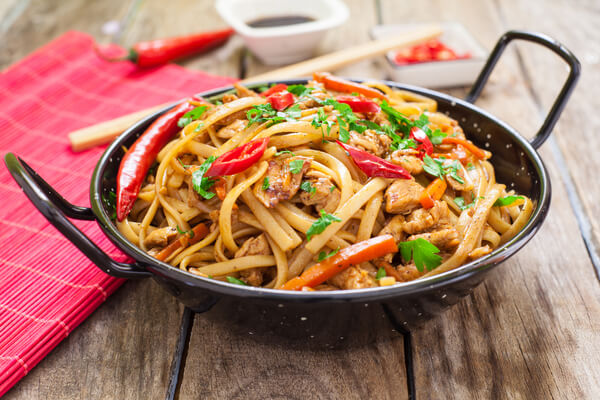 Whether you use packaged ramen or plain uncooked ones, noodles can be the ultimate comfort food for the office. You can either cook them at home with all your favorite vegetables and protein or you can do the prep and carry the half-cooked noodles to the office. If you do the latter, then just add some hot water and let them cook. Noodles make a quick but tasty lunch for working men and women.
Final Words
Fill your lunch box with some easy but mouthwatering meals for the office. Even when you are busy at work, you should eat well and not rely on convenience store foods or less tasteful meals. Use any vegetables or protein you have at home to make whichever recipe you like best. This way your body will get all the nutrients and you will be able to have a real healthy diet.