Do you want to simplify meals? Are you tired of standing for long trying out preparing delicious dishes? Well! You don't have to put in a lot of time and energy to make delicious and nutritious meals when you can choose to make 'One-Pot Meals'. This is a great concept and not limited to bachelors or college going students as anyone can try them. 
The best part about one-pot meals is that you can choose the ingredients of your choice or can use up the leftovers. As far as the possibilities are concerned, they are endless and it also offers the flexibility to make any portion size. Also, you can use an insulated casserole or hot case to keep your lunch fresh for a long period. 
10 One-Pot Meals to Simplify Eating and Make Your Lunch Hassle Free…
Bowls

: Bowls are a great choice when it comes to one-pot meals and you can try burrito bowls, grain bowls, veggie bowls, sushi bowls, and more. The best way is to add green vegetables, beans or meat, pickled veggies, soft-cooked egg, salsas, etc to your bowl. You can add some rice to make it a wholesome and nutritious meal and serve it warm from a casserole.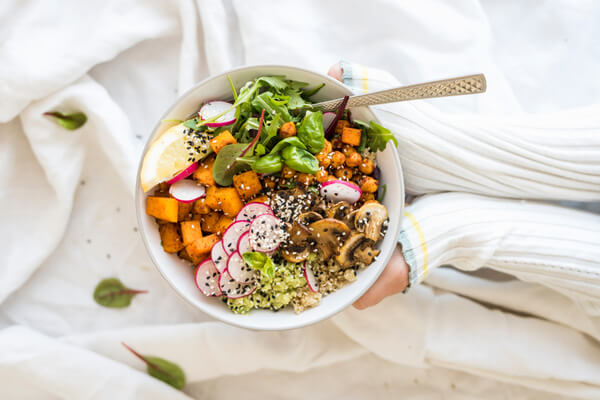 Soups: Soup is one of the easiest and healthiest meals that you can quickly make at home with whatever ingredients you have. To prepare soup for lunch, you don't need a recipe but just your favorite ingredients, boil them together, serve warm from a casserole, and you are done. You can use some kind of frozen or boxed stock with veggies, meat, fish, lentils, tofu, etc.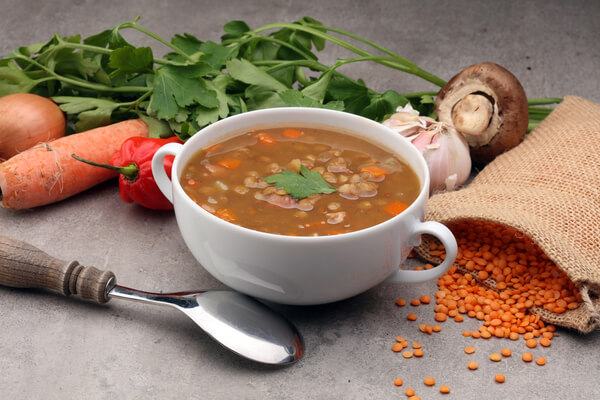 Salad

: Salad doesn't have to be a side dish supporting your wholesome meals but you can make it a delicious one-pot meal. If you have any greens in your kitchen, make that your base and amp it up with whatever you like. You can use those leftover grains, bread, bits of cheese, avocado, and fresh herbs. 
Grilled Bread and Cheese

: If you have any kind of bread or cheese in your kitchen, you have got your dinner. You can add veggies, bacon, chicken, fruit preserves, etc, and accentuate the taste with herbs and sauces. All you need to do is grill the bread and put grilled cheese over the top. 
Pasta

: Pasta makes a great one-pot meal and there are so many different types you can try at home. If you have a box of pasta, you can make a delicious and nutritious one-pot meal and have your lunch. Add anything you want such as beans, chickpeas, lentils, chicken, fish, veggies, and serve with a sprinkle of cheese and herbs.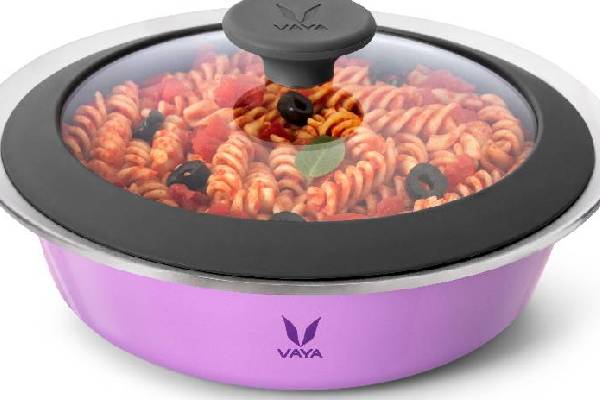 Fried Rice

: While talking about one-pot meals for your lunch, we can't forget fried rice as when you have nothing else in the pantry, rice always works. Fried rice is super easy to make and you can add all the healthy ingredients you want to make it super healthy. The best part is that you can use leftover rice and fry it in a pan.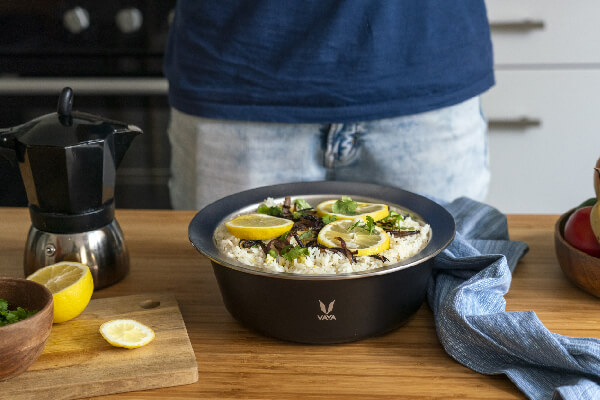 Potato Casserole: There's nothing better than a hearty casserole when you are looking for a one-pot meal. If you have some potatoes at home, you can convert them into a casserole dish. All you have to do is just slice the potatoes, layer them, and add ingredients like cream, sauce, veggies, etc and keep them in an insulated casserole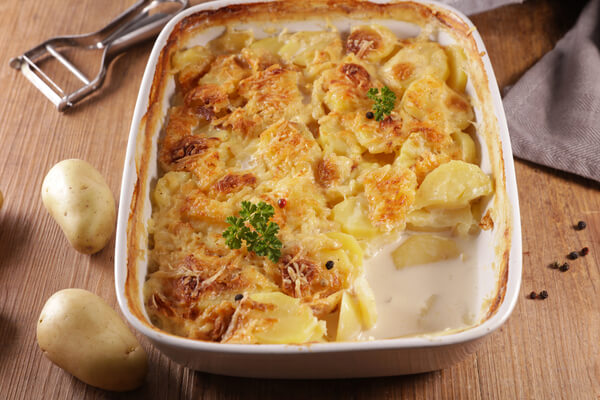 Thai-Style Vegetable Curry

: Curry can be a great one-pot meal that you can make with all the available ingredients at home. You can use coconut milk, water, kale, sugar, and other veggies to make the curry. Put it into a hot case and season with rice vinegar, fresh onion, garlic, and ginger to pep up the flavor.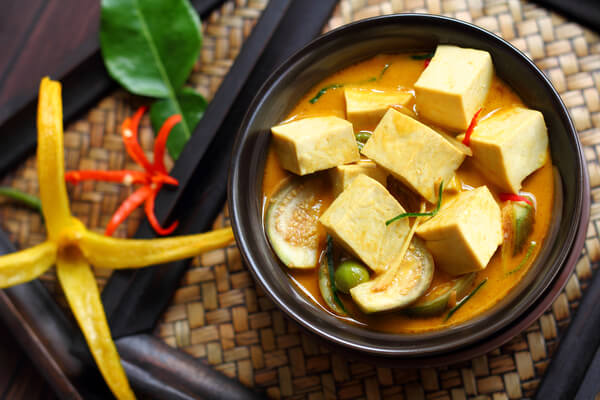 Bacon Pumpkin Quinoa

: Apart from being healthy and delicious, this dish is an easy-to-make one-pot meal. You can stuff your bowl with all the healthy ingredients to bring out the best in it. Quinoa is a mild-tasting grain and can be prepared with well-flavored ingredients and an easy one-pot meal.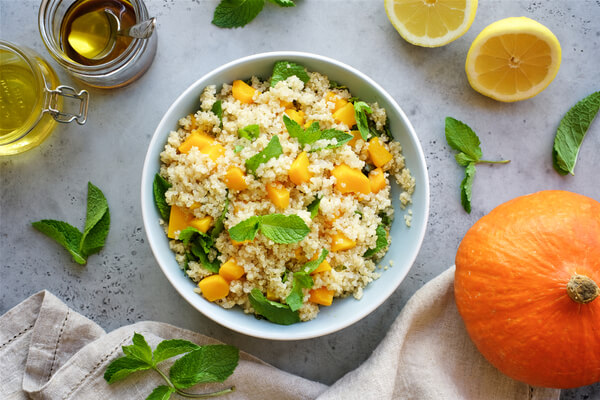 Coconut Rice

: Cooked in a pressure cooker or rice cooker, coconut rice is another delicious and nutritious one-pot meal. It is a super simple-to-make dish and if you love the taste of fresh coconut flavor, this will delight your taste buds. You can also add some of your favorite ingredients such as green veggies or herbs.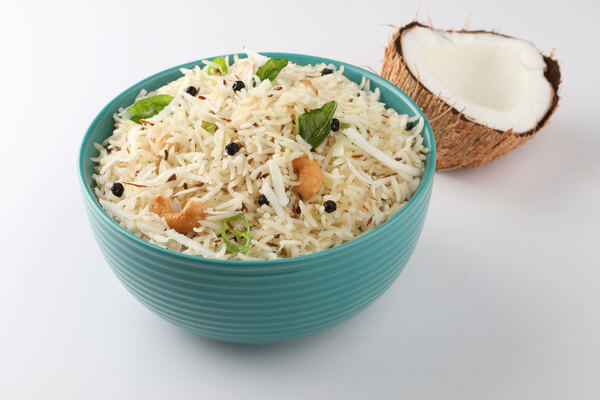 One-pot meals can be nutritionally balanced and delicious when you will pick the ingredients carefully. They are good for kids, teens, and adults as you can experiment with ingredients of your choice. Also, you can make anything even when you have nothing in the house. 
Why Most People Today Consider One-Pot Meals? 
A one-pot meal can easily be prepared ahead of time and stored in an insulated casserole or hot case. It is a perfect solution for those who are either too busy with their office work or studies but still want something delicious and nutritious. These meals offer the pleasure of home cooking with no fuss and require minimal clean-up. 
Using well-balanced ingredients, you can make your one-pot meal a wholesome dish. Most cultures have their version of one-pot meals and you can make them as per your taste or whatever available in your pantry. When you don't have enough time to prepare a starch, protein, and vegetable, the one-pot meal allows for diversity. 
The kind of meal does not require hours of cooking, too much preparation, and cleaning. It is as comforting as can be easily prepared by anyone at home and perfect for both vegetarian and non-vegetarian lovers. Best of all, a one-pot meal can be your great companion for your backpacking trip when you need something fuss-free but healthy. 
Also, these meals don't have to be boring and only made of one single ingredient. You can experiment with many ingredients and make it as happening as you want. After all, it is up to your creativity and choices that how healthy and delicious you can make. 
Are you ready to try a one-pot meal?