Introduction
It will be a lie if someone tells you that they do not really have a 'preference' for something they will buy for themselves. It is natural to be biased about a specific design, favourite colour, quality of the material, etc. There are multiple things that a person has to carry daily. Starting from a trendy BTS phone cover to an elegant black dress, people are never entirely aloof when it comes to following trends. If you make sure that all your accessories complement your outfit, you must also make sure that you always carry a lunch box in style! Check out this article if you wish to know the few key things you should look forward to when you are about to buy a lunch box! 
Tiny Guide to Help You Buy a Stylish Tiffin Box
1. Look for the Newest Features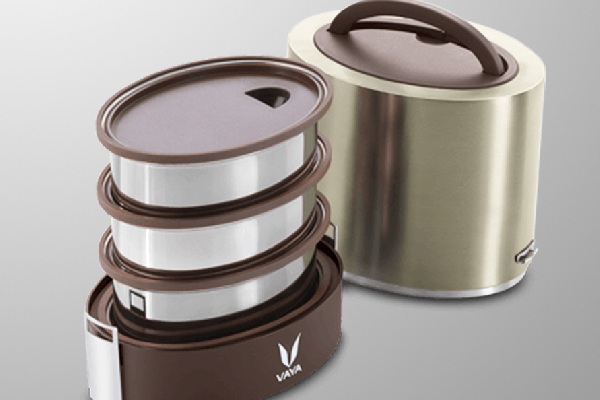 You do not buy a lunch box every day, so when you do, make sure that you always get your hands on the most premium features. The market is full of varied tiffin boxes, so you would always have multiple options available. Look for a lunchbox that will keep your food warm for long hours with the use of VacuTherm technology, maintains the temperature and the taste, comes off handy and comes with the option of a smart bag. Is there any end to technology? No! So, make sure that you get the latest deal which is power-packed with all the features!
2. Go for Sustainable Options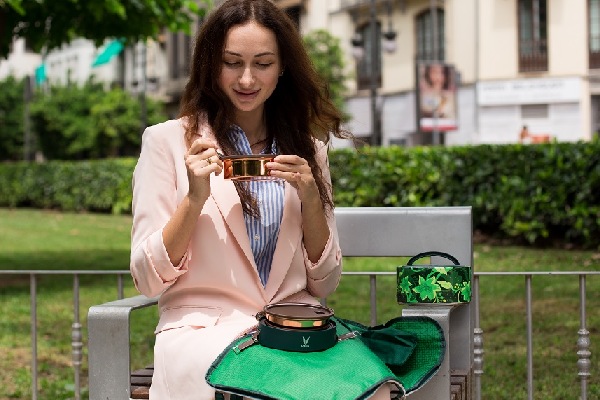 Your style does not make sense if you are not aware of your surroundings and the impact of your actions. Climate change is a growing concern for every single person on this earth. The use of plastic, emission of chlorofluorocarbons are some of the few reasons that elevate the danger of global warming. Remember always to pick the most sustainable material when it comes to anything. While buying a lunchbox, make sure that you go for stainless steel lunch box options.
3. Printed Boxes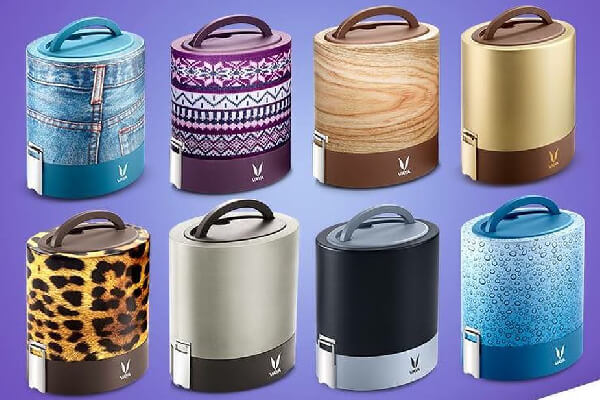 While buying a lunchbox, filter all the possible options to the trendiest one available. Imagine a bright sunny day, and you are carrying some spicy shakshouka for lunch, and the only thing stopping you from taking that picture for Instagram is your plain and boring lunchbox! Get yourself the most vibrant cheetah prints, boho print, zari print, cute bunny prints and more. Don't let your inner fashion police go off the hook by getting yourself some of the best designs that are available to suit your style and match your vibe! 
4. Plain Colours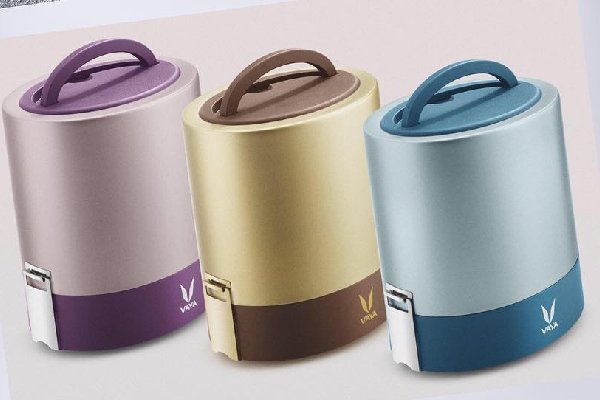 Summer spring or winter, every season calls for some soothing colours, so brace yourself to have a splash of gorgeous shades to cover your tiffin box! Choose from a variety of bright yellows, ruby reds, leafy greens and teal blues! Make sure to carry some goodness of juicy fruits and healthy salads to keep yourself going through the season! 
5. A Smart Lunch Bag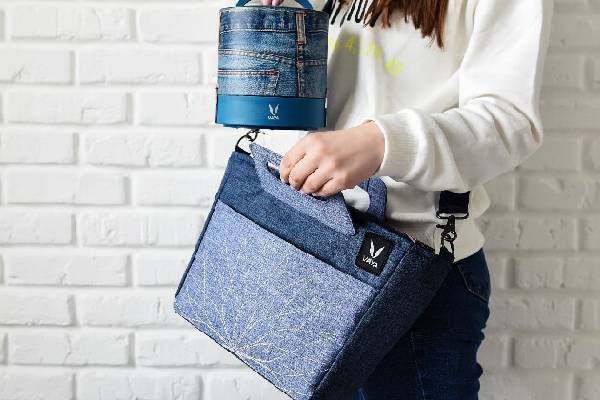 If the utensils had a parliament, they would surely pass a law for all the lunch boxes to have a lunch bag! Lunch bags are super comfortable, extraordinarily aesthetic and should always be on your list when you go shopping the next time! These bags are dynamic as you get to use them to carry your lunch as well as a sling bag because it comes with a long strap. So, if you are someone who worries a bit about the lunch box taking too much space in your bag, then you should always consider getting a stylish lunch bag!
6. Toughness and Durability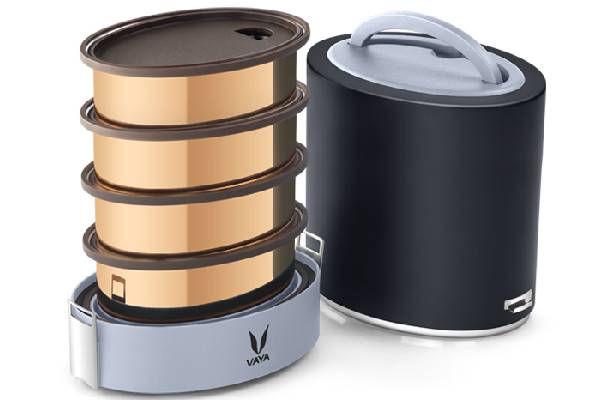 If your carefully assessed lunch box is super pretty, has got a lot of space but fails to take the drop test, then it is not the right one for you. A stylish lunch box that fails against a bit of pressure is as good as investing your hard-earned money into a gamble that you have already lost! Spend a little bit of time on a few websites or stores until you find a lunch box with a good shelf life. A minimum of 5 years is a good bet for a stainless steel lunch box! 
7. BPA Free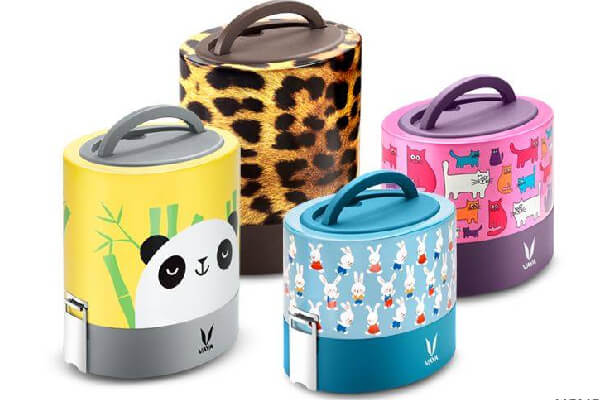 While buying a lunch box for yourself, remember to always go for BPA Free options. At the same time, if you want to avoid BPA altogether, then you should close your eyes and take a leap of faith and jump onto the wagon of stainless steel lunch boxes! BPA refers to Bisphenol A, a harmful component present in most of the plastic lunch boxes. The presence of this element slowly seeps into the food that is stored in the lunch box and ultimately enters our body and paves the way for a life-threatening risk! 
8. Leak-Resistant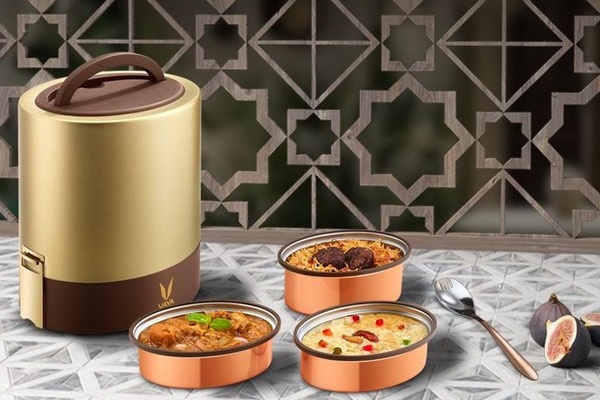 If you do not want to ruin your clothes, waste your food and create a big mess inside your bag, then be smart and get yourself a lunch box with leak-resistant lids. After all, you do not want to ruin your brand new white shirt and sign up for a bag that would smell tomatoes and eggs for the rest of the day. 
9. Sleek Design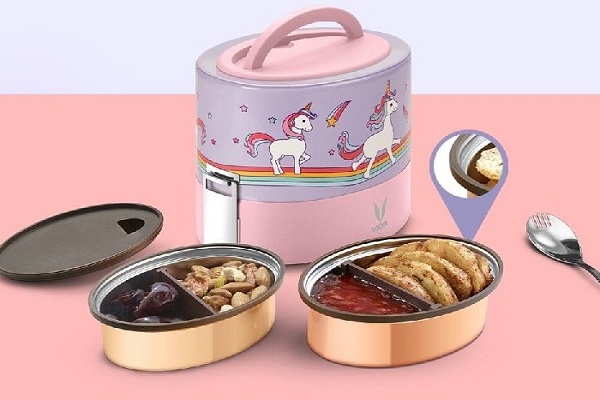 When it comes to style, then the design is a must, and it is no different when it comes to lunch boxes. Your lunch box should be enough to carry all that you want to in a compact casing. Get yourself a box with removable partitions and multiple layers, so you can always take your curry, some rice, salad and a cookie without messing it up and mixing all the flavours. 
10. Easy to Clean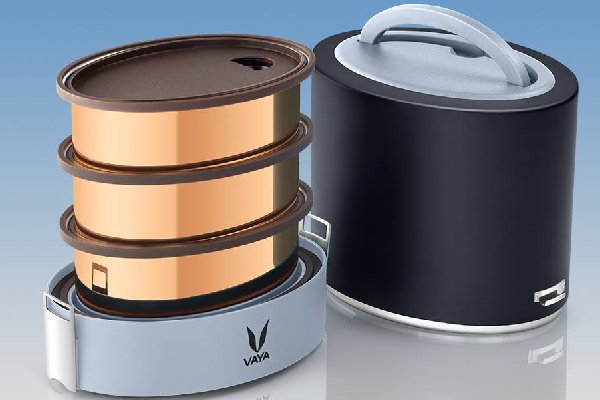 Your stylish lunch box should not cause you pain. So, remember to check if your lunch box can be cleaned with a gentles scrub and detergent! 
Final Statement 
If you follow the tips mentioned above, you can get yourself the trendiest and the most stylish lunchbox full of all the perfect qualities that will make it the best lunch box for you! So, what are you waiting for? Buy yourself an insulated lunchbox and enjoy all your tasty meals with the utmost safety and in style!