Office work every day usually wears off your energy levels, and often laziness taking over results in people buying their food for every meal. This practice, although becoming more and more popular each day, is extremely unhealthy and expensive. Preparing your meal and carrying them in a smart lunchbox is a good way to save money while taking care of your health while working. Lunch boxes can come in various shapes, sizes, and colors. You can easily choose the one you like and carry your food. They are usually long-lasting and are also often thermo-stat which keeps food warm and good. Carry your lunchbox and water bottle, just like mothers teach people since kindergarten because mothers always know best.
How to Make Office Lunches Interesting?
Offices are not just a place you work; it is a place you spend most of your day at. And you have at least one proper meal at your office. Thus, you must eat well to be able to work to your fullest capabilities and extent at your office.
1. Chicken Sandwich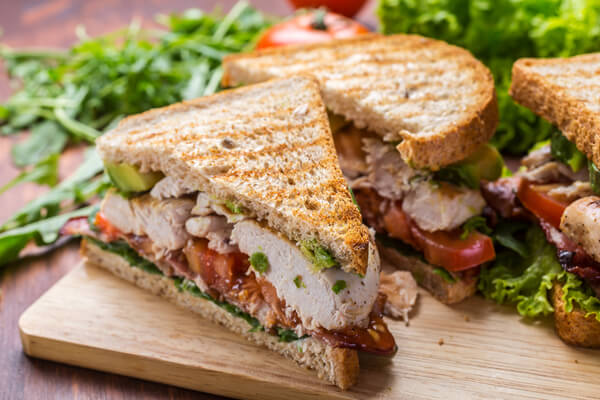 Chicken is quite literally everyone's favourite. With busy life schedules and less time for cooking, chicken sandwiches remain the easiest and tastiest office Lunch that one can make. It gives you fiber, protein, and vitamins and ensures that all you consume is homemade good food, not outside junk which is not only unhealthy and unhygienic but also expensive.
2. Tomato Soup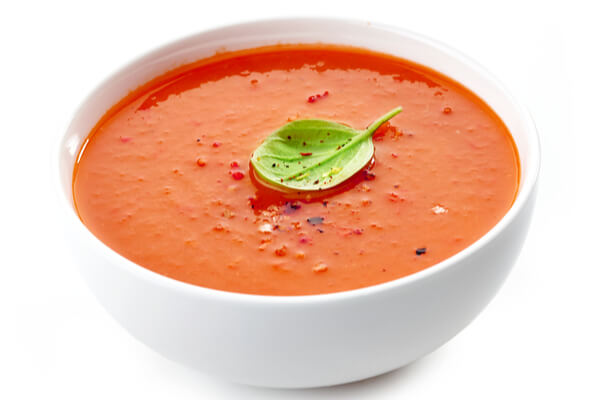 Soup is the best possible food for weight reduction while maintaining a balanced diet. Soups can come in various shapes and colors, but the most common and easy to make among all is everyone's very own tomato soup. Funnily enough, there can be various recipes for making even various kinds of tomato soups. You can also mix any vegetable you prefer, like carrots, spinach, peas, beetroots, etc.
3. Fruit Raita, Salad, and Chips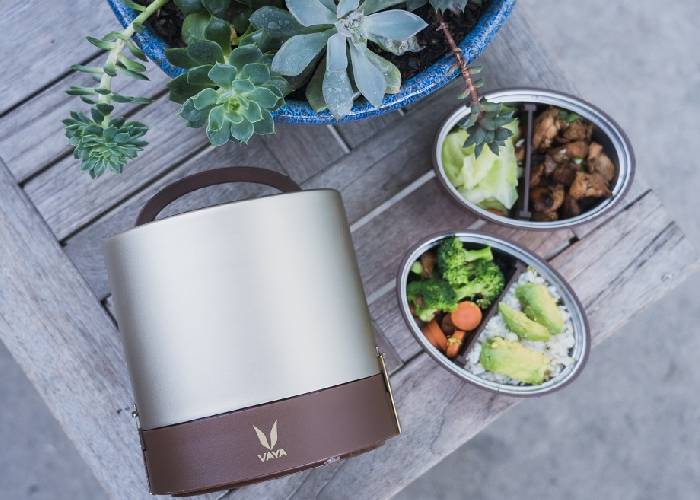 Fruits are your best friends. You can always pack various kinds of dry and citrus fruits for your office lunch. But one should be careful that a lot of fruits turn bad on being left chopped or sliced for long, thus it is wise to carry whole fruits and prepare them as and when you eat them. Additionally, carrying salads alongside fruits can give you a filling and nutritious meal for your lunch. You can also pair fruits and salad with raita to get sufficient calcium and protein and spice it up with chips for a change.
4. Paratha and Besan Bhindi Fry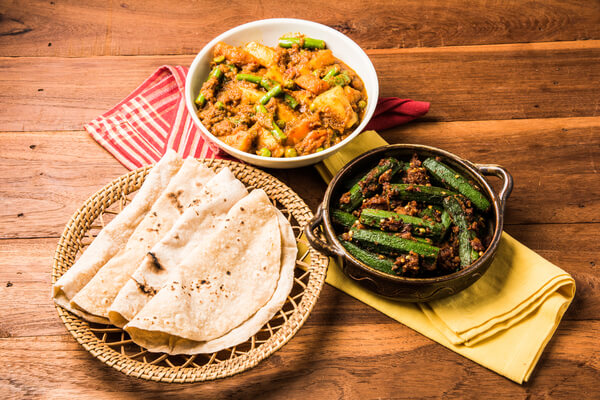 Paratha and besan bhindi fry are quite possibly one of the most common and nutritious lunches that you can get. Packed to the brim with the necessary vitamins, this combination is very filling. It is simple homely food that satiates the pangs of hunger. Paratha and besan bhindi fry offer various nutrients – carbs, vitamin B9, vitamin C, and dietary fiber. This tasty combo is easy to carry in a small lunch box and can be eaten with ease.
5. Chicken/ Soya Manchurian and Stir-Fried Noodles
Everybody loves Chinese dishes with a desi twist. One of the most loved Chinese food items is the beloved noodles. Noodles,  or Chowmein, as they are known, are boiled and then fried with vegetables, sauces, and/ or other accompaniments. Noodles stir-fried in the pan can be paired with a range of Chinese dishes, like the Manchurian side dish. Manchurian balls made with soya beans or chicken and mixed in a sweet and spicy sauce is a great treat.
6. Rajma Chawal and Boondi Raita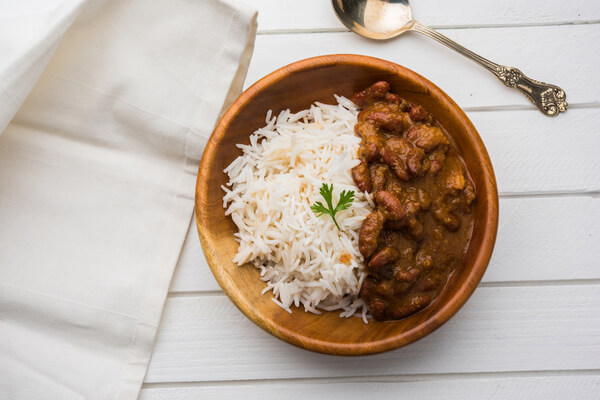 Rajma chawal is a very popular tiffin option in North India. It is essentially rice with a thick gravy made of red kidney beans. It is a nutritious vegetarian option for a tiffin lunch. Rajma chawal is very good for your health – it contains moderate amounts of protein, fat, and carbohydrates. Along with boondi raita, a cooling dessert, this combo will fill the stomachs and ensure the intake of necessary nutrients.
7. Pasta and Fruits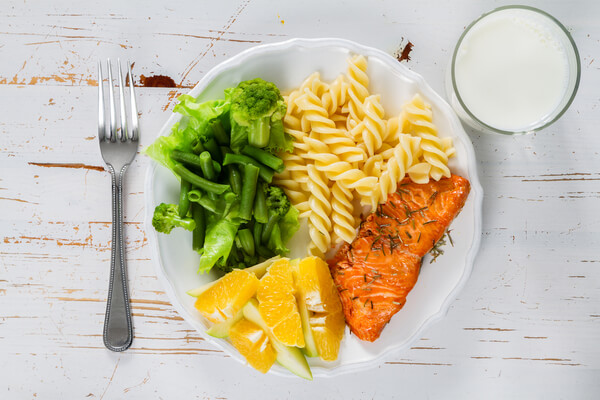 Pasta is a spectacular favourite among children and young adults. Pasta, made from atta or maida, can be prepared in different ways. Two types of pasta are very popular in India – red sauce and white sauce pasta. Red pasta is cooked in a puree of tomatoes, among other ingredients, while white sauce pasta is made with milk and cream. It is a beloved snack and can be given for lunch occasionally. A side of fruits should balance the entire meal.
8. Chicken Biryani and Salad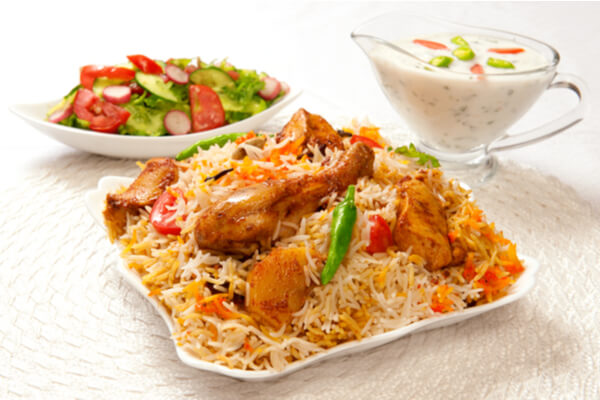 Chicken biryani is a delicious treat. The meal consists of rice cooked with chicken for long hours. Some regions in India add a potato or an egg to the dish. Biriyani is very tasty but it can be unhealthy. Therefore, this treat should be indulged in sparingly. Chicken biryani is very fulfilling and the best side dish is a fresh salad. A simple salad of onions, cucumber, chilies, and lime can elevate this yummy tiffin lunch.
9. Pao Bhaji and Yoghurt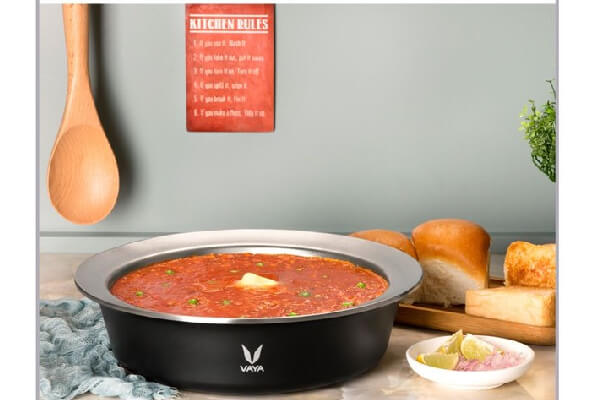 If anyone ever lived in Mumbai (or nearby) one can never get over Pao Bhaji for life. They taste amazing and have all the butter and spices in the world. They also are very easy to make, and the Bhaji consists of tasty vegetables, onions, and spices all mashed up. The bread is soft and crispy-fried with butter for the crunchy feeling.
10. Pita Sandwich and Sprout Salad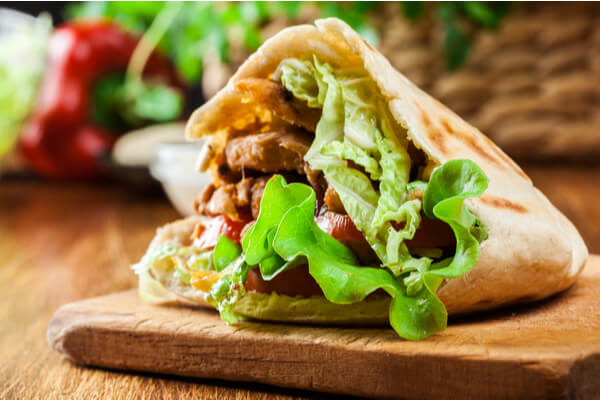 Toast the Pita triangles and make a sandwich out of them to have a crispy, fresh, and tasty meal. Sandwiches are easy to eat and require less time if you have a deadline at the office. They can also be wrapped in plastic or foil and eaten while working, thus saving you both time and effort.
Final Words
You must always try to consume as little outside junk food as possible. As they contain a lot of oil, dirt (clearly), and may be made in unhygienic conditions. Cooking your meal and carrying them in a smart tiffin box is extremely convenient and surely elevates your meal experience.