Whether you have a solemn workout routine or just starting with a fitness routine, the essential thing to think about is what to drink or eat before, after, and during exercise. Food is literally the fuel for your body. A little something during the workout can power you through and also build muscle. Perfect fuel of choice? Smoothies and Milkshakes in your gym water bottle! The best smoothies for post- and pre-workouts include a mixture of healthy carbs and protein. Milkshakes are endlessly customizable, portable, and give you a boost without making you feel full. For best results, drink it at least 30 minutes before starting your workout so that you can snack on something later. You can even drink half from your insulated water bottle before your workout and finish the rest afterwards. Smoothies have the added benefit, but also remember to drink plenty of water.
1. Creamy Banana Strawberry Milkshake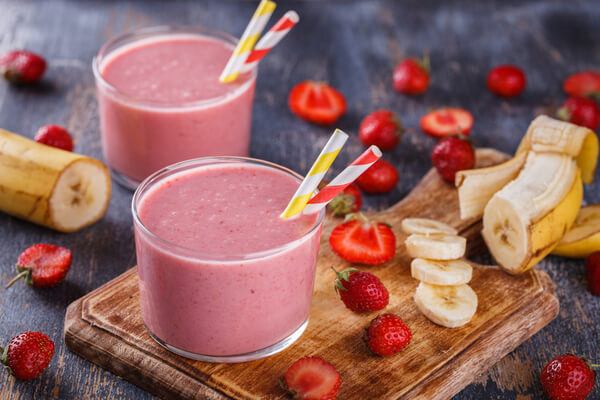 This milkshake is packed with protein powder, almond milk, chia seeds, flax, strawberry, and banana. This smoothie is bound to add a spring to your step. It adds a boost of flavor from a dash of vanilla, cinnamon, and honey.
 Add banana, ice cubes, almond milk, strawberries, honey, protein powder, vanilla extract, ground chia seeds, ground flax seeds, and cinnamon in a blender and blend until you get a smooth consistency.
2. Peanut Butter Banana Smoothie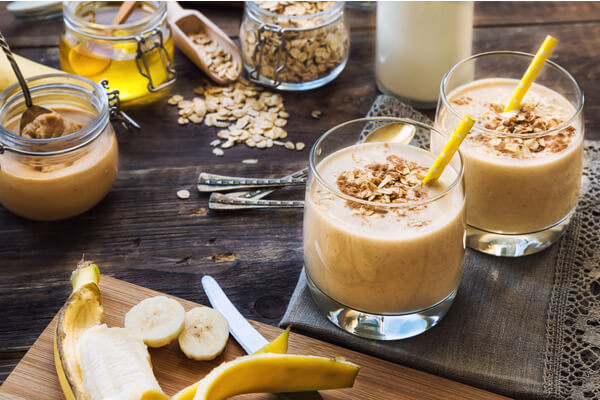 The combination of banana and peanut butter is a classic for a reason. It makes for a great smoothie. With only a handful of ingredients like banana, peanut butter, honey, and milk, this popular workout smoothie is easy to make!
Add milk, bananas, honey, peanut butter, and ice cubes to a blender. Blend until you get a smooth consistency for about 30 seconds.
3. Matcha Coconut Milkshake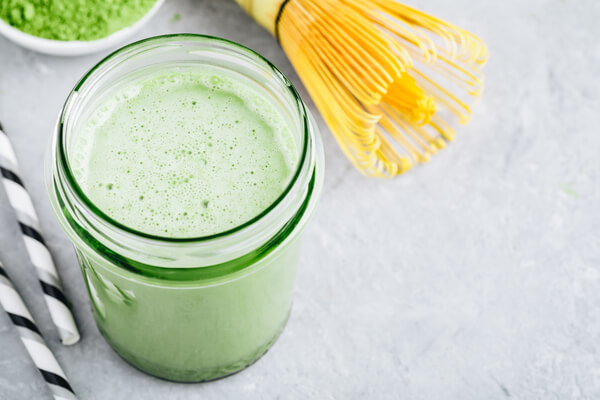 This is not some average green smoothie! It gets a bright color from both the kale and the antioxidant-rich matcha green tea powder. The drink gets its sweetness from the banana, mango, coconut, and a protein boost from white beans.
Add white beans, banana, mango, matcha powder, kale, coconut in a blender. Pour water and blend the mixture until you get a smooth consistency.
4. Strawberry Oatmeal Smoothie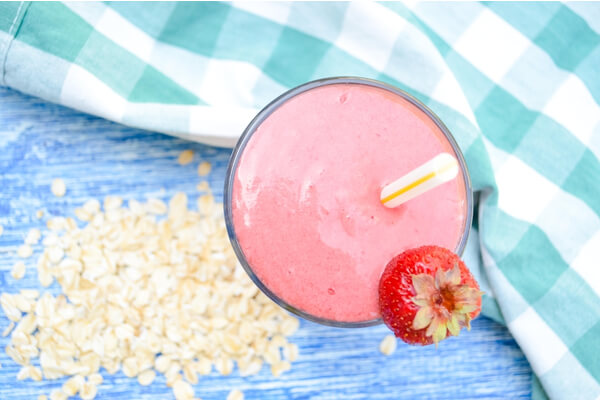 This fast vegan smoothie in deep pink color with a creamy, rich texture is very filling. It is ideal for people who are in a rush in the morning. You won't even need any other breakfast when it's this fast to prepare. With strawberry, soy milk, oats, and banana, it's a great workout drink at any time of day.
 In a blender, add oats, soy milk, banana, oats, and strawberries. Add sugar and vanilla if desired. Blend until you get a smooth consistency. Pour into glasses.
5. Apple Vanilla Smoothie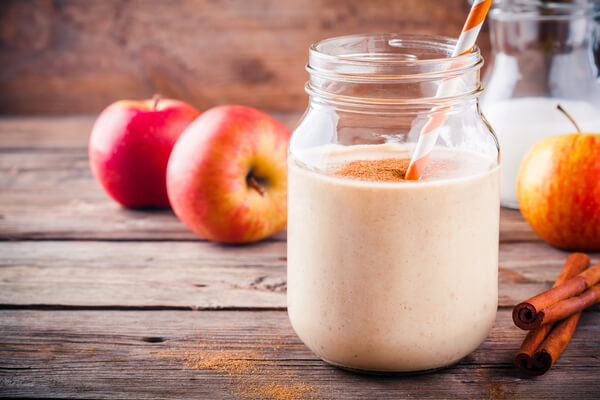 Apples don't tend to find a place in smoothie recipes, but this drink is a taste of heaven. You will immediately feel energized. The tart apple is paired with banana, orange juice, milk, flax, vanilla protein powder for a drink that will energize you.
Add orange juice, banana, apples, milk, flax seeds, protein powder, and ice cube to a blender until it becomes smooth.
6. Tropical Teaser Smoothie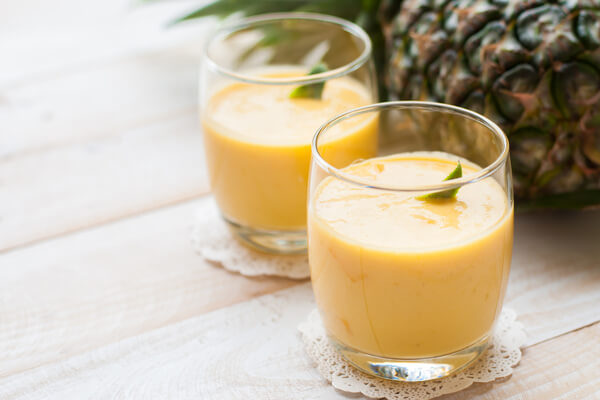 This fruit-filled vegan smoothie contains plenty of protein from tofu and soy milk. Cantaloupe and pineapple add sweetness, while coconut extract and lime juice give it a distinctly tropical flavor. You can use yogurt instead of tofu.
Add cantaloupe, soy milk, tofu, pineapple, coconut extract, and lime juice to a blender and blend until smooth.
7. Green Gala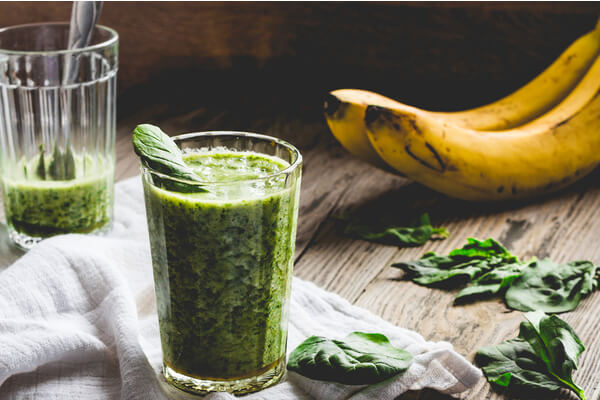 This one is a great post-workout snack that can keep you filled for hours—the taste of the peanut butter and banana camouflage the taste of the spinach entirely. You can add a little protein powder to the drink for some added protein powder.
Add spinach, milk, banana, yogurt, peanut butter, and ice cubes to a blender and blend until smooth.
8. Jazzy Blue Smoothie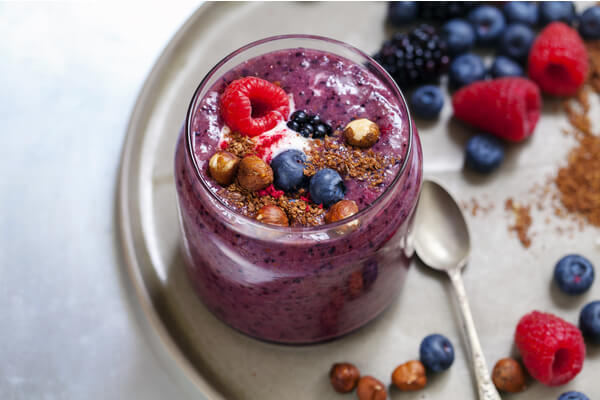 This naturally creamy and sweet, frosty cold smoothie is a powerhouse of nutrition with a lot of flavors. It definitely meets all the criteria for a perfect workout smoothie with its protein-packed and good carbs ingredients like oats, almonds, flax, blueberries, yogurt, and bananas. You can also add buttermilk for a pleasantly tangy and creamy addition.
Add the oats, almonds, and flaxseed to a blender. Pulse them until they are finely ground. Pop in addiitional frozen blueberries, frozen banana, grape juice, buttermilk, yogurt.
9. Papaya Ginger Smoothie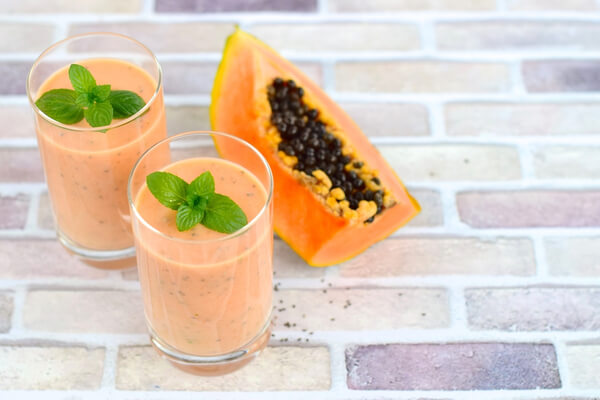 The protein in this smoothie will enable muscle repair. This Greek yogurt-based smoothie is also a great source of calcium to help with muscle contraction. Calcium is excellent for improving bone strength after a series of weight lifting. The ginger and papaya provide anti-inflammatory properties to prevent oxidation.
Add yogurt, papaya, lemon juice, ice, ginger, mint, and agave nectar to a blender until desired consistency is reached.
10. Chocolate Brownie Protein Shake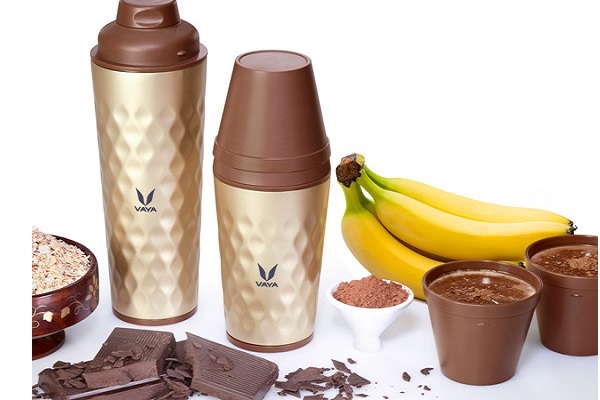 Non-fat chocolate milk is a great ingredient for endurance exercise with the ratio of fast-digesting carbs to protein. These simple carbs can quickly deplete the glycogen, while the protein helps repair muscles. The Chocolate Brownie Batter Protein Shake Recipe utilizes real cocoa powder. The mini chocolate chips and vanilla add flavor. It has a frozen banana to replenish potassium levels and also provide some complex carbohydrates. In case you are lactose intolerant, you can prepare your own chocolate nut milk with homemade almond milk and cacao powder. The recipe also has avocado and hazelnut butter for extra power.
Add all the ingredients to a blender and blend till you get a smooth consistency.
Conclusion
Your body goes through a lot when you are working out at the gym. To re-energize it, you need some delicious post-workout smoothies. Tailor your drink according to your precise workout. This will allow you to consume the specific electrolytes and nutrients. These delicious milkshakes are just what you need after a tiring, exhausting sweat sesh. You can easily carry them in a flask to the gym. Having an insulated water bottle will be an added advantage as it will keep your drink cold for all those refreshing sips. Have a happy workout!