The best thing about being healthy is that we can consume food we like. If we look closely, then it can also be said that food is the only constant thing in our lives! Since there is a fair chance that we might be moving to another lockdown really soon, so, are you ready to wear your chef's hat again? The summer season is here, and a big chunk of recipes are waiting to be tested in your kitchen and tasted from your casseroles on your dining table. Ready for a little Mexican, this time? If yes, then check out the best Mexican dishes that you can try at home this summer! 
Mexican Dishes That Will Make This Summer Season Better Than Ever
1. Huevos Rancheros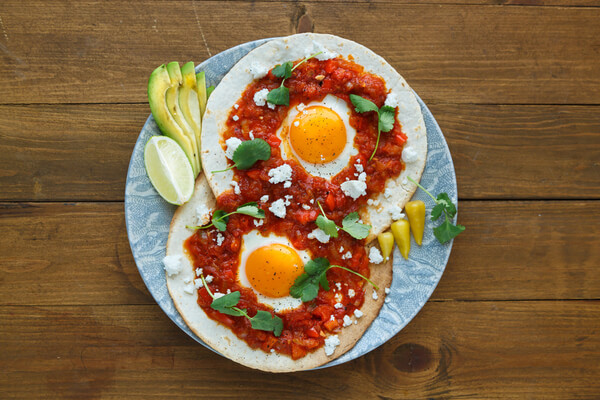 If it is one of those days when it is blazing hot outside, and all you want is to soak yourself up in some light, healthy but flavourful meal, you should try this. A classic vegetarian brunch meal consists of egg, tomato, avocado, and cheese on top of a tortilla. It is healthy and tastes fiery at the same time! A simple recipe- fry onions, garlic, kidney beans with some cumin, chilli powder, oregano and other seasonings. Mash the kidney beans, and then start assembling the tortilla with the rest other ingredients and lots of cheese! Serve warm from a casserole, and you will be pestered for second helpings.
2. Chicken and Bean Enchiladas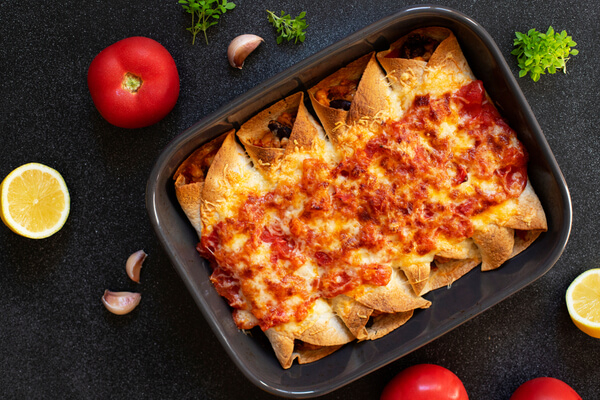 If you have plans of hosting a family dinner this summer on your porch, then this is the recipe that should be on your menu! Chicken and Bean Enchiladas are nothing but pure delight! So, start with frying – onions, garlic and pepper in a pan, followed by frying the chicken strips covered with chipotle sauce. Then add the kidney beans, coriander and passata. Then start layering the baking dish (preheat the oven to 200 celsius) with the enchiladas/ tortilla and the stir-fried chicken. Bake it and then enjoy it!
3. Easy Chicken Fajitas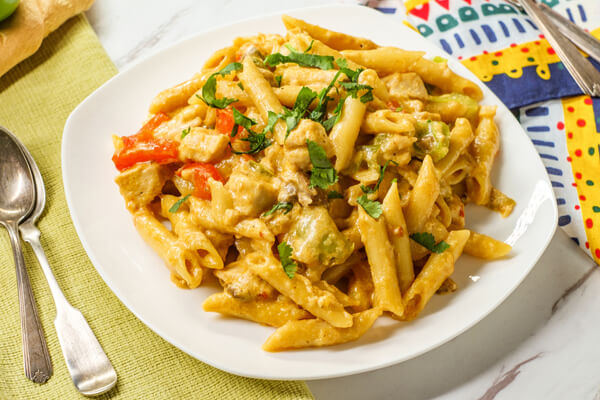 Want to grab a quick bit? Then try some easy chicken fajitas at home! This recipe takes about 25 minutes to put together, and the best part is that – every single plate is similar yet different! To make the marinade – mix paprika, cumin powder, coriander, clove, olive oil, lime juice, few drops of tabasco and salt and pepper in a bowl. Stir fry the finely chopped chicken pieces, red bell pepper, red onions into the marinade! Once done, plate your tortillas on the table and the bowls of salsa, mixed salad and casserole of chicken stir fry. Assemble yours and enjoy! 
4. Guacamole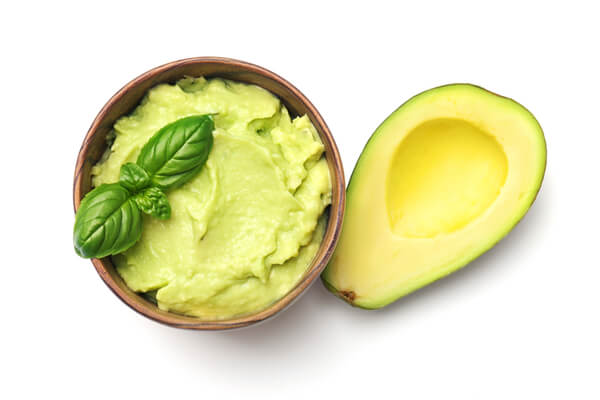 A bowl of perfectly seasoned Guacamole goes best with your regular burgers, grills or just hard-boiled eggs (and more). So, you can just make some guacamole and store it for a few days. All you need to do is – mash avocados, lime juice and salt together, then add onions, cilantro, tomato and garlic with a hint of cayenne pepper. That is it. Mix well and enjoy a spoonful now and then from an insulated casserole!
5. Easy Chicken Flautas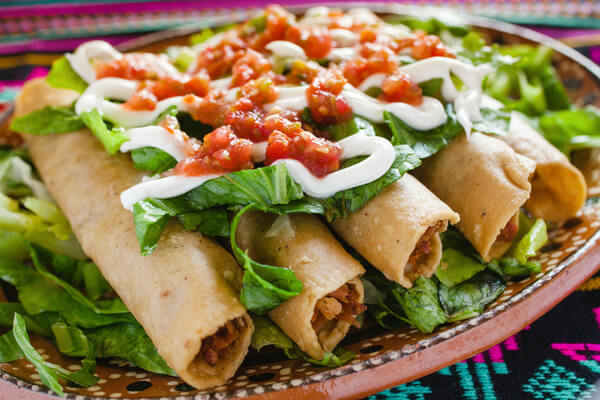 If you love Tacos, then get ready to fall head over heels in love with these spicy chicken flautas because, easy way said- they are deep-fried rolled tacos! Add some butter in a pan and some flour, mix the two components well to get a smooth mix, gradually add onions, pepper, black olives, lemon juice, oil, paprika, and salt. After stir-frying for a few minutes, add the chicken strips and toss it well. Once it is ready, fill the tortillas with the chicken mix, roll them, and deep fry in a big tub of oil! Keep it in a hot box with a paper towel to soak the excess fat!
6. Mexican Quessadila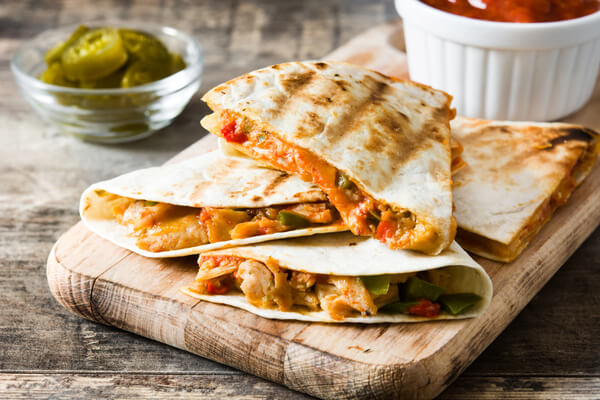 Easy, cheesy fiery casserole dish that will be ready in just a few minutes for you and your family! Start with stir-frying the minced beef, tomato sauce, onions, black beans, cilantro, and green chillis, then add the typical Mexican seasonings. Prepare the baking dish with a cup of minced beef followed by cheese and tortillas, repeat the layers until you have finished all the ingredients and then top it off with some cheese on top. Bake it for 15 minutes and store in an insulated casserole to serve warm later!  
7. Stuffed Mexican Peppers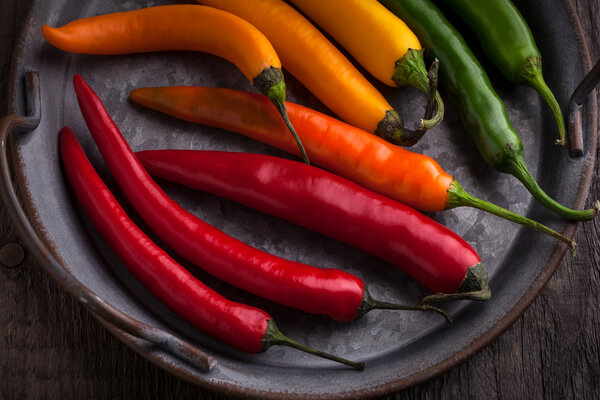 You might hate all the greens, but you would still have a soft corner for peppers in your heart. So, to make use of your favourite vegetable, try this fantastic recipe tonight! Stir fry the ground beef along with some taco seasonings, cooked rice, tomato sauce and all the other generic seasoning salts. Steam the peppers and cut them in a way that you have ample space for the filling. Place the peppers in a baking tray, add the filling, and top it off with some cheddar cheese. Bake it for 25 minutes and enjoy it hot! 
8. Three Cheese Enchiladas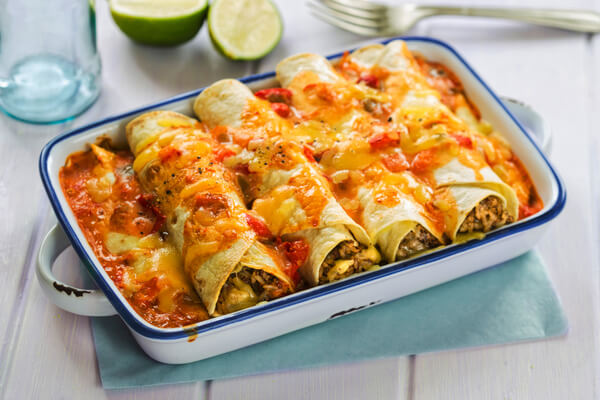 Some gooey cheese enchiladas will help you beat the heat by not going out to a restaurant as you can just make them at home! Prepare the base mix with some cream cheese, green onions and salsa, then add some cheddar cheese and Monterey jack cheese into the bowl. Combine all the elements and then prepare the baking tray with a sheet of tortillas, followed by the cheese mix, and repeat. Season it well and cover it with aluminium foil before you bake. Serve it hot! 
9. Sopapilla Cheesecake Pie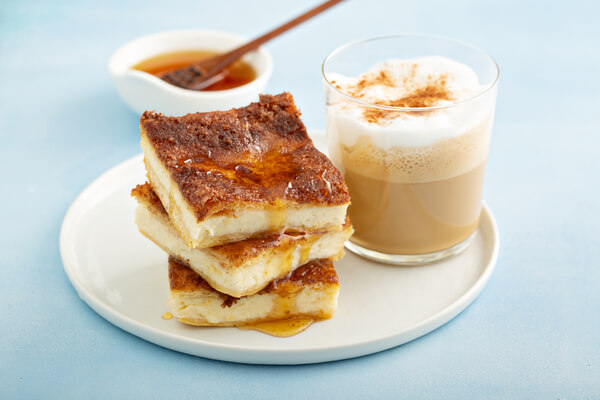 Can anything ever go wrong with cream cheese, vanilla and sugar? Never. Then beat them together and take out your baking tray. Roll, cut and place the crescent dough, followed by the cream cheese mix and complete it with another dough layer. Mix some sugar, butter and cinnamon and brush the tops for an added glaze. An excellent recipe for pot luck, so carry it in a hot case
10. Lime Cilantro Rice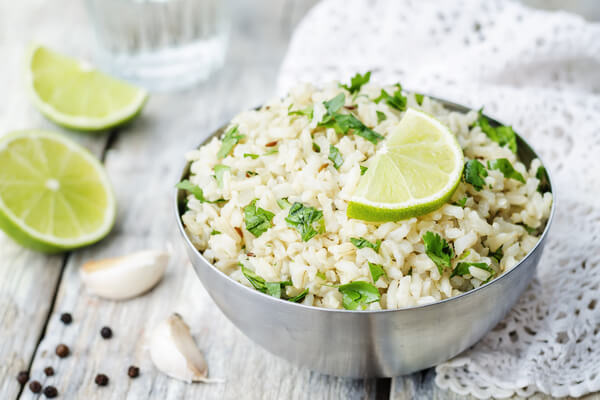 A straight summer meal. Boil some rice with butter, and then add fresh lime juice, cilantro and lime zest right before serving! 
Final Statements
This summer, try out all these Mexican recipes at home and completely do away with the idea of going out to restaurants! You can always add your little elements here and there!