Monsoons are here to give you a respite from the heat, bringing beauty to soothe your eyes and rain to soothe your soul. The rainy season is undoubtedly the most loved season with its lovely smells and tasty foods. If you've noticed, food tastes especially nice during this season. This is it is a perfect time to try and explore tasty dishes. Cook these dishes, serve them warm from a casserole to your plate and watch the rain as you devour them. Here are few delicious monsoon recipes you must try.
1. Aloo Tikkis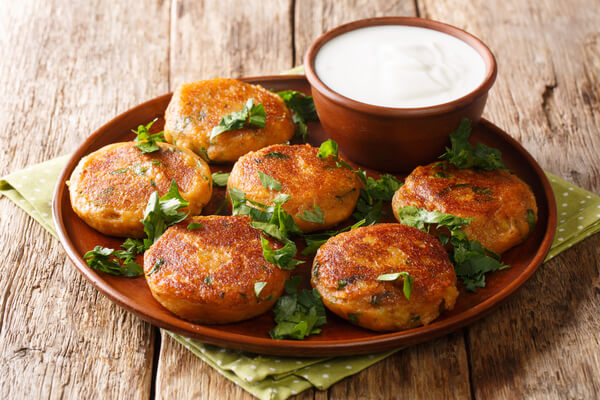 Aloo Tikkis are not really confined to monsoon, but they make an exceptional snack for the rainy season. The hot and tangy tikkis coupled with tamarind chutney or ketchup is undeniably delicious. If you've never tried making this snack before, then it is time you do. To make this recipe, add mashed potatoes, salt and green chilies in a bowl. Now add gram flour, refined flour, salt, and add water to make it into a thick batter in another bowl. Roll the potato mixture into balls and press to get a round slice. Dip the slice in the batter. Fry in the hot oil until golden brown. Serve with ketchup and a cup of hot tea!
2. Banana or Onion Fritters/Pakodas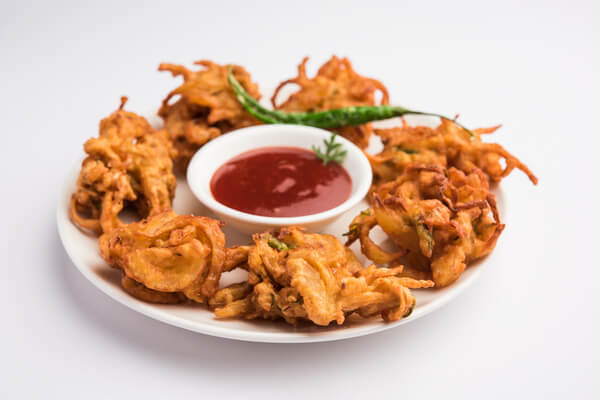 When asked, most people seemed to only think of pakodas or fritters on a rainy day. This is because of all the times parents or grandparents used to make hot and spicy pakodas on monsoon evenings. They are almost indispensable. Pakodas are something that can be made out of any veggie, be it spinach, bananas, potatoes, onions or even green chilies! To prepare onion and banana pakodas, mix gram flour, ginger, rice flour, ajwain, green chili, baking soda, coriander leaves and red chili powder together. Make a batter out of it and dip round chopped bananas or round chopped onions into the batter and fry till they turn golden brown. Pair them up with some tomato ketchup, and you're good to go!
3. Vegetable Momos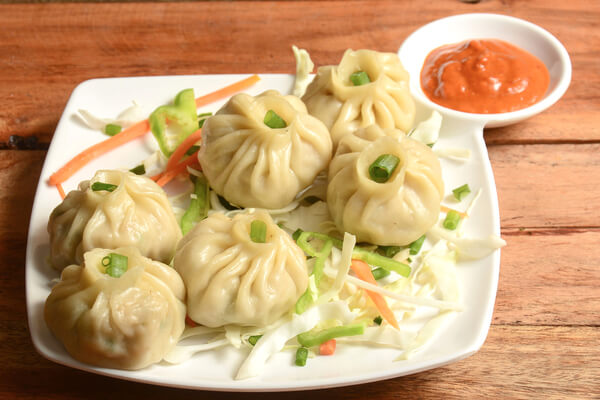 These famous street dumplings are everyone's favorite, and saying no to these is almost a sin! Once you master the technique of making them, there is no going back! Put on your apron and get started with this delectable snack! To make vegetable momos, mix maida, baking powder and salt together to make a dough. Take oil in a pan and add chopped garlic and onion. Add the chopped carrots and cabbage and mix till glossy. Switch it off and add soya sauce, black pepper, vinegar and salt. Roll out the dough and add the vegetable mix in the center. Bring the edges together and twist the seal. Steam for 10 minutes and serve hot with some chili sauce!
4. Masaledar Chicken Wings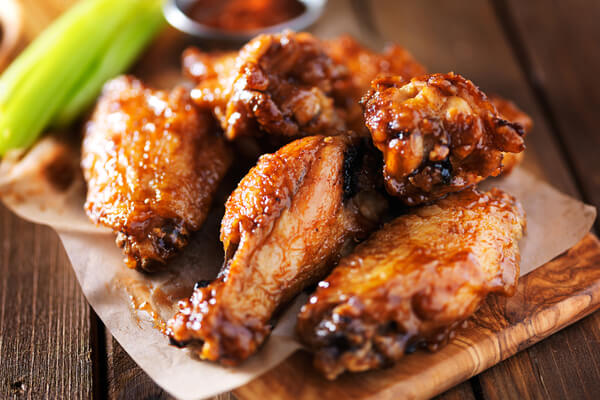 Rather than the classic recipe of chicken wings, this one has a traditional touch to it. Although a little heavy and filling for an evening snack, this one is great for munching. You can serve it with some chili sauce or mint sauce with a cup of tea. Marinate the chicken with some olive oil, ginger-garlic paste, chili powder, turmeric powder, coriander powder, salt and cumin powder. Now sear the chicken wings in some heated oil on a pan. In another pan, add some oil, coriander seeds, cumin seeds and dry red chilies. Now mix the chicken wings with this roasted masala and add onions. Now add tomatoes, capsicum, lime, water and sugar. Sprinkle some coriander leaves and serve hot!
5. Spring Rolls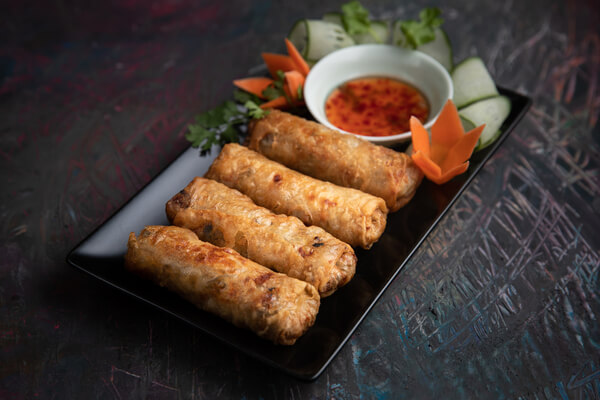 Yet another popular street snack to add to your list. Spring rolls don't only make great starters but also make an amazing snack for your rain filled evenings. Make some hot spring rolls and serve them with some coffee and ketchup and see the magic, rather taste it! To make this recipe, add spring onions, ginger and green bell peppers to some heated olive oil in a pan. Add some balsamic vinegar and keep it aside. Now blend parmesan cheese, salt, pepper and breadcrumbs with some sundried tomatoes and olives but don't make it too smooth. Add bell peppers and spring onions. Take a spring roll sheet and brush it with some corn flour paste, followed by adding basil leaves, tomato mix and mozzarella. Now roll it into a cylindrical shape and fry it till they turn golden brown. Serve with some basil dip, and it is ready!
6. Samosa
These triangular shaped snacks are unmatchable, and no one could possibly argue this assessment. Mutton, potato, peas-potato, chicken, corn, the filling doesn't matter as long as you have that triangular-shaped snack on your plate and a cup of tea to compliment it. Mix the flour, salt and oil and knead into a firm dough. Chop the potatoes and boil some peas. Prepare the potato filling and keep it aside. Roll out thin balls and fill them with the filling and seal the edges. Fry the samosas till they're brown, and they're ready! Pair them up with some mint or tamarind chutney. Your evening has just become perfect with the delicious samosas and tea.
7. Corn Fritters with Roasted Bell Pepper Sauce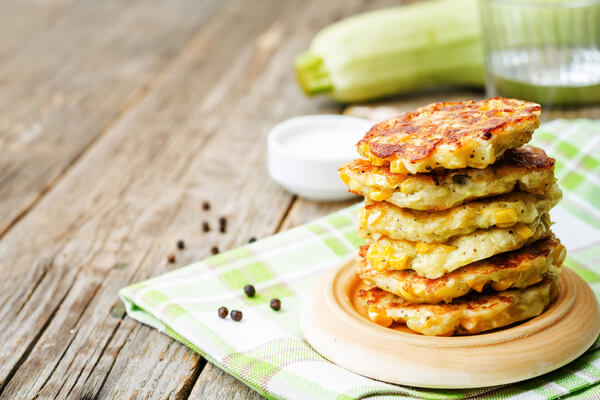 This is a snack you won't be able to resist. Clusters of corn are mixed with spices, gram flour, fried crisp, and freshly prepared roasted bell pepper sauce. In a pan, add chopped onions, garlic, corn kernels and chilies for 2 minutes. Transfer it into a food processor with polenta, baking soda, maida, besan, baking powder, cumin powder and paprika to make a stiff dough. Add some milk. Take a little bit of the dough to prepare small balls and deep fry until crispy brown. Serve with a roasted bell pepper sauce.
8. Raw Banana Kachori with Yogurt Dip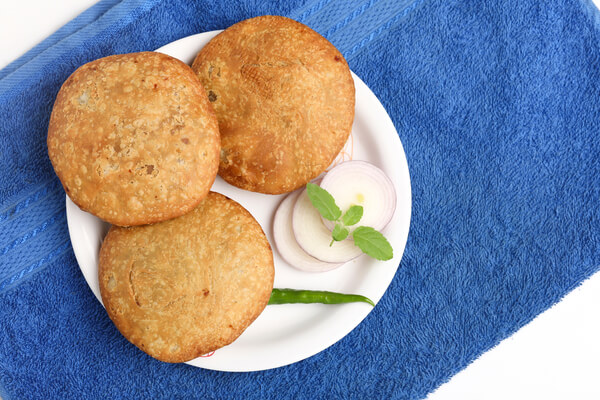 Don't miss out on this special recipe. Mashed boiled bananas are mixed with rice flour and stuffed with a flavorful filling of masala. Boil the raw bananas and mash them. Take a bowl and add the mashed banana to it. Add rice flour, salt, green chilli paste, and 1 tsp oil. Mix it and keep it aside. Take a bowl and add grated coconut, roasted and half crushed groundnuts, green chilli paste, raisins, roasted white sesame, jeera, lime juice, curry leaves, sugar, salt, coriander leaves. Mix it well. Make round balls of the mixture, flatten the balls by making a small bowl shape and adding the filling, giving it a round shape. Apply rice flour and keep it aside. Similarly, make the other kachoris. Heat oil in a wok and deep fry kachoris till they turn golden brown. Serve it with yogurt dip or ketchup.
Conclusion
Make this rainy season extra special by treating yourself to these mouth-watering dishes. They are simple to make and yummy to eat. Don't forget to complement them with a hot cup of chai. Happy Rainy Season!