Most people regard healthy food with distaste because of the misconception of healthy foods lacking taste. Nothing can be further than the truth once you realize how to combine different nutritious ingredients to whip up a delicious meal. It is all about getting it right. Rather than making a face, you will actually start enjoying your meals. Here are few nutritious recipes you need to try.
1. Quinoa Risotto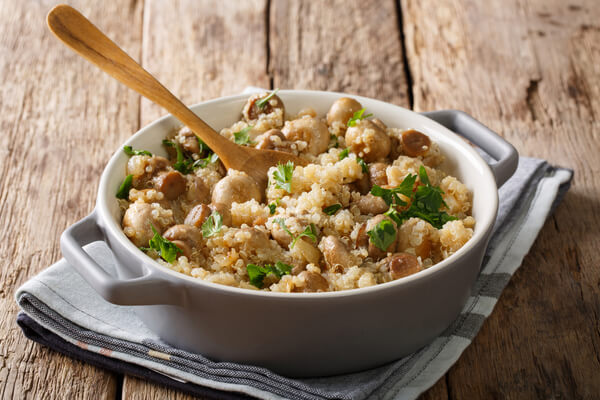 Opt for the unconventional and skip the rice to replace it with quinoa. This hearty meal is put together with quinoa, olive oil, and a couple of basic spices and herbs. Wash the quinoa and soak mushrooms in warm water for few minutes. Add olive oil to a pan. Sauté garlic and onion. Add the chopped mushrooms, pour a cup of wine followed by salt and chicken stock to the quinoa. Wait till it is cooked, and sprinkle some ground black pepper and grated parmesan cheese. Serve warm from a casserole!
2. Chicken Ball & Spinach Soup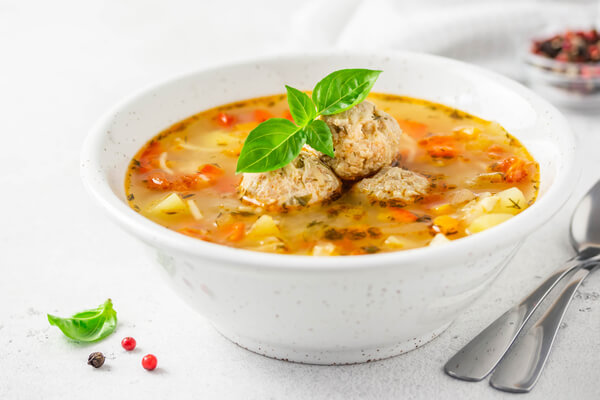 A big bowl of a hot soup made with minced chicken balls, fresh spinach, carrots and sprouts. It is the perfect accompaniment on a rainy night, with its light, lemony taste. Heat the chicken stock and add the egg mix when boiling till it scrambles in the soup. Mix lightly. Take the minced chicken and form balls with wet hands. Add to the soup. Taste and adjust seasoning with salt and soya sauce accordingly. Finally, put in mushrooms and shredded carrots. Allow them to cook till they are a little crunchy and not overdone. Add lemon juice. Don't overcook the juice. Finally, just before serving, add bean sprouts and torn spinach leaves and serve. Serve with vinegar chilies and your favorite chilli sauce.
3. Goat Cheese, Meat and Spinach Omelet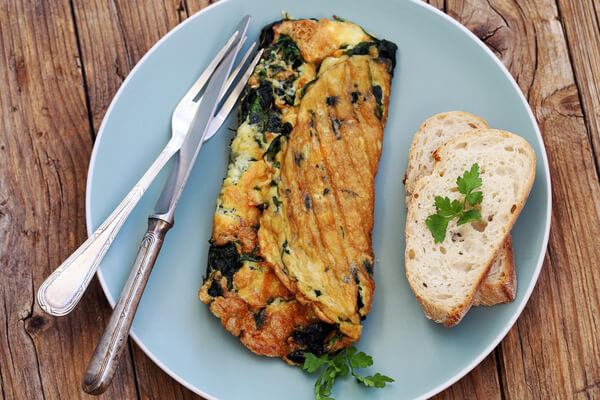 This protein-filled, low on carbs breakfast is something you are going to make regularly. It is perfect if you work out in the mornings. Make one after your workout, and you will immediately feel replenished. Take a pan and place it on medium flame, and pour some oil. Add the meat blocks and cook till they are done. Set them aside. Whisk eggs in a bowl. In the same pan, add eggs and butter. Add meat blocks and top it off with spinach and goat cheese. Once it thickens, flip it. Once the omelet is done, lay it out on a plate and serve warm from a casserole!
4. Lentil and Charred Broccoli Chaat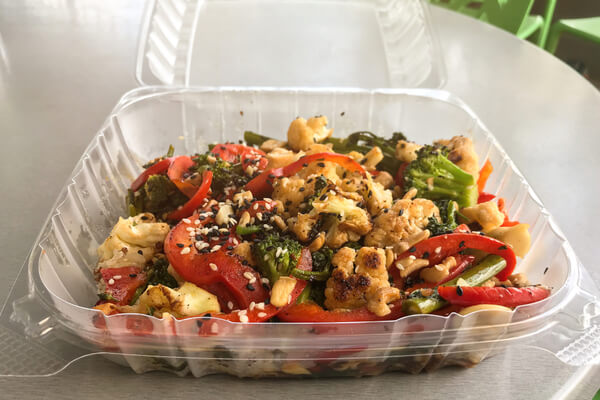 Enjoy the goodness of green veggies with charred broccoli and a handful of fresh sprouts! Finish it off with some sweet and tangy olive oil dressing, and it is ready! Cut and trim broccoli florets. Season them with pepper, salt, and olive oil and place them on a grill until charred. Alternately you can even roast in the oven for 15 minutes or so. Whisk all the dressing ingredients together and add all the ingredients for the chaat in a bowl. Pour in the dressing and toss it together. Add some methi sprouts and charred broccoli, and serve!
5. Oats Idli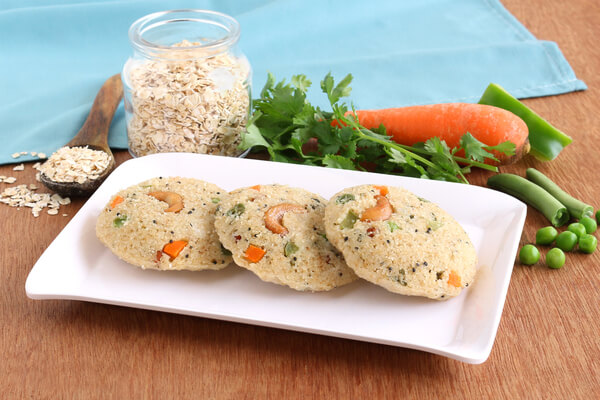 This oats idli recipe is possibly the most nutritious form of idli you will ever find. Serve it with some chutney and sambhar, and it will be nothing short of finger-licking good. Oats are rich in minerals, vitamins and protein, giving this dish a high nutritive value without compromising on the delicious taste. Dry roast the oats on a pan until it slightly turns brown. Powder the oats in a mixer. Add oil to a pan and then mustard seeds, channa dal, urad dal, and allow the mustards to splutter and the dals to turn golden. Add the chopped chillies, grated carrots and coriander, and turmeric powder and fry. Pour this on the powdered oats mixture along with curd/plain yogurt to make an idli-like batter. You can add extra yogurt to the mixture to achieve consistency, but do not add water. Grease the idli plates with oil and pour the batter. Steam the idlis for 15 minutes. Once done, remove the idlis and serve with chutney.
6. Carrot Salad with Black Grape Dressing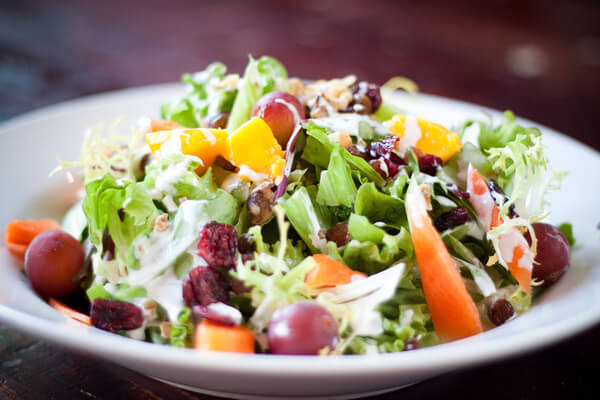 This is a quick and creative salad filled with almonds, raisins, and some runny black-grape dressing. Carrots have amazing benefits, which are widely known, like antioxidant properties and being a powerhouse of Vitamin A. When added to a salad with the goodness of nuts, it only enhances the nourishing value of the salad bowl. To prepare this salad, mix all the ingredients for the salad in a bowl and keep them aside. For French dressing, add all the ingredients to a blender except the olive oil, and blend. While blending, slowly add olive oil to emulsify the mixture. Mix the dressing with the carrot salad. To prepare black grape dressing, put all the ingredients for the dressing in a blender and blend till smooth. Check the seasoning and adjust accordingly. Top the salad with the dressing and serve at room temperature.
7. Buttermilk Chicken with Char Grilled Broccoli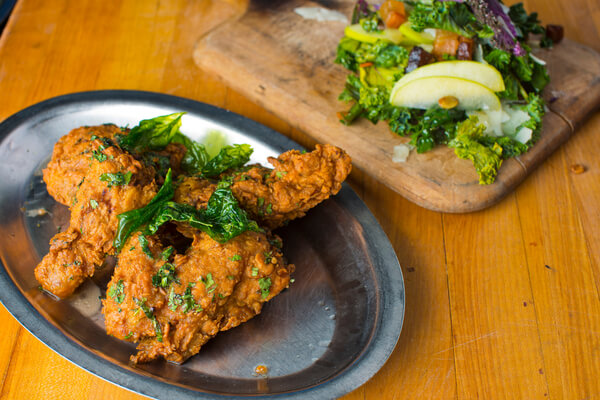 This one is a real treat with its elegant spicing. Chicken is a favorite of many, and for good enough reasons. This recipe is a perfect idea for weekend dinners when you want to experiment yet stay healthy. In a deep bowl, add salt, buttermilk, cumin powder, pepper, garlic, vegetable oil, and maple syrup. Mix them and dip the chicken legs in this marinade and refrigerate for 2-3 hours. Line the baking tray with butter paper and place the chicken legs. Drizzle olive oil. Bake for 40 minutes at 200 C. Add a little more olive oil after half an hour and brush the chicken legs with maple syrup and bake for another 10 minutes. Serve the Buttermilk chicken with Char grilled broccoli with chilli garlic sauce and garnish with some almond flakes.
8. Chia Pudding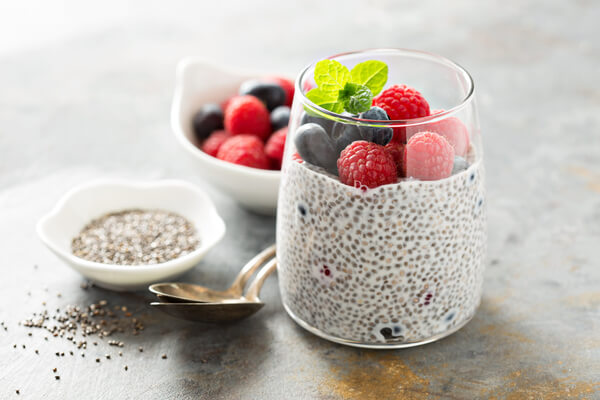 Omega-3 fatty acids are amazing for your skin and health, making them an excellent choice for breakfast. This chia pudding is lovely, and the best part is that it is a make-ahead recipe. It can save your time immensely. It is also high on fiber which is good at debloating. Take a bowl and add coconut milk, chia seeds, and honey. Mix well and store it in the refrigerator. The seeds should be gelled, and the pudding ought to be thick. Once done, top it up with lots of fruits like kiwi, strawberry, and mango! Serve cold and enjoy!
Conclusion
These mouth-watering nutritious recipes will change your food choices forever! Healthy food is equivocally related to immunity. What better way to work on it than opting for some delicious recipes? Make sure you store your food in an insulated stainless steel casserole to preserve the freshness and warmth.